Chocolate Bordeaux Cherry Cupcakes with Vanilla Bean Buttercream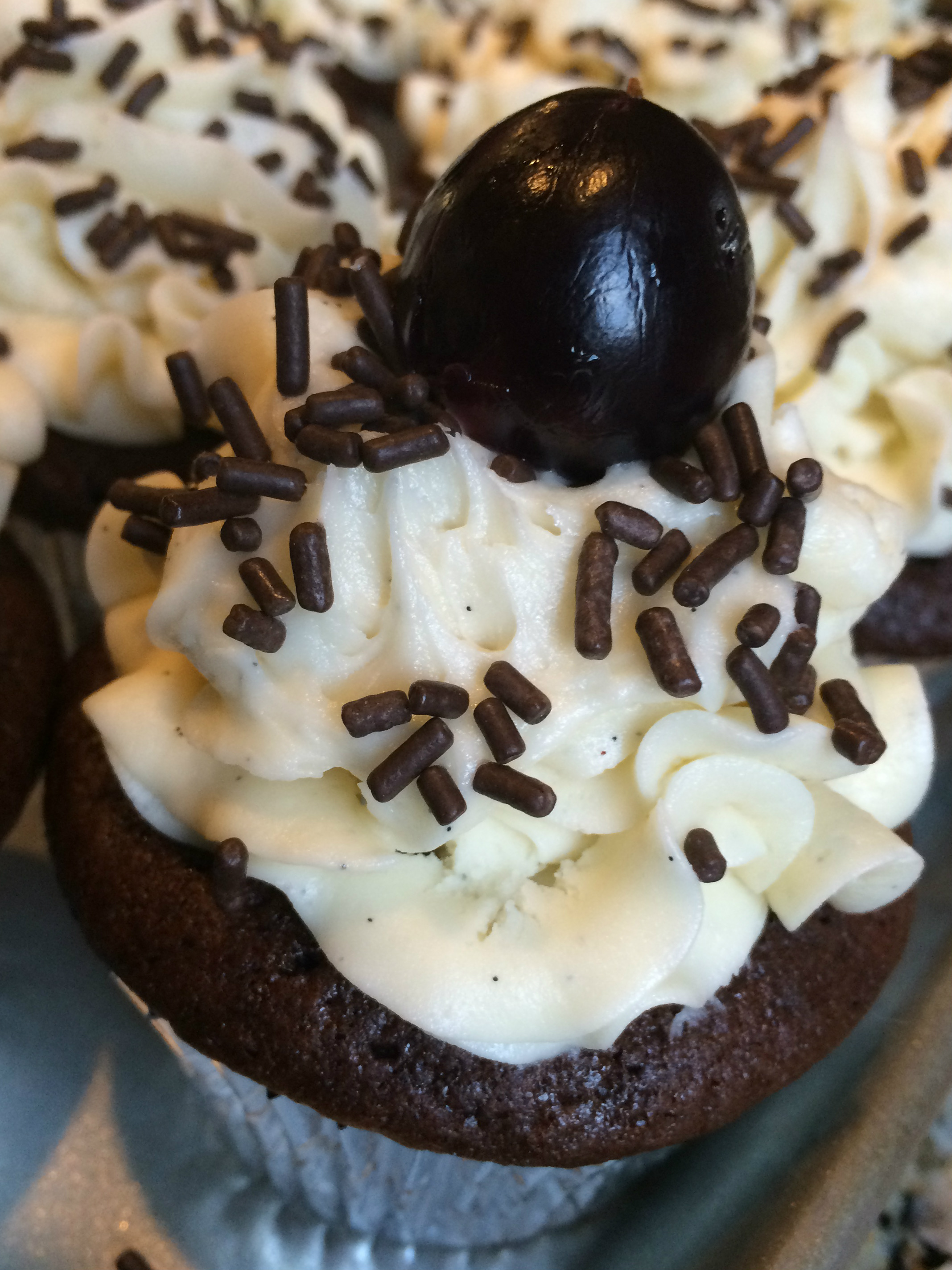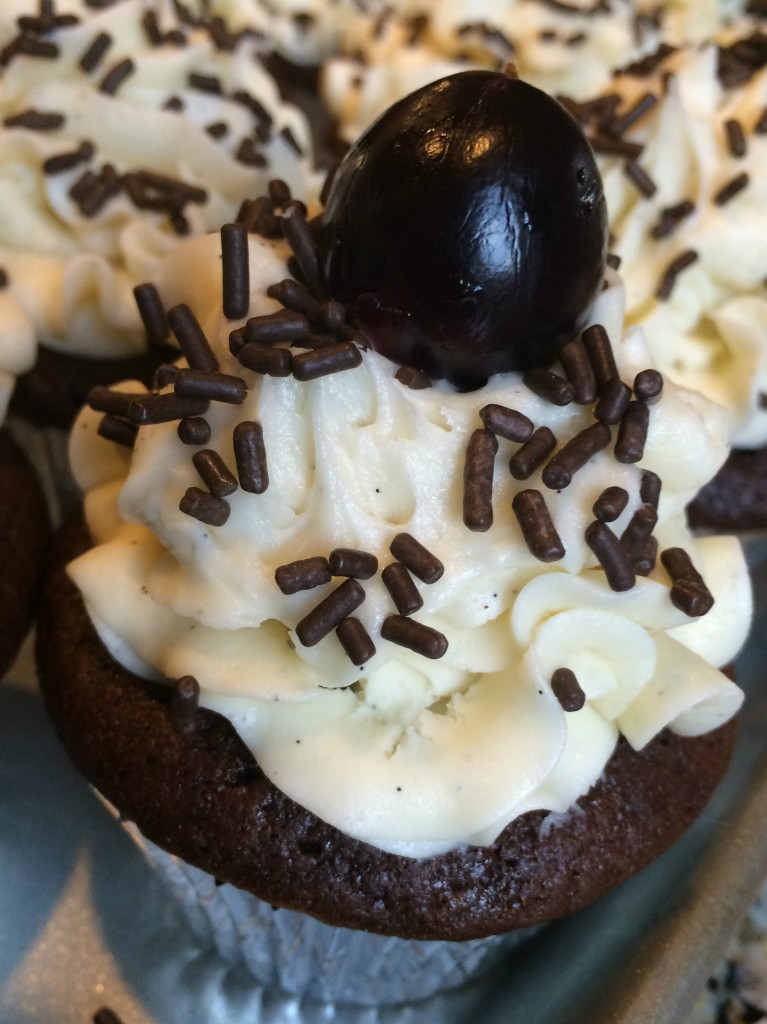 I've been asked to whip up treats for a local charity event with a cake walk fundraiser.  People buy raffle tickets and pick out a dessert of choice.  I need something fancy that can tolerate packaging and will taste outstanding for the lucky winner when they get home.
Chocolate Bordeaux Cherry Cupcakes are loosely based on black forest cake with ganache filling and vanilla bean frosting.  Try to find Bordeaux cherries, the dark color and rich flavor makes these cupcakes extra indulgent.
Chocolate Bordeaux Cherry Cupcakes with Vanilla Bean Buttercream
Makes 24 cupcakes
Ingredients:
For the cupcakes
1 box devil's food cake mix
1 small package chocolate pudding
1/2 C whole milk
3/4 C Bordeaux cherry juice
1/2 C vegetable oil
4 eggs
1 t vanilla
For the filling
8 oz semisweet baking chocolate (I needed 2 bars)
1 C heavy cream
24 Bordeaux cherries
For the vanilla bean buttercream
1 C (2 sticks) butter, softened
8 C powdered sugar
1 vanilla bean split and scraped
1 t vanilla extract
2 T whole milk (or substitute Bordeaux cherry juice for purple frosting)
Extra Bordeaux cherries for topping
Directions:
Heat oven to 350.  Line 24 cupcake wells with wrappers.
In a large bowl, combine cake and pudding while dry.
Add milk, oil, Bordeaux cherry juice, vanilla and eggs.  When mixed well, scoop into cupcake pans approximately 2/3 full.  There is enough for 24 cupcakes.
Bake 20 minutes total, 10 minutes on lower rack and 10 on upper rack.  Cupcakes are done when a toothpick can be cleanly removed from the center.  Set aside to cool.
When cupcakes are cool, remove a small hole from the center with a cupcake corer or a sharp knife.
To make ganache, microwave heavy cream for about 1 1/2 minutes using 30 second bursts.  When hot, add semi sweet baking chocolate in pieces.  Stir until melted.  Cool to room temperature.
Transfer ganache to a heavy duty plastic bag and snip the corner.  Pipe into centers of cupcakes.  Gently press a Bordeaux cherry into each one.  Add a bit of ganache in top if needed, you want the holes to be full.
To make buttercream, use a stand mixer with paddle attachment.  Cream softened butter.  Add vanilla bean caviar (the stuff scraped out from the inside) and vanilla extract.  Add powdered sugar in 1 C increments, after 4 C add whole milk or Bordeaux cherry juice.
When frosting reaches desired consistency, pipe onto cupcakes.  Decorate with Bordeaux cherry.
These cupcake will keep in the refrigerator for about 2 days, they can be made a head of time for a party or special event.