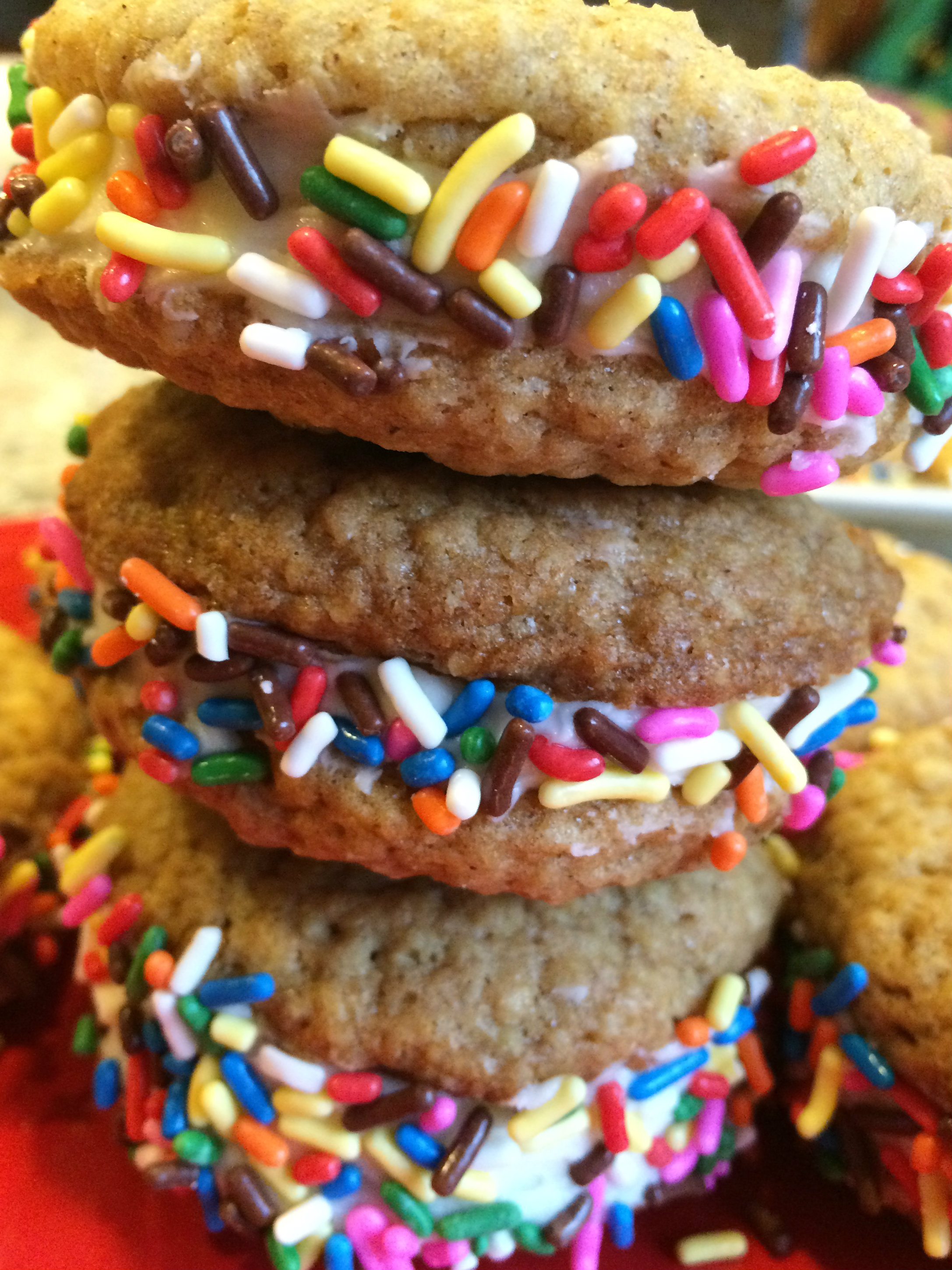 The Little Debbie food company started in Tennessee in 1928 during the Great Depression and was named for the 4-year old granddaughter of one of the founders.  In 1935, Oatmeal Creme Pie was introduced and sold for a nickel.  For the next 80 years Oatmeal Creme Pies found their way into children's lunchboxes.  Except mine.  We got fruit.  While I appreciate healthy choices (really I do- thank you Mom!) it's been fun to recreate childhood treats from Ding-Dongs to Rice Krispie treats.
These Oatmeal Cream Pies are soft and filled with butterscotch buttercream frosting.  Yes traditional ones use vanilla; you can totally use that instead.  If you can find butterscotch extract, buy it.  I use it in lots of stuff including Gold Star shortbread cookies.  It's amazing!
Oatmeal Cream Pies
Makes 24 cookie pies
Ingredients:
Oatmeal Cookies:
1 C butter, softened
3/4 C dark brown sugar
1/2 C sugar
2 eggs
1 t vanilla extract
1 1/2 cups flour
1 T baking soda
1 t cinnamon
1/2 t salt
3 C quick or old fashioned oatmeal
Buttercream Filling:
2 sticks (1 C) butter, softened
4 C powdered sugar
1 T butterscotch (or vanilla) extract
1-2 T whole milk
Optional: sprinkles
Directions:
Heat oven to 350.  Line cookie sheets with parchment paper.
To make cookies, use a stand mixer to cream together butter, sugar and brown sugar.  Add eggs and vanilla.  Add salt, baking soda, cinnamon and vanilla.
Add flour and scrape sides if needed.  Add oatmeal.  Mix until just combined, don't overdo it or cookies become tough.
Use a 1 T measuring spoon to scoop out balls of cookie dough.  Quality control on the size matters because you will be making sandwiches.  Roll the balls in your hands to keep them round and even.  Dough may be sticky, rinse hands as needed.  It is tempting to lick your fingers- this stuff is delicious- don't.  Ewww.
Set on cookie sheets, don't crowd as they spread during baking.  I fit 12 cookies per pan.
Bake about 12 minutes total, 6 mins on lower rack and 6 mins on upper or until lightly brown on edges.  If cookies are lumpy when they come out of the oven (some of mine had weird shapes), use a butter knife to gently press the sides and reshape.  This only works when they are hot and straight out of the oven.  Leave on cookie sheets for 5 minutes to set then transfer to cooking rack.  When cookies are completely cool, match in pairs by size and shape.
To prepare buttercream filling, use a stand mixer to beat butter for a few minutes.  Turn speed to low and gradually add powdered sugar.  If you dump it all at once you get a blizzard; trust me I know.
Add butterscotch (or vanilla) extract.  Add 1 T whole milk and check consistency.  You want thick and spreadable, similar to the texture of peanut butter.  If it feels too thick, add additional 1 T milk.
To make cookies, transfer buttercream to a Ziploc freezer bag.  Snip a corner and pipe onto flat side of one cookie.  Gently press another on top.  Roll in sprinkles if desired.
Cookies can be kept refrigerated about 3 days if they last that long.
Recipe modified from "Homemade Oatmeal Cream Pies," mybakingaddiction, posted 5/20/15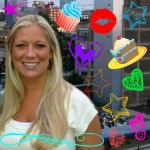 I'm a self-taught Betty Crocker. Food should be pretty, delicious and have sprinkles. Professionally I'm a clinical social worker. Follow me on Facebook and Pinterest- Sugar and Spice Baking Blog- for great recipes, amazing restaurants and culinary adventures.