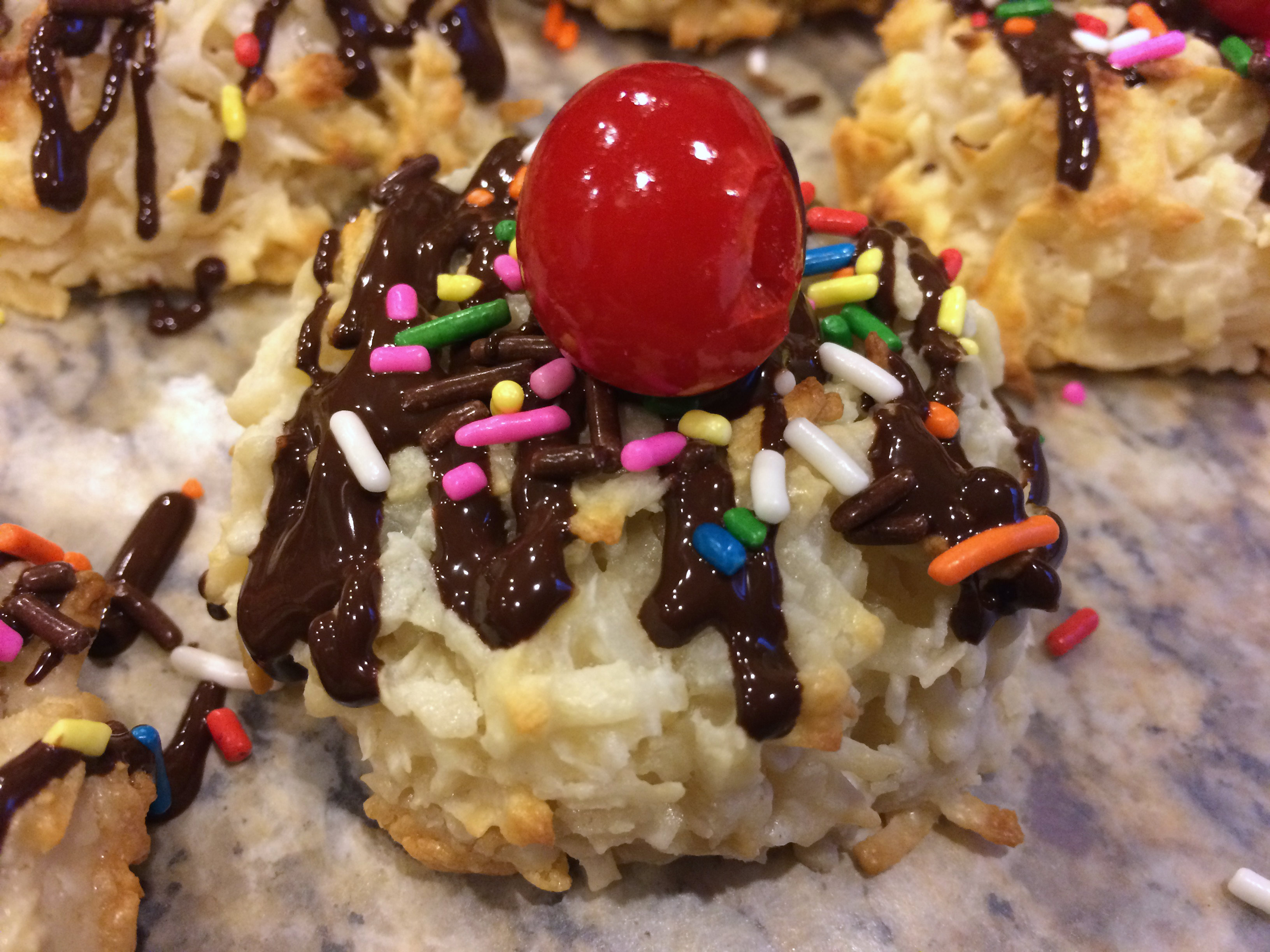 Food nerd alert:  Macaroons were originally made with egg whites and almond paste.  They trace waaay back to a 9th century to an Italian monastery and came to France in the 16th century.  Coconut Macaroons were developed by Italian Jews to celebrate Passover because they do not contain leavening ingredients.  They continue to be popular in the United States because they're much fragile than the finicky almond variety.  I'm not sure if I'll do the almond ones, Coconut Macaroons are delicious and easy to make!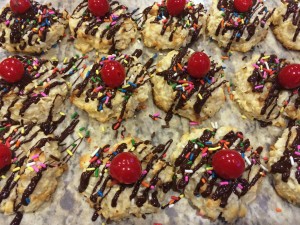 Coconut Macaroons
Makes 24 cookies
Ingredients:
2 14oz bags sweetened flaked coconut (11 C)
2 cans sweetened condensed milk
1 1/2 C flour
1/2 t salt
2 t vanilla extract
1 t almond extract
1 bar semisweet baking chocolate or 1 C semisweet chocolate chips
Directions:
Heat oven to 350.  Line cookie sheets with parchment paper.
In a large bowl combine coconut, flour and salt.  Pour vanilla and almond extract into one of the cans of sweetened condensed milk and stir.
Pour both cans of sweetened condensed milk over coconut and flour mixture.  It will be thick- you can either mix it with your hands or use a heavy duty stand mixer (like a Kitchen Aid).  Don't use a hand mixer, this is too dense.
Use an ice cream scoop to remove golf ball sized cookie balls.  Roll them gently with your hands for a circular shape.  The cookie batter will be sticky.  This is fine.  Set 12 per baking sheet.
Bake for 16 minutes, 8 minutes on the oven lower rack and 8 minutes on the upper rack.  They will appear lightly golden on the base and possibly on top.
Leave on cookie sheet to cool for about 10 minutes.  Carefully move to a cooling rack.  When macaroons are cool, melt semisweet chocolate in a Ziploc bag in microwave in 30 second bursts.  Snip a corner, drizzle over cookies.
Recipe adapted from Coconut Macaroons III, allrecipes.com by Kristil Kimbril Lyle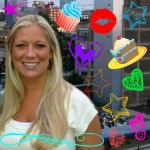 I'm a self-taught Betty Crocker. Food should be pretty, delicious and have sprinkles. Professionally I'm a clinical social worker. Follow me on Facebook and Pinterest- Sugar and Spice Baking Blog- for great recipes, amazing restaurants and culinary adventures.