Office Coma Brownies (again)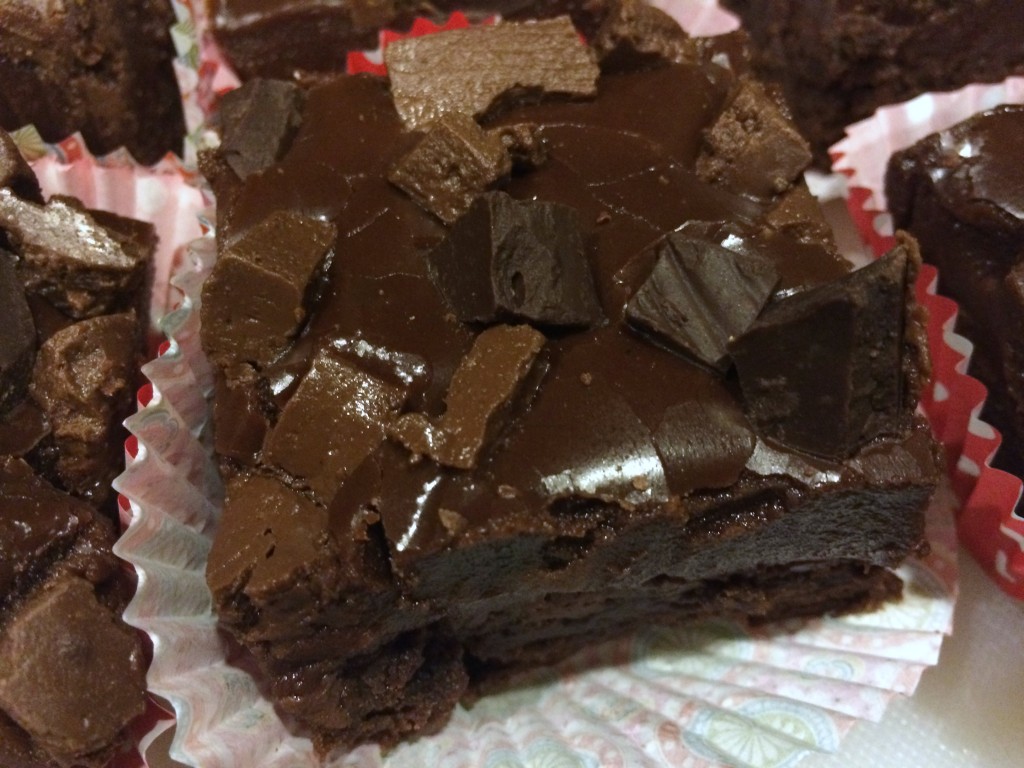 O. My. Gosh.  Have you tried these brownies?  This combines 2 of my favorite recipes.  Thick, fudgy brownies topped with my grandma's amazing boiled icing.  The result was incredible and people at work went crazy.  Skip brownies in a box, these are zillion times better!
Office Coma Brownies with Boiled Icing
Makes 24 brownies
Ingredients:
1 C (2 sticks) butter
2 C white sugar
4 eggs
3 t vanilla extract
2/3 C unsweetened cocoa powder
1 C flour
¾ t salt
½ t baking powder
3/4 C whole milk
3/4 C (1 1/2 sticks) butter
2 2/3 C sugar
1/2 t salt
1 T vanilla
1 1/2 C good quality semi-sweet chocolate chips*
1 C chocolate chunks (optional)
*Higher amounts of cacao in the chocolate chips help the frosting set.  My grandmother swears Ghirdellhi is the only way to go.  I used Guttiard and it was fine.  Any high quality semi-sweet chocolate chip should work.
Directions:
Heat oven to 350.  Line 9×13 pan with parchment paper.
Melt butter in large sauce pan over medium heat.  Remove pan from heat.
Add sugar and mix.  Add cocoa powder and mix.
Add eggs one at a time, mixing after each addition.  (this is why you remove the pan from the heat, scrambled egg brownies sound gross)
Add vanilla, salt and baking powder.
Lastly, add flour and stir until no white swirls remain.  Incorporate "add in" ingredients if using.
Bake in oven 20-25 mins until toothpick inserted in center comes out clean.  Don't overcook… the brownies continue baking after you remove them from the oven.  Set aside to cool.
When brownies are cool, make boiled icing.  I suggest premeasuring chocolate chips and having them ready on the side.
Combine milk, butter and sugar in sauce pan on stove.  Turner on burner to medium.  Stirring constantly, the mixture will heat and boil.
When it hits a rolling boil, continue and stir constantly for 1 minute. (use a timer)
Remove from heat.  Quickly add salt, vanilla and chocolate chips.
Stir continually until items combine and blend.  Watch closely, the mixture will go from shiny to flat in color.  This means it is cooling and starting to set.  When it appears thick (around 3 minutes after removing from heat), pour over brownies and spread quickly.  I mean VERY quickly.  You have les than a minute until it hardens.  Dump on chocolate chunks (or sprinkles) and press them down slightly.
Cool completely, cut and serve.
Want to make a smaller pan?  (No idea why you would…)  Cut in half for an 8×8.
Recipe adapted from "Best Brownies" on Allrecipes.com, Boiled Icing from my grandma Eleanor