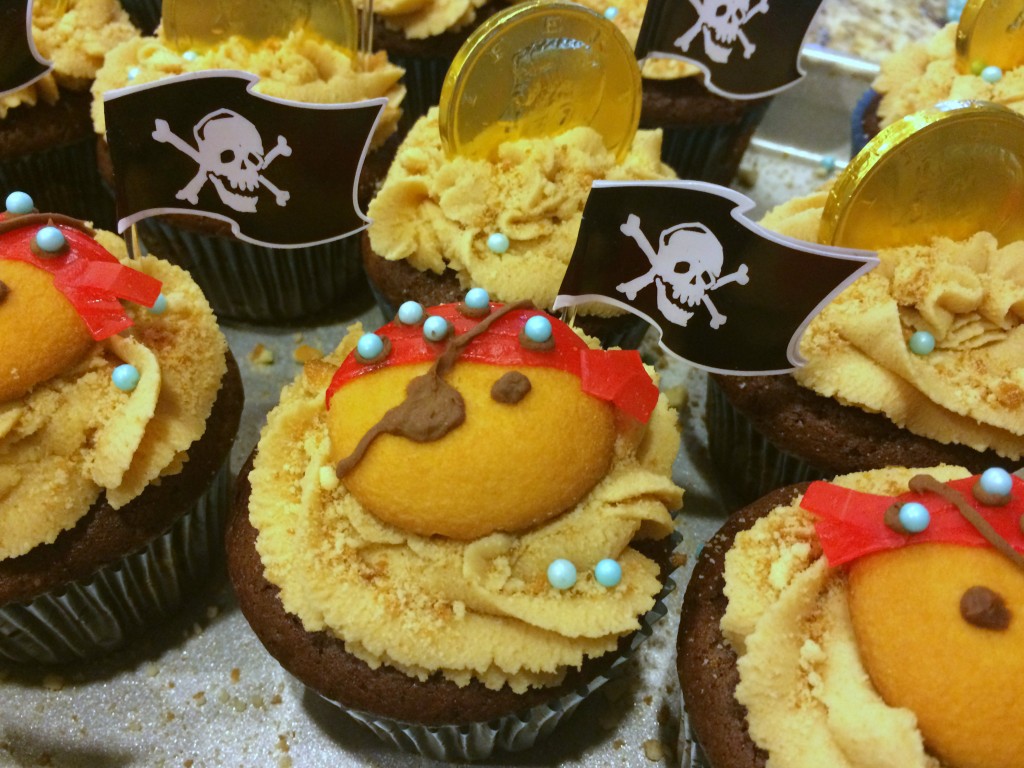 My coworker is having a birthday!  She loves all things pirate and for extra fun I'm making pirate cupcakes.  I made 2 different kinds- one with doubloons and another with little pirate faces.  I almost did 4 (there are templates for a pirate ship and a chest of gold on Pinterest) but at some point one has to take a break.  Maybe next year.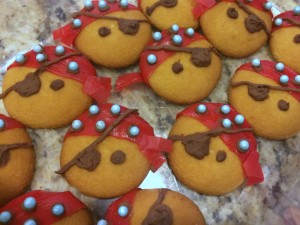 Pirate Cupcakes
Makes 24 cupcakes
Ingredients:
Box chocolate cake mix
Mini box of instant chocolate pudding
3/4 C whole milk
3/4 C vegetable oil
4 eggs
1 T vanilla
24 unwrapped, frozen Reese's mini peanut butter cups
1 C (2 sticks) butter, softened
1 C creamy peanut butter
6 C powdered sugar
1/4-1/2 C whole milk
Pirate Decorations
12 gold coin candies
12 Nilla wafer cookies
2 red fruit roll ups
Can of chocolate frosting
Large round sprinkles (I used cupcake gems)
Directions:
Heat oven to 350.  Line cupcake pans with pirate wrappers.
Mix cake mix and instant pudding.  Add eggs, milk, vegetable oil and vanilla.  Combine well.
Scoop into cupcake pans.  There is exactly enough for 24.  Gently press a frozen miniature peanut butter cup into the center.
Bake pans for 20 minutes total, first 10 minutes on the lower rack and next 10 on the upper.  Cupcakes will crack slightly when baked.  Set aside to cool.
While cupcakes are cooling, make pirate decorations.  To create faces, cut a 2 inch piece of red fruit roll up.  Wrap it around the top 1/3 of a Nilla wafer.  It will stick to itself on the back, the heat from your fingers will also help it stick.  Cut another small piece and bend it into a "V" shape.  Put it on sideways to make the bandana's tie.
Put chocolate frosting into a Ziploc bag.  Snip a tiny corner.  Draw on an eye and an eye patch.  Pirates must have eye patches.
Use the frosting to make little dots on the pirate's bandana.  Set peals on the dots.
To make peanut butter frosting, use a stand mixer.  Cream peanut butter and butter.  Add powdered sugar in 2 C increments.  The mixture will be very thick.  Add 1/4 to 1/2 C whole milk to thin frosting until the texture is similar to toothpaste.
Pipe on to cooled cupcakes.  Decorate half with doubloons and half with pirate faces.  I ended up crushing left over Nilla wafers to make "sand."
It's a pirates life for me (and my coworker… happy birthday!!!)
Idea from "because pirates are awesome and fondant is yucky," itsalwaysautumn.com, 3/26/14