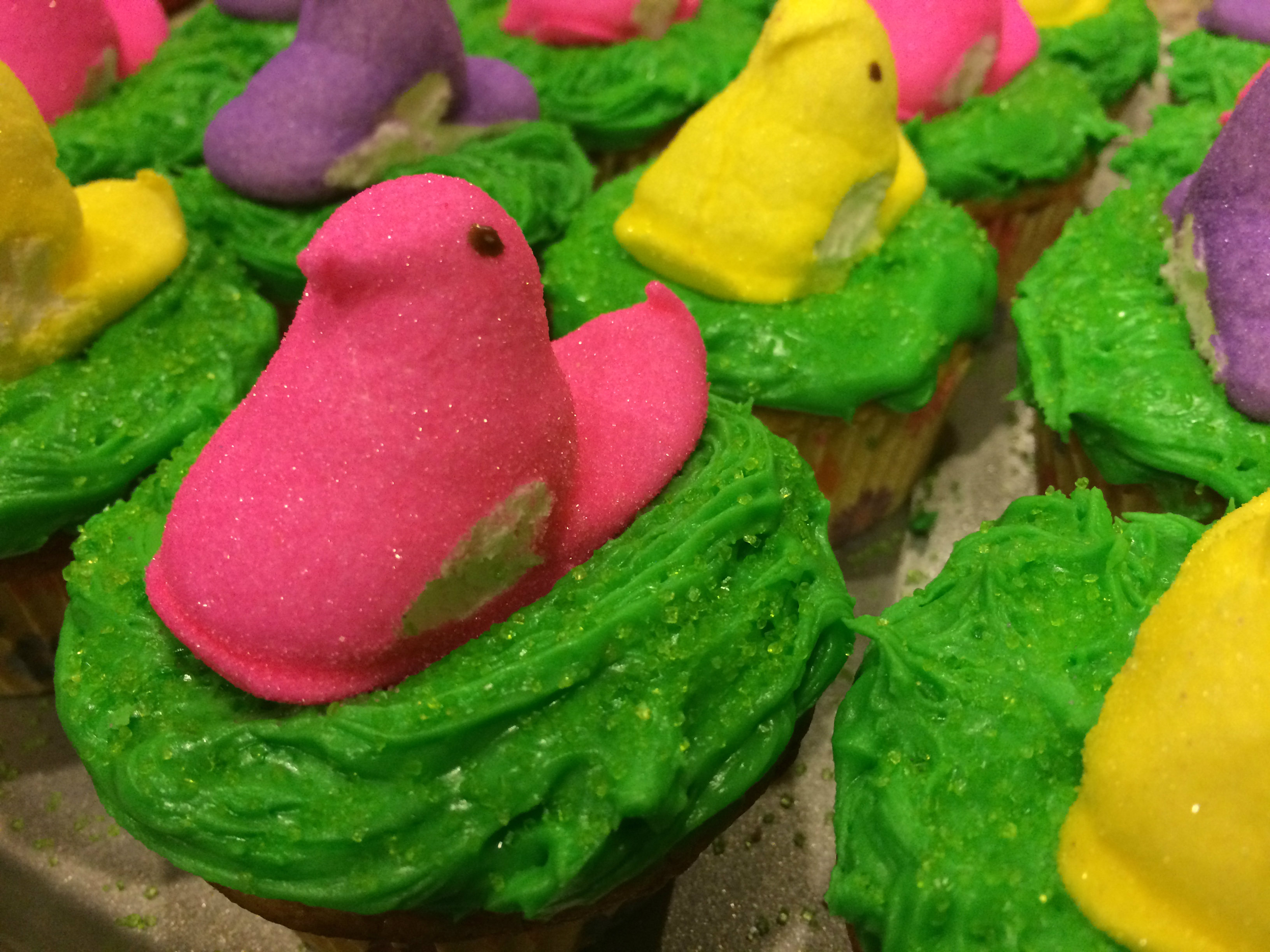 PEEPS Surprise Cupcakes are a fun for Easter weekend.  Lemon cupcakes with lemon cream cheese icing, goodies inside and a PEEP on top.  These brighten any brunch or dinner and have a cute video on YouTube!
PEEPS Surprise Cupcakes
Makes 24 cupcakes
Ingredients:
Lemon cupcakes:
1 box lemon cake mix
1 small box instant lemon pudding
4 eggs
3/4 C vegetable oil
3/4 C heavy cream
1 T lemon extract
Lemon cream cheese frosting:
8 oz cream cheese, softened
1/2 stick butter, softened
2 lbs powdered sugar
2 T lemon zest
2 T fresh lemon juice
Green food coloring
Decorations:
24 PEEPS any color(s)
24 egg shaped Easter candies
Small jelly beans
Sprinkles
Directions:
Heat oven to 350.  Line baking pan with cupcake wrappers.
Combine lemon cake mix and pudding mix.  Add oil, eggs and heavy cream.  Add lemon extract.
Distribute into cupcake pans.  There is enough for 24 cupcakes.
Bake 18 minutes total- 9 on lower rack then 9 on upper rack in oven.  Set aside to cool.
To make lemon cream cheese frosting, use a stand mixer.
Combine butter and cream cheese.  Scrape sides.
Add lemon zest and lemon juice.  Add powdered sugar incrementally otherwise you get a blizzard.
When frosting reaches desired thickness, add green food coloring.  This makes lovely "grass" to set your PEEP on.  Scoop frosting into a piping bag.  Set aside.
When cupcakes are completely cool, remove a small piece from the center.  This can be done carefully with a sharp knife or a cupcake punch.
Set 1 egg shaped candy, a few jelly beans and some sprinkles in the hole.
Frost thickly around edge.  Set a PEEP on top.  Make sure frosting touches both sides of the PEEP to seal the top of the cupcake.
Repeat until all cupcakes are frosted and PEEPed.  Frosting will set in a few hours.
Extra PEEPs?  Make PEEP s'mores.  Happy Easter!
Recipe adapted from Betty Crocker, "PEEPS Surprise Inside Cupcakes," bettycrocker.com