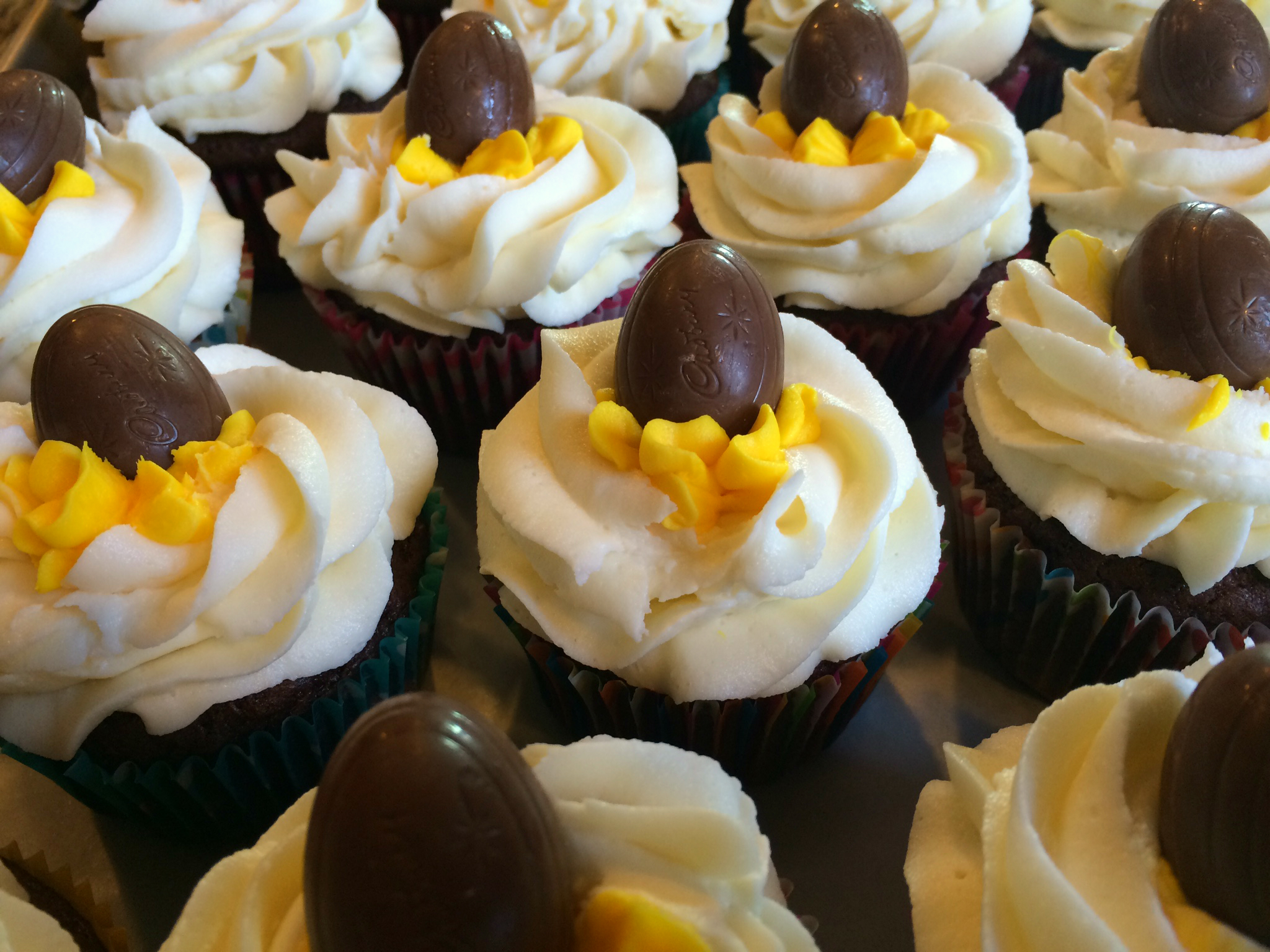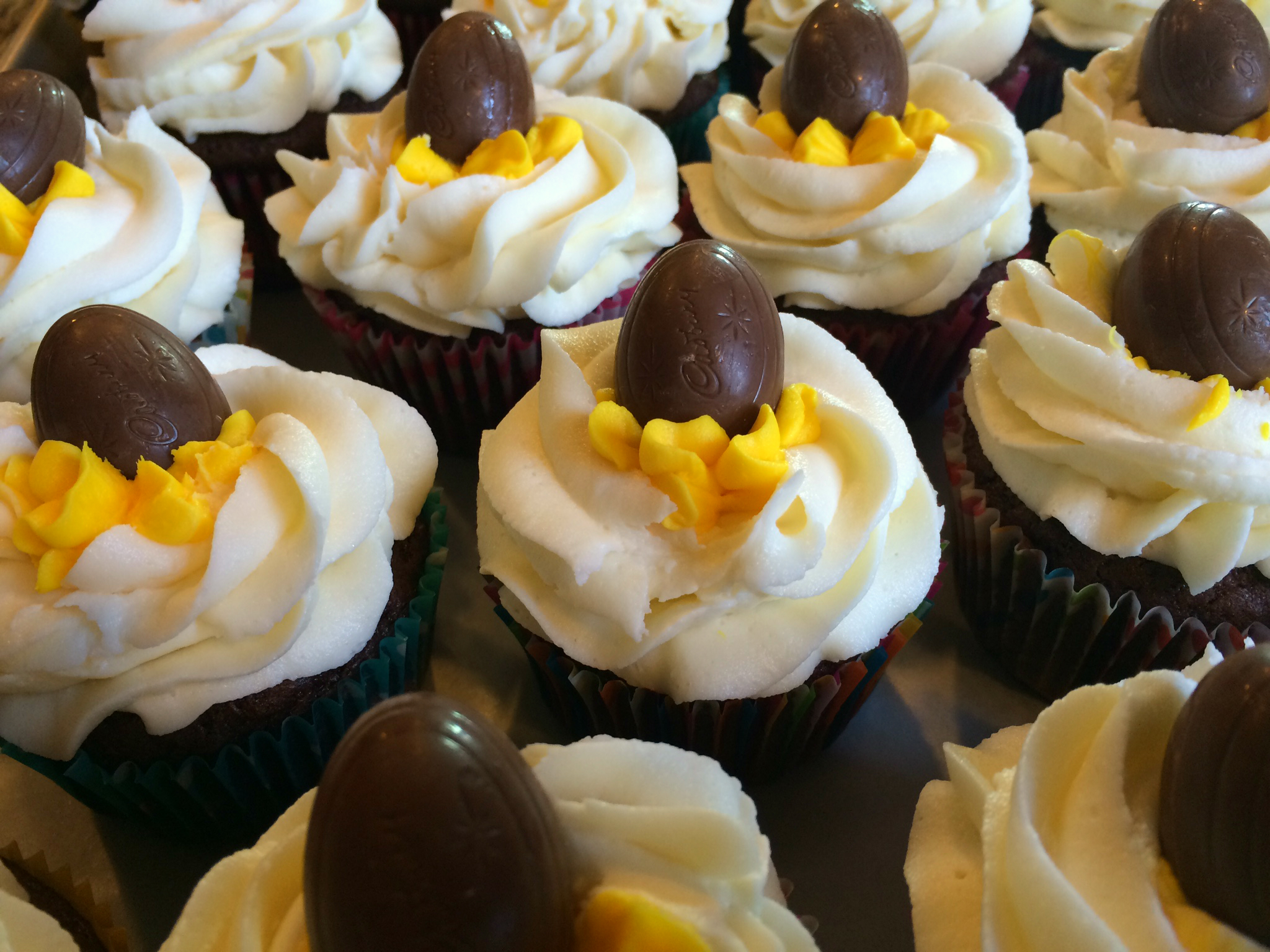 Some recipes deserve a repost.  Cadbury Cupcakes are an Easter favorite.  Most of my conversations this year went like this:
Me:  "Hi family members!  It's so great we're getting together for dinner.  What can I bring?"
Sister:  "Cadbury Cupcakes."
Me:  "Well… it's Christmas/Thanksgiving/4th of July/Father's Day/Mother's Day/Any time of the year Cadbury Eggs are NOT available.  Is there something else I can make?
Sister:  "Cadbury Cupcakes."
Me:  "Wait for Easter, we'll make them then."
Sister: "That's too long.  I want them NOW!"
Me: "Well… I'm not really sure how to make that happen.  We'll do it at Easter."
Sister:  <pouting>
We've had that talk about 10 times.  But now that it's Easter, my sister's in luck.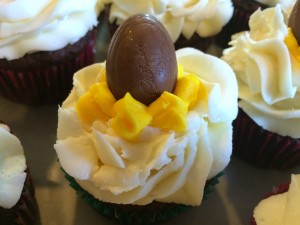 Cadbury Cupcakes:
Makes 24 cupcakes- requires 48 total small Cadbury Eggs
Ingredients:
Cupcakes:
1 box chocolate cake mix
1 small box instant chocolate pudding
3/4 C vegetable oil
3/4 C whole milk
4 eggs
24 mini Cadbury eggs, unwrapped and frozen
Basic Buttercream Frosting:
4 sticks (2 C) unsalted butter, softened
2 lbs powdered sugar
1 T vanilla
1 t butterscotch extract (optional)
Pinch salt
4 T milk or heavy cream
Yellow food coloring
24 mini Cadbury eggs
Directions:
Unwrap and freeze 24 mini Cadbury eggs.  Freeze 4+ hours or overnight.
Heat oven to 350.  Line muffin pans with cute Easter wrappers.
Use mixer to combine chocolate cake mix, chocolate pudding, eggs, oil and milk.
Fill muffin tins 1/2 to 2/3 full.  There is exactly enough batter for 24 cupcakes.  If you run out, they're too big.  Redistribute.
Place a frozen mini Cadbury Egg upright in each cupcake.
Bake 18 minutes total- 9 minutes on lower rack then 9 minutes on top rack.  Cupcakes will puff up and almost cover the egg.  Mine cracked slightly on the surface and passed the toothpick test.  Be careful not to poke the egg.  It will mostly retain shape.
Cool completely before frosting.
To make buttercream frosting, use a stand mixer.
Cream butter.  Add pinch of salt, vanilla and butterscotch if using.  Slowly add powdered sugar, scraping bowl.  If you get a blizzard (I did), it means you're adding powdered sugar too quickly.  Add milk and continue to mix well.  Add more or less milk to customize consistency.  Go slow.
Remove about 2 C of icing from the bowl and add yellow food coloring.
Pipe white icing onto cupcakes in a thick ring.  Leave a well in the center.  Fill wells with yellow frosting.  Place a mini Cadbury egg on top.  Sprinkles are always welcome.  Share with your long-suffering sister.  Yes, it IS finally time for Cadbury Cupcakes!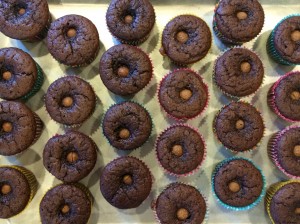 Adapted from "Cadbury Cupcakes," mybakingaddiction.com