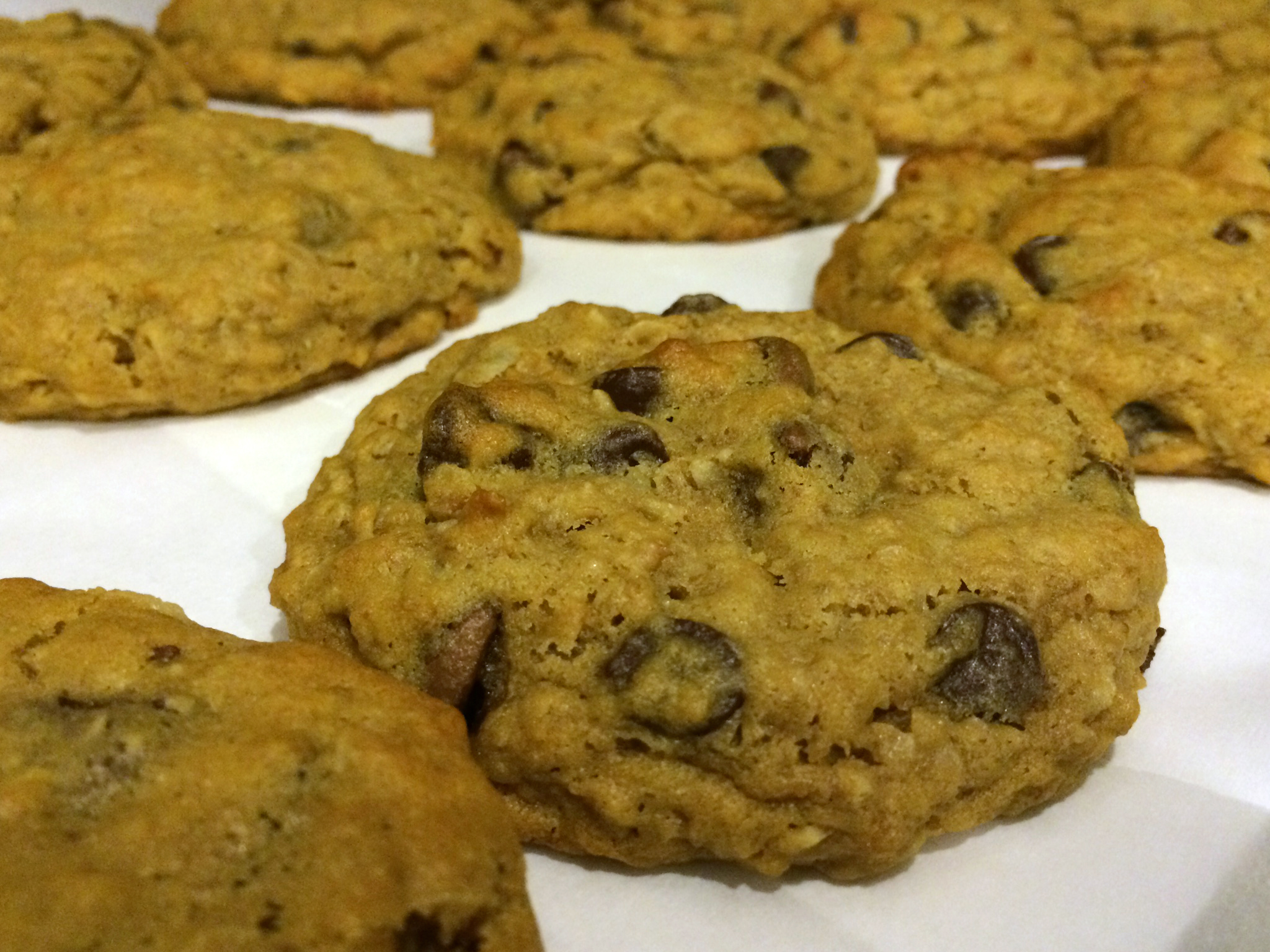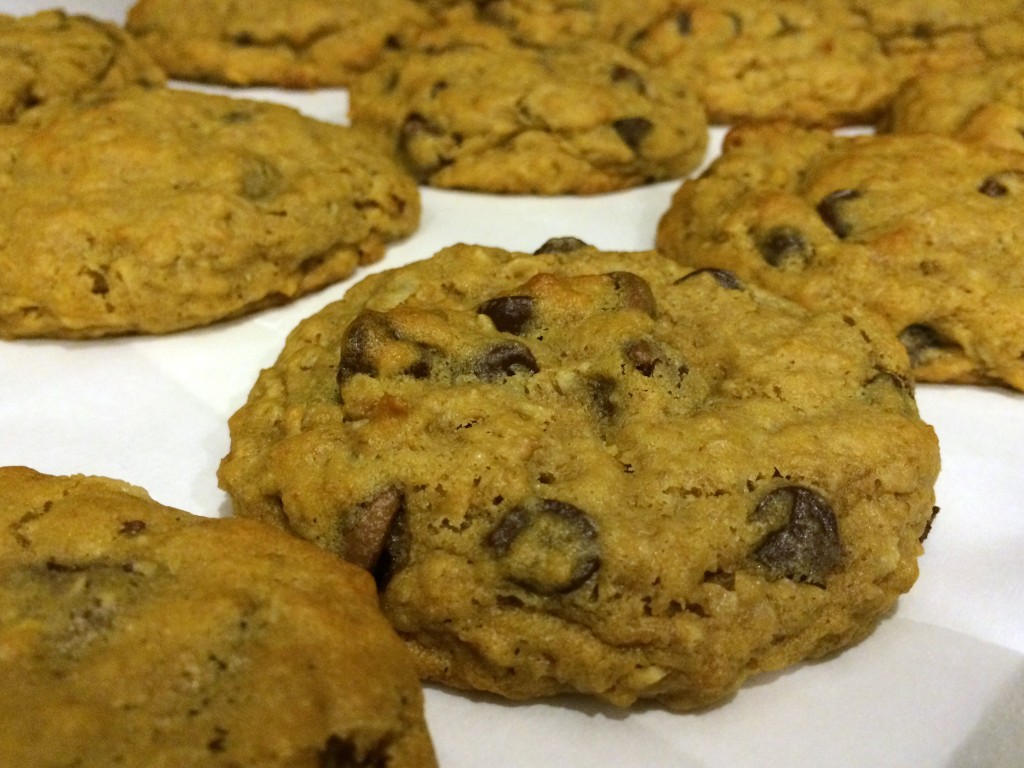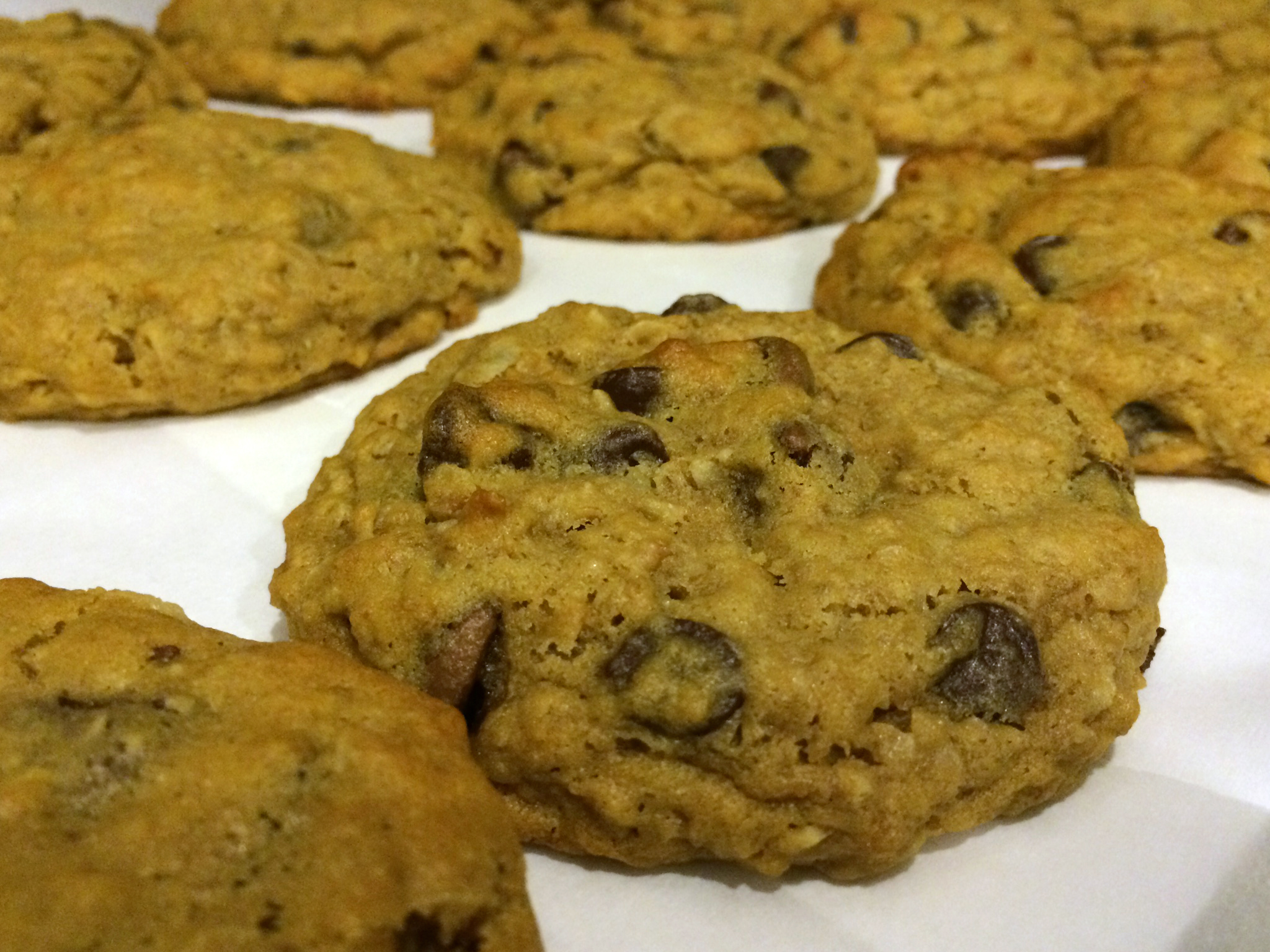 The Oregonian recently ran recipes for 3 kinds of outstanding chocolate chip cookies.  The first are Cowboy Cookies made by Packard Orchards and Bakery.  These unique cookies are hearty and reasonably healthy (for a cookie.)   The pear puree is easy- throw canned pears without juice in your blender- to brighten flavor and some of the sugar usually found in cookies.  Old fashioned oatmeal adds fiber.
Cowboy Cookies
Makes 24 large cookies
Ingredients:
 2 sticks butter, softened
1 1/2 C packed brown sugar
1/2 C pear puree (can substitute honey although pears are better)
1 T vanilla
2 egg yolks
1/2 C unsweetened, shredded coconut
1 T baking soda
1 1/2 t baking powder
1/2 t salt
2 C old fashioned (not instant) oats
2 1/4 C flour
2 C milk chocolate chips
1 C semi sweet chocolate chips
Directions:
Heat oven to 350.  Line rimmed baking sheets with parchment paper.
Use stand mixer to cream butter.  Add brown sugar and vanilla.
Add pear puree and egg yolks.  Add baking powder, baking soda and salt.  Add coconut.  Scrape sides if needed.
Add oatmeal and flour.  Add chocolate chips.  Dough will be very thick.
Roll 1/4 C balls of dough.  Set on cookie sheet, I fit 6 per sheet.
Bake 12 minutes total, 6 on lower rack and 6 on upper.  Cookies will be lightly golden brown.  Cool on cookie sheets for 10 minutes (don't overbake or these can get hard) and transfer to cooling racks.
Recipe adapted from "(Almost) Packard Orchards Cowboy Cookies," Nathan Hostler, published 3/9/15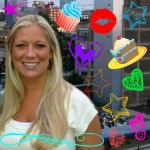 I'm a self-taught Betty Crocker. Food should be pretty, delicious and have sprinkles. Professionally I'm a clinical social worker. Follow me on Facebook and Pinterest- Sugar and Spice Baking Blog- for great recipes, amazing restaurants and culinary adventures.