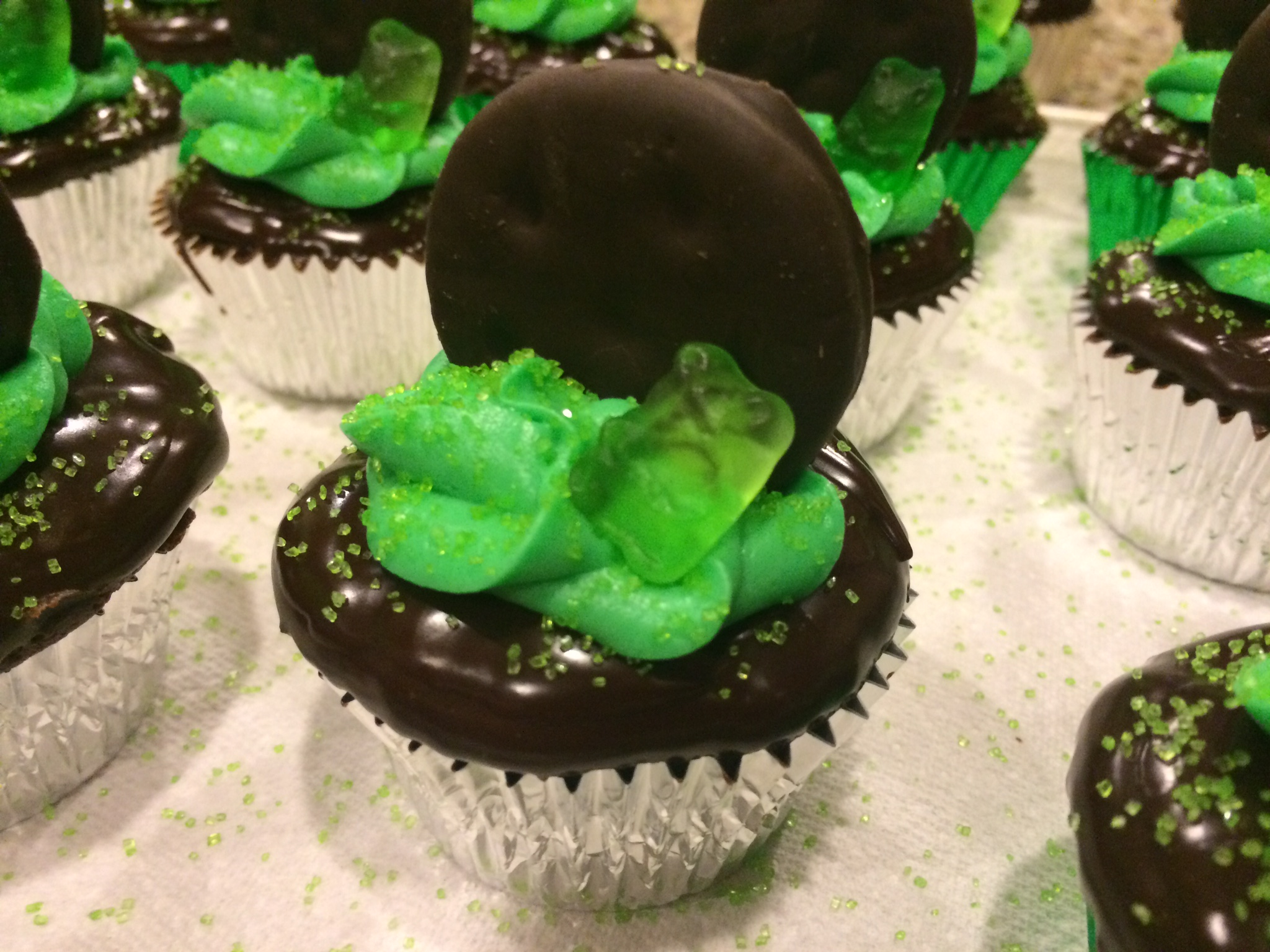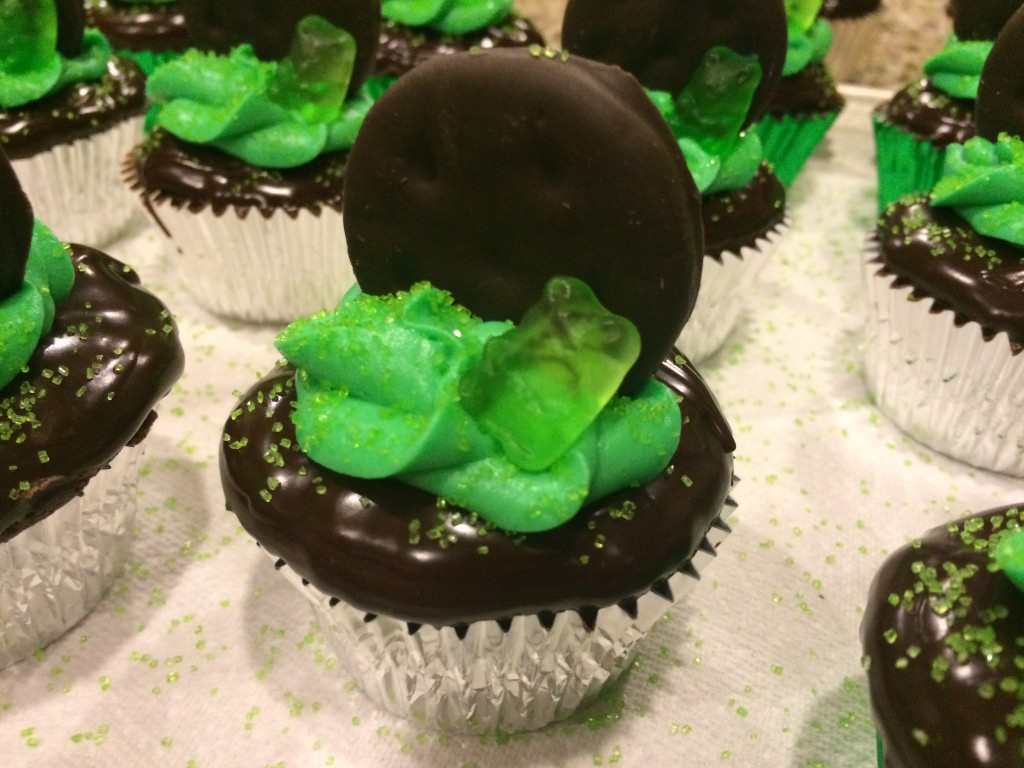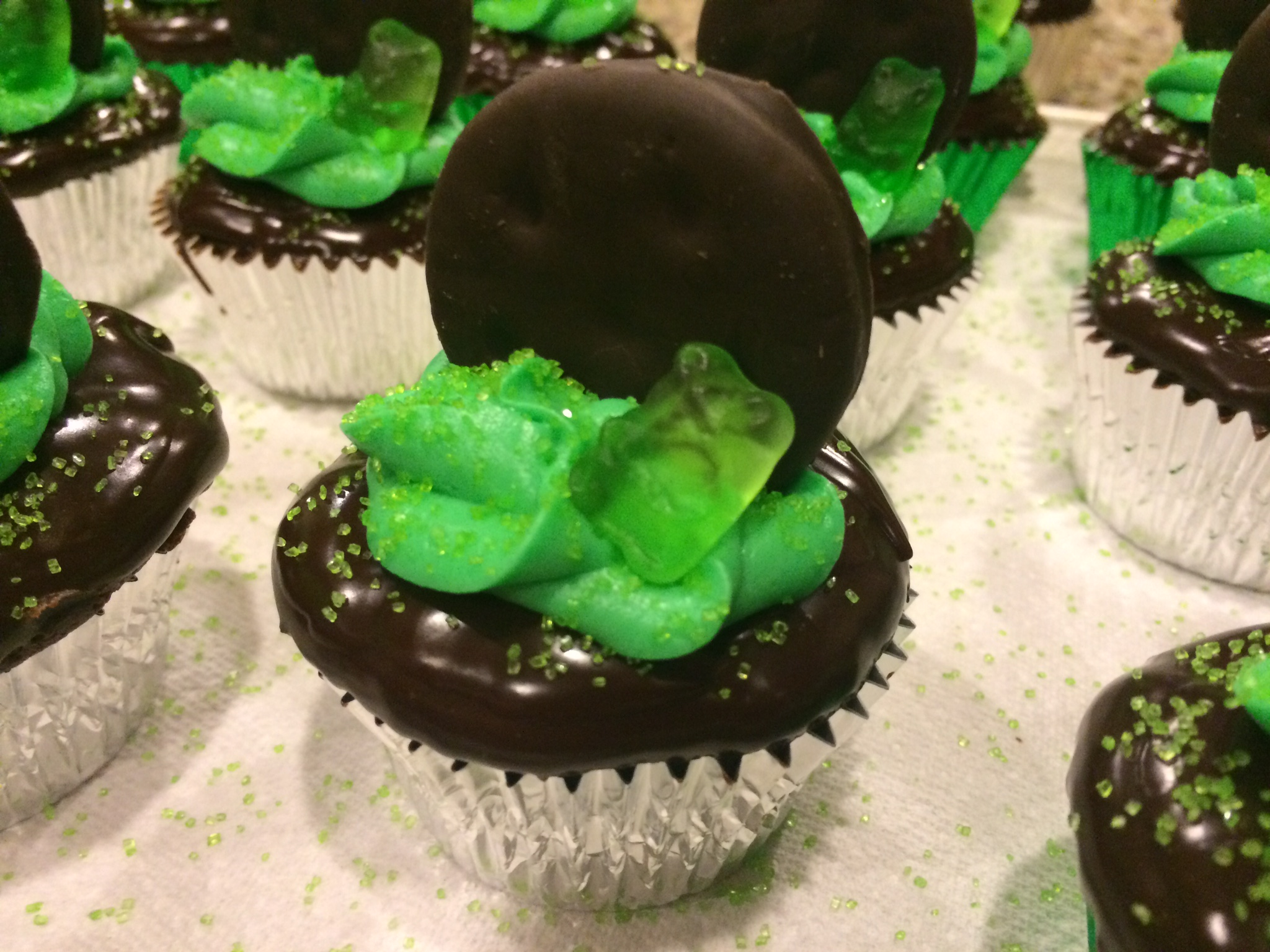 It's Girl Scout Cookie season!  From Samoas to Trefoils, it's like Christmas for cookie fans.  Thin Mint Cupcakes are dark chocolate, dipped in melted Andes mints and topped with mint buttercream frosting.  Garnished with a cookie, these are a perfect addition to any St. Patrick's Day celebration.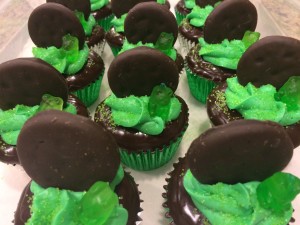 Thin Mint Cupcakes
Makes 24 cupcakes
Ingredients:
For cupcakes:
1 box dark chocolate cake
1 small box instant dark chocolate pudding
3/4 C whole milk
3/4 C vegetable oil
4 eggs
2 t peppermint extract
For the topping:
For mint buttercream:
1 package cream cheese, softened
4 T (1/2) stick butter, softened
1 lb powdered sugar
1 T peppermint extract
Green food coloring
24 Thin Mint Cookies
Directions:
Turn oven to 350.  Line 24 cupcake holders with green wrappers.
Combine dark chocolate cake mix, instant pudding, whole milk, vegetable oil, eggs and peppermint extract.  Stir in mint baking chips.
Distribute into cupcake wrappers.  Bake for 20 minutes total, 10 minutes on lower rack then 10 minutes on upper.  A toothpick will come out clean.  Cool completely.
When cupcakes are cool, make topping.  Place unwrapped, Andes mints and bittersweet baking chocolate into a bowl.  Microwave heavy cream in 30 second increments for about 90 seconds until warm.  Pour over chocolate.  Add corn syrup and peppermint extract.  Stir until chocolate melts and all is smooth and combined.
Carefully hold cupcakes upside down and dip into chocolate topping.  It will be very thick and stick to the top.  The mixture will set, similar to a thick fudge.  If there is extra topping, dip cupcakes twice.
To make mint buttercream, use hand mixer to combine softened cream cheese and butter.  Add mint extract.  Slowly add powdered sugar.  Add green food coloring until frosting is the desired color.  Pipe a small amount on top of cupcake.  Garnish with thin mint cookie.
(PS.  There are 32 Thin Mint Cookies in the box.  You need 24.  This means 6 extra to sneak into your lunch bag and eat at work all by yourself.  Yum!)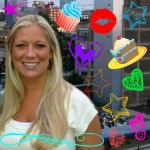 I'm a self-taught Betty Crocker. Food should be pretty, delicious and have sprinkles. Professionally I'm a clinical social worker. Follow me on Facebook and Pinterest- Sugar and Spice Baking Blog- for great recipes, amazing restaurants and culinary adventures.