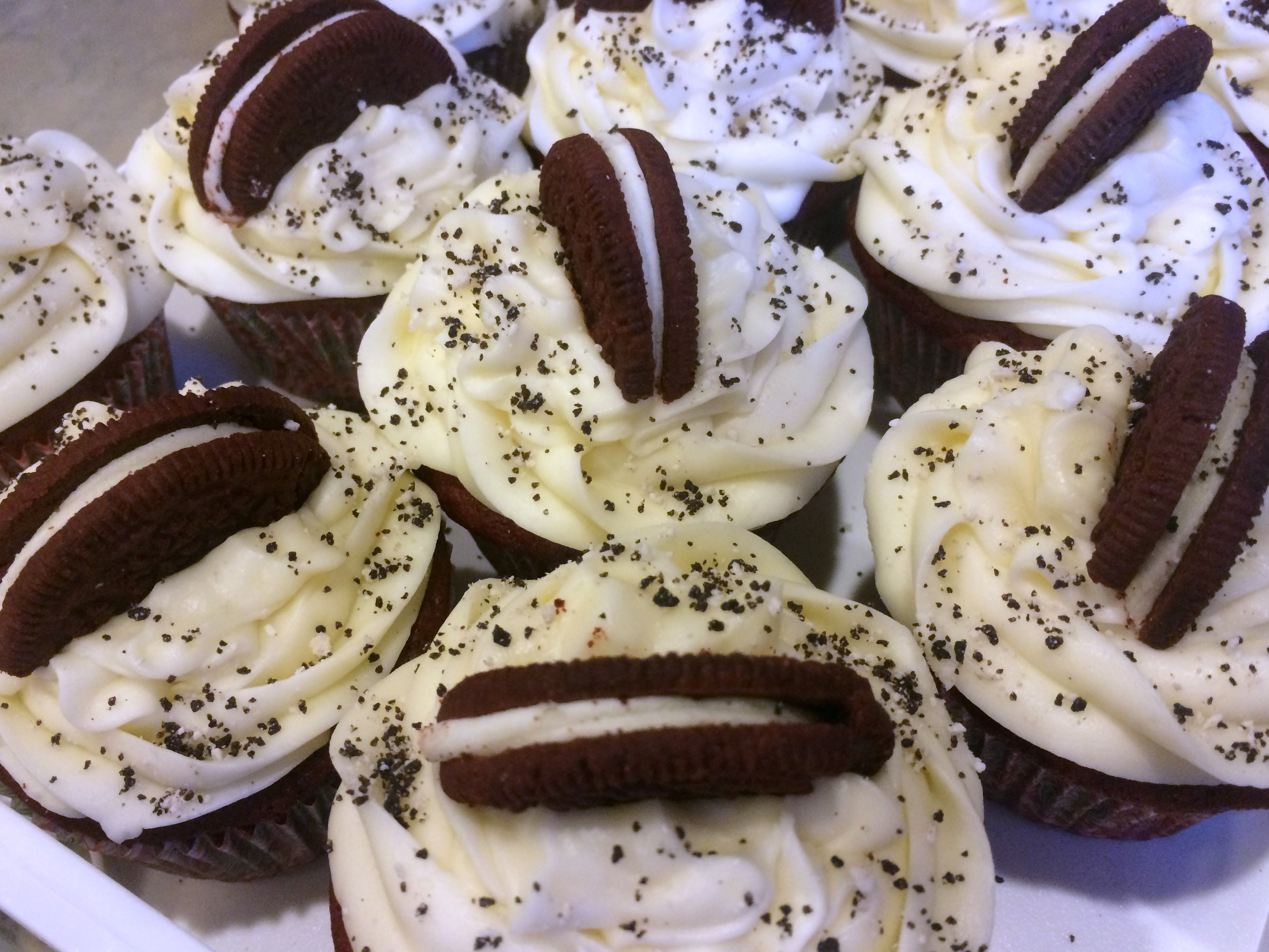 Oh my goodness.  Oreo has been a specialty kick for awhile- birthday cake, peanut butter, mint and more.  Recently I spotted Red Velvet Oreos.  I'm a fan of red velvet cake so the idea of adding Oreo sounded amazing.
A little like Oreo Cupcakes, Red Velvet Oreo Cupcakes feature a cookie inside the cupcake with delicious cream cheese frosting.  My friends and family are already requesting a second batch.
Red Velvet Oreo Cupcakes
Makes 24 cupcakes
Ingredients:
Cupcakes:
2 packages Red Velvet Oreos
1 box red velvet cake
1 small box instant white chocolate pudding
3/4 C half-and-half
3/4 C vegetable oil
4 eggs
Cream Cheese Frosting:
 2 8oz packages cream cheese, softened to room temperature
1/2 C (1 stick), softened
2 lbs powdered sugar
2 T vanilla
2-4 T half-and-half
12 Red Velvet Oreos
Directions:
Heat oven to 350.  Line muffin pan.
Combine red velvet cake mix, instant pudding, half-and-half, vegetable oil and milk.
Place 1 Red Velvet Oreo in the bottom of each muffin well.
Scoop cupcake batter into muffin pans.  There is enough for 24 cupcakes.  You don't want to overfill, the Oreo takes up some space.
Bake for 20 minutes total- 10 minutes on the lower oven rack and 10 minutes in the top.  Cupcakes will darken slightly on the top.  Set aside to cool completely.
To make frosting, use a stand mixer.  With paddle attachment, combine cream cheese and butter.  Add vanilla.  Add about half the powdered sugar and 2 T half-and-half.  Add the rest of the powdered sugar.  Cream cheese frosting should be thick but spreadable.
Pipe onto cupcakes.  Decorate each with half a Red Velvet Oreo.
Recipe based on Red Velvet Oreo Cupcakes, mybakingaddiction.com, published 2/18/15