New Orleans Praline Bites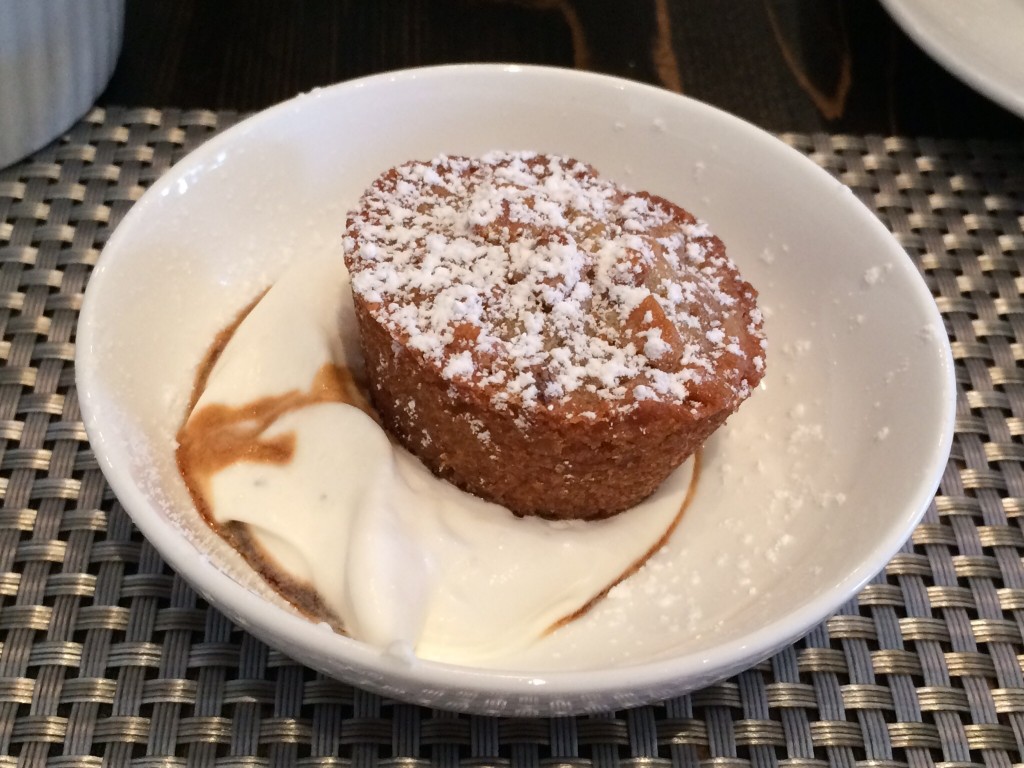 Bucket list time- we're in New Orleans for Mardi Gras.  Yep, THE Mardi Gras.  We've spent the last few days eating ourselves silly, watching people act ridiculous in public, going to parades and now we're in a Cajun and Creole cooking class.
Quick definitions:  Cajun and Creole dishes are not the same.  Short version?  Creole uses tomatoes, Cajun does not.  Longer version?  Creole is city food, Cajun is country food.  Feel free to nerd out on Google about the subject.  I may have already done this.  Moving on.
Our cooking class taught Cajun Gumbo, Creole Jambalaya, Old Fashioned Bread Pudding and Praline Bites.  Correct pronunciation is "prah-line" not "pray-leene."  Definitely take the class if you're in town.  The dishes are amazing- anyone can make them at home to enjoy an authentic New Orleans treat.
New Orleans Praline Bites
Makes 24 bites
Ingredients:
1 C dark brown sugar
1/2 C flour
1 egg
1 C chopped pecans
3/4 C (1 1/2 sticks) butter, melted
Directions:
Heat oven to 350.  Spray mini muffin pan with nonstick cooking spray.
Mix egg, dark brown sugar, flour and pecans.  Slowly pour in melted butter until batter can't absorb anymore.  You may have left over butter.  Batter will be wet and thick and look like dough without being runny.
Scoop into mini muffin pans leaving 1/2 an inch of space at the top.  Bake 15-20 minutes until a toothpick comes out clean.  Carefully invert on parchment paper to cool completely.
If you want to make more bites do it as a second recipe.  Like most pralines, don't try to make a double batch at once.  It just doesn't work.
Serve with Chantilly Cream if desired.  Chantilly Cream is a fancy way to say whipped cream- combine 1 C heavy cream, 2 T white sugar and 2 t vanilla.  Whip with mixer until soft peaks form.  Enjoy!
Recipe from "Pecan Praline Bites," Langolis Cooking School in New Orleans, Louisiana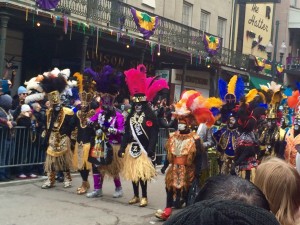 The Zulu Parade on Mardi Gras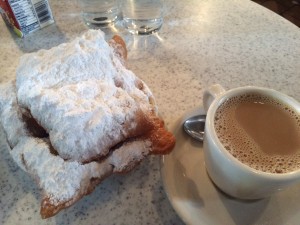 Beignets from Cafe Dumond
Bourbon St crowds- look closely and you can see people on balconies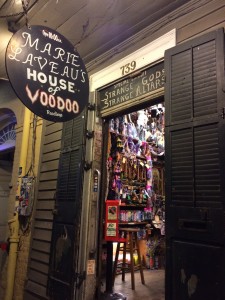 Marie LaVeau's House of Voodoo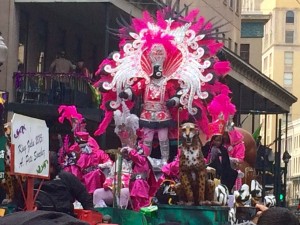 More incredible costumes at the Zulu Parade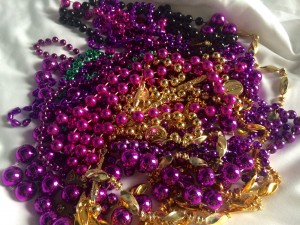 BEADS!!!  More than you can imagine in all colors and sizes.  There are beads in the trees, hanging from power lines and on every single person.  There are so many the city literally uses a mini bulldozer to clean up after parades.
This trip has definitley been one of a kind.  Thank you New Orleans!