Copycat Cranberry Bliss Bars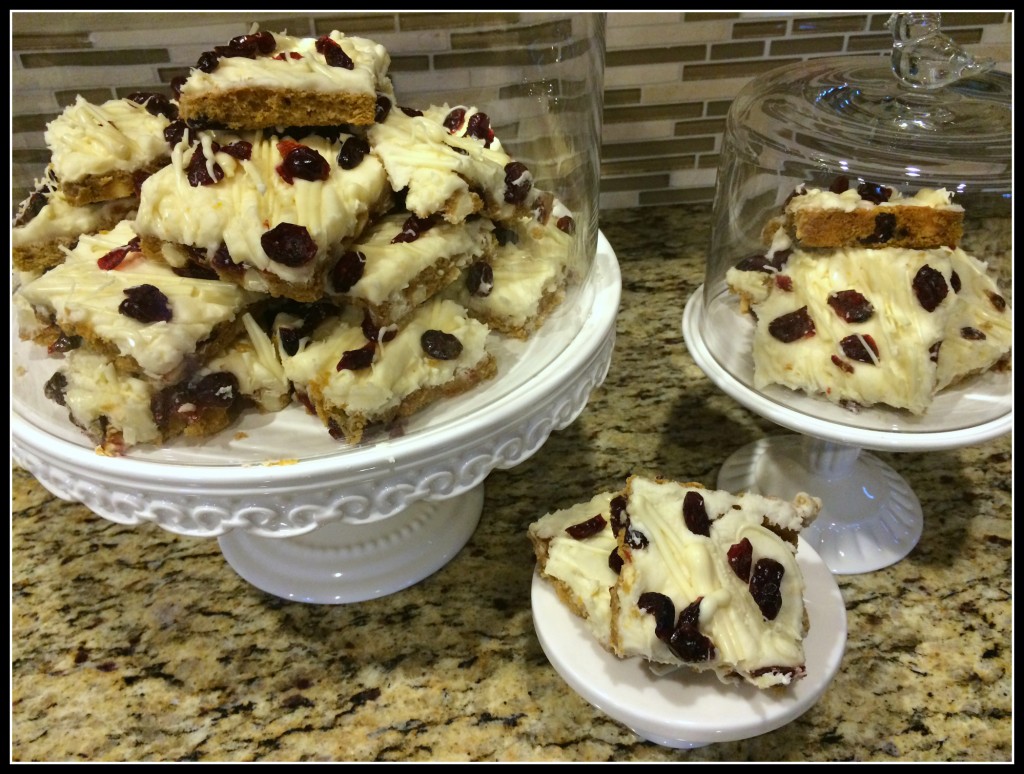 I've ended up at Starbucks a lot over the last few weeks.  While I go with local coffee (Compass Coffee is a favorite), one of my sisters has an eggnog latte addiction.
Recently on a coffee run, I shared a Cranberry Bliss Bar.  I forgot how good they are- tart cranberries, sweet white chocolate and cream cheese icing with citrus.  Being a baking nerd, I wanted to recreate them at home.  While not a perfect match, these are dang close.  The best part?  You can make the entire recipe for the cost of 2 bars at Starbucks.
Copycat Cranberry Bliss Bars
Makes 1 half sheet (18×13 inch) baking pan, 36 bars
Ingredients:
Bars:
3/4 C (1 1/2 sticks) butter, softened
1/2 t salt
1 1/2 C brown sugar
1 1/2 C flour
3 eggs
1/2 t baking powder
2 T minced crystalized ginger or 1 t ginger powder (recommend the crystalized if you can find it)*
2 t vanilla
2 C cranberries
2 C white chocolate chips, chopped up
Frosting:
8 oz cream cheese, softened
2 t vanilla extract
6 C powdered sugar
1 t orange zest
6-8 T fresh squeezed orange juice
Drizzle:
3/4 C white chocolate chips
1/2 C dried cranberries
 Directions:
Heat oven to 350.  Line baking half sheet (13×18 baking pan) with parchment paper.
In a stand mixer, combine brown sugar, salt and butter.  Add eggs and vanilla.  Scrape sides if needed.
Add ginger*, flour and baking powder.  Add cranberries and chopped white chocolate chips.  Mixture will be thick.
*I'm adding a note on the ginger.  Thank you very much to the reader who made the comment.  Sometimes I forget to write things down.  Ginger can be optional.  I like it and many of the recipes I reviewed online for this item contain it.  It is completely possible Starbucks doesn't use it in their official (and secret) recipe.  Feel to keep or add based on your preference.  Hope this helps.
When combined, dump into cookie sheet.  Use your hands to spread it out evenly.  It will be less than an inch thick but it will cover the entire pan.
Bake for 20 minutes until it puffs up and is no longer shiny.  Check frequently the last 5 minutes, you don't want it to over bake and dry out.  Set aside to cool.
Make frosting while bars are cooling.  Use stand mixer to combine cream cheese, vanilla and orange zest.  Add powdered sugar 1 C at a time.  Alternate with 1 T of fresh squeezed orange juice.  Frosting texture should be thick but spreadable like creamy peanut butter.
When bars are cool, spread frosting evenly on top.  Sprinkle 1/2 C cranberries and gently press down.
Put 3/4 C white chocolate chips into Ziploc bag.  Microwave in 15 second bursts until melted.  Snip the corner and drizzle over bars.
When the white chocolate sets, slice and serve with coffee.
Recipe adapted from "Copycat Starbucks Cranberry Bliss Bars," lettthebakingbegin.com, by Marina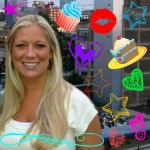 I'm a self-taught Betty Crocker. Food should be pretty, delicious and have sprinkles. Professionally I'm a clinical social worker. Follow me on Facebook and Pinterest- Sugar and Spice Baking Blog- for great recipes, amazing restaurants and culinary adventures.