Peppermint Ding-Dong Cupcakes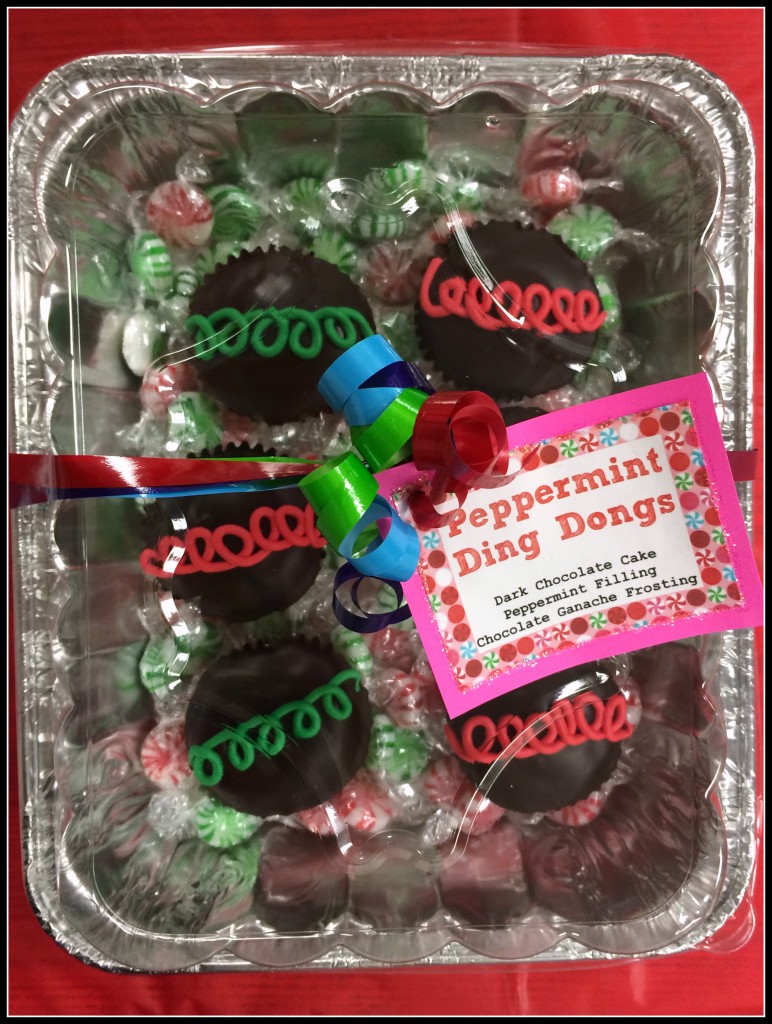 It's time for a holiday bake sale at work.  Funds raised go to food baskets for youth and families.  I pulled out all the stops and make 4 batches of Cheater Pants Salted Toffee and Peppermint Ding Dong Cupcakes.
Peppermint Ding Dongs are a revision of Ding Dong Cake.  Dark chocolate cake combines with creamy mint filling and ganache topping.  Because it's the holidays and I love food coloring, I tinted the centers red and green to match the swirls on top.  This can be done as a layered cake or cupcakes.  An impressive contribution to any holiday party!
Peppermint Ding Dong Cupcakes
Ingredients:
1 box dark chocolate cake mix

1 box dark chocolate instant pudding
Peppermint Filling
4 oz (1/2 package) cream cheese, softened

1 stick (1/2 C) butter, softened

1/2 container whipped topping, thawed

Red and green food coloring if desired
Peppermint Ganache
8 oz semisweet baking chocolate bars (I needed 2)
Directions: 
Heat oven to 350.  Line muffin pan with cute holiday wrappers.
Mix cupcake ingredients until combined.  Distribute into muffin pans.  There is exactly enough for 24 cupcakes.  Coming up short?  You're using too much batter.  I do mine between 1/2 and 2/3 full.  We don't want these to puff over the top because you'll dip in ganache later.
Bake 20 minutes until a toothpick comes out clean.  Cool completely.
While cupcakes are cooling, make peppermint filling.  Use a hand mixer to combine butter and cream cheese.  Add whipped topping.  Add vanilla and peppermint extract.  Add powdered sugar.
Scrape sides if needed, make sure filling is well combined.  Separate into 2 Ziploc baggies.  Tint one bag green and the other red.
When cupcakes are 100% completely cooled (no cheating, the filling will melt!), use a cupcake punch to make holes.  Snip corner of Ziploc bags, pipe into center.  Trim extra cake from the bottom of the punched cake piece and replace on top.  Gently press down.  This seals the cupcake.  Repeat until all cupcakes are filled.
To make ganache topping, heat heavy cream in microwave in 30 second bursts.  When it is hot but not boiling, break up and add chocolate.  Add corn syrup and peppermint extract.  Stir until smooth.
Carefully hold cupcakes by the bottom and dip into ganache.  Make sure the entire top of the cupcake goes in.  Set aside, ganache sets after about 10 minutes.  Dip a second time.
Split can of vanilla frosting into 2 piping bags.  Tint red and green.  Pipe onto cupcakes in curly lines.
Refrigerate until serving.  Happy holidays!
Adapted from "Ding Dong Cake," recipe from a family friend