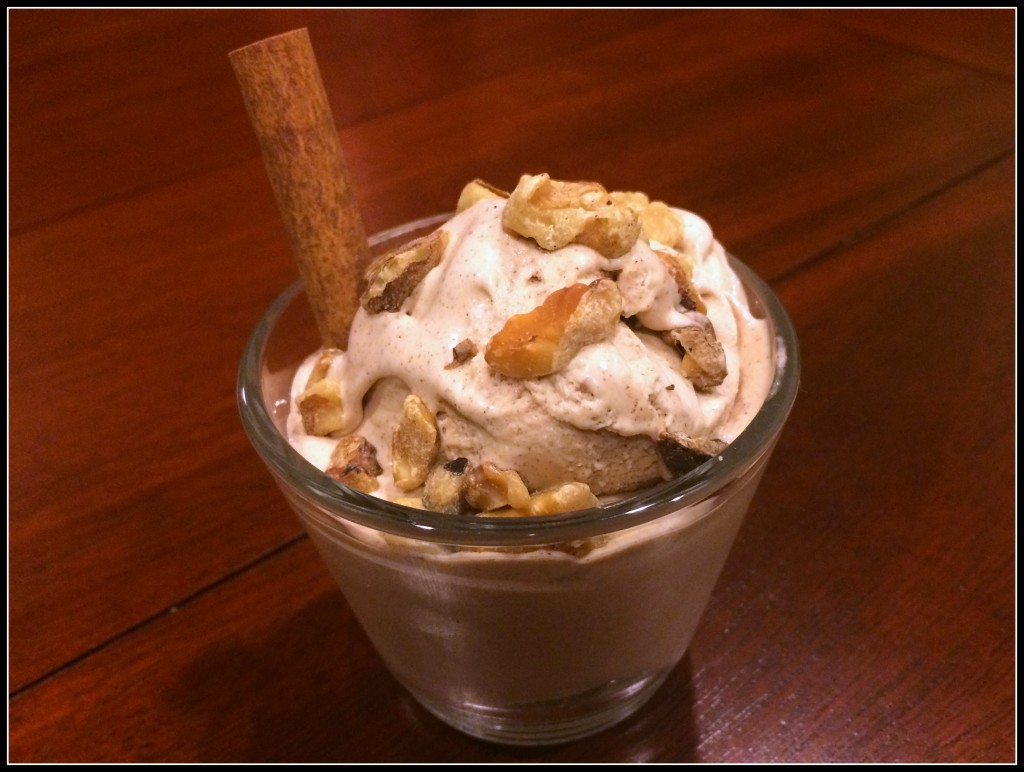 December 13 is National Ice Cream Day.  I'm using this an excuse to test a new flavor.  Cinnamon ice cream is great on its own and goes perfectly with pumpkin or apple pies.  Created on a custard base, cinnamon ice cream is silky, creamy and festive.
Cinnamon Ice Cream
Serves 6-8 people
Ingredients:
1 C sugar
1 1/2 C half and half
Pinch salt
2 eggs
1 C heavy cream
1 T cinnamon
1 t vanilla extract
1 C toasted walnuts
Cinnamon sticks
Directions:
Combine sugar, salt and half and half in medium sauce pan.  Bring to a simmer on medium low.  Don't get impatient and turn up the heat, dairy products burn easily.  Stir constantly.
Whisk eggs in a separate bowl.
When mixture is simmering, pour about half the hot liquid into the eggs.  Whisk quickly as you add.  if you aren't comfortable pouring with one hand and whisking with the other, ask for help.  This process is called tempering and prevents having scrambled egg ice cream.  (also in my epic failures)
Pour the egg liquid back into the pan and whisk together.  Add heavy cream.  Continue to cook on medium low, stirring constantly.  Mixture will thicken after about 8-10 minutes and coat back of metal spoon.
Remove from heat.  Stir in cinnamon and vanilla.
Pour into a wide, flat pan (like a 9×13).  Press plastic wrap on the top.  This prevents a skin from forming.  Cool for at least an hour, I'd recommend placing in the refrigerator.
When mixture is cool, add to prepared ice cream maker.  Freeze according to directions.  Serve.  Garnish with cinnamon stick and toasted walnuts if you want to be fancy.
Adapted from "Cinnamon Ice Cream" by Elizabeth, allrecipes.com