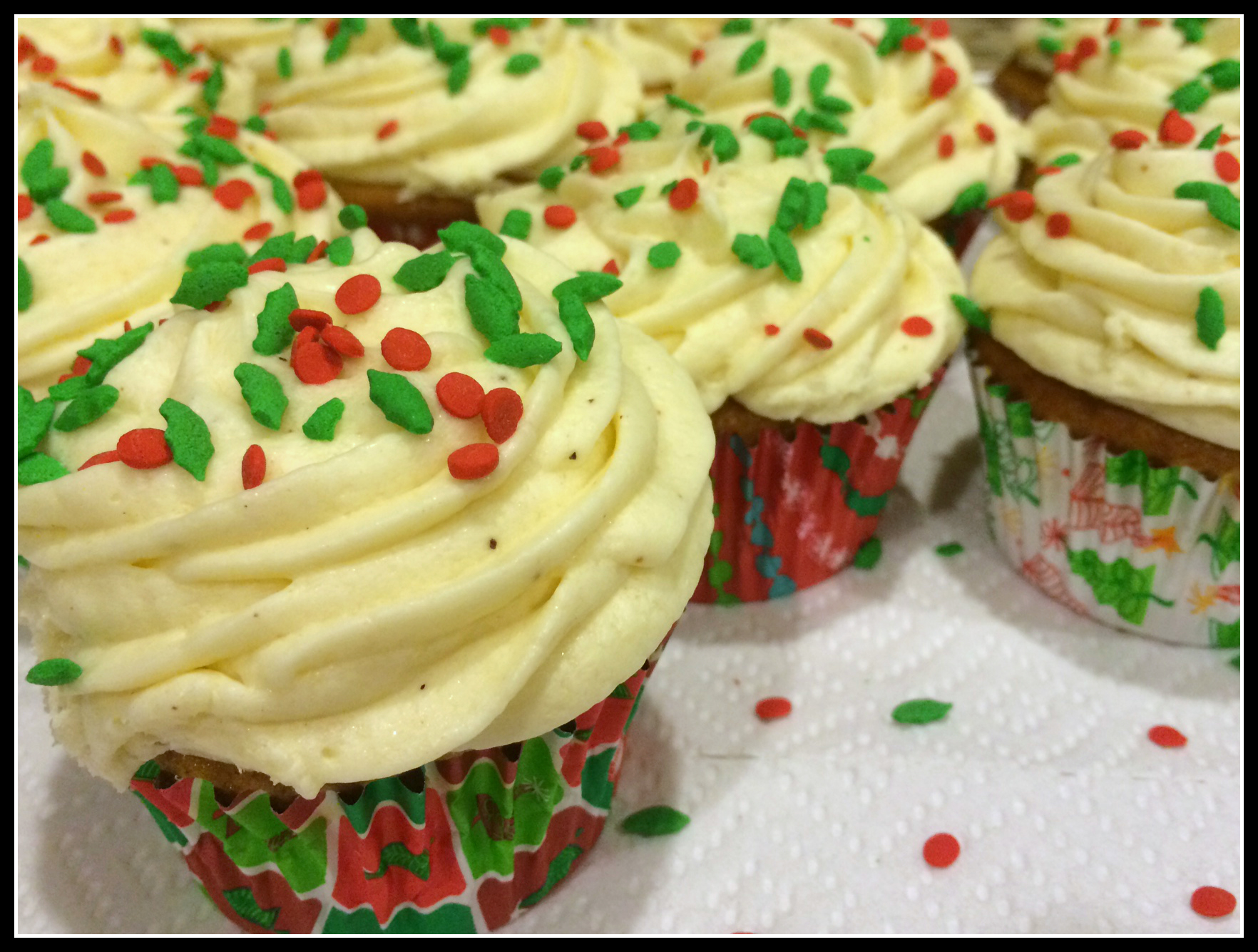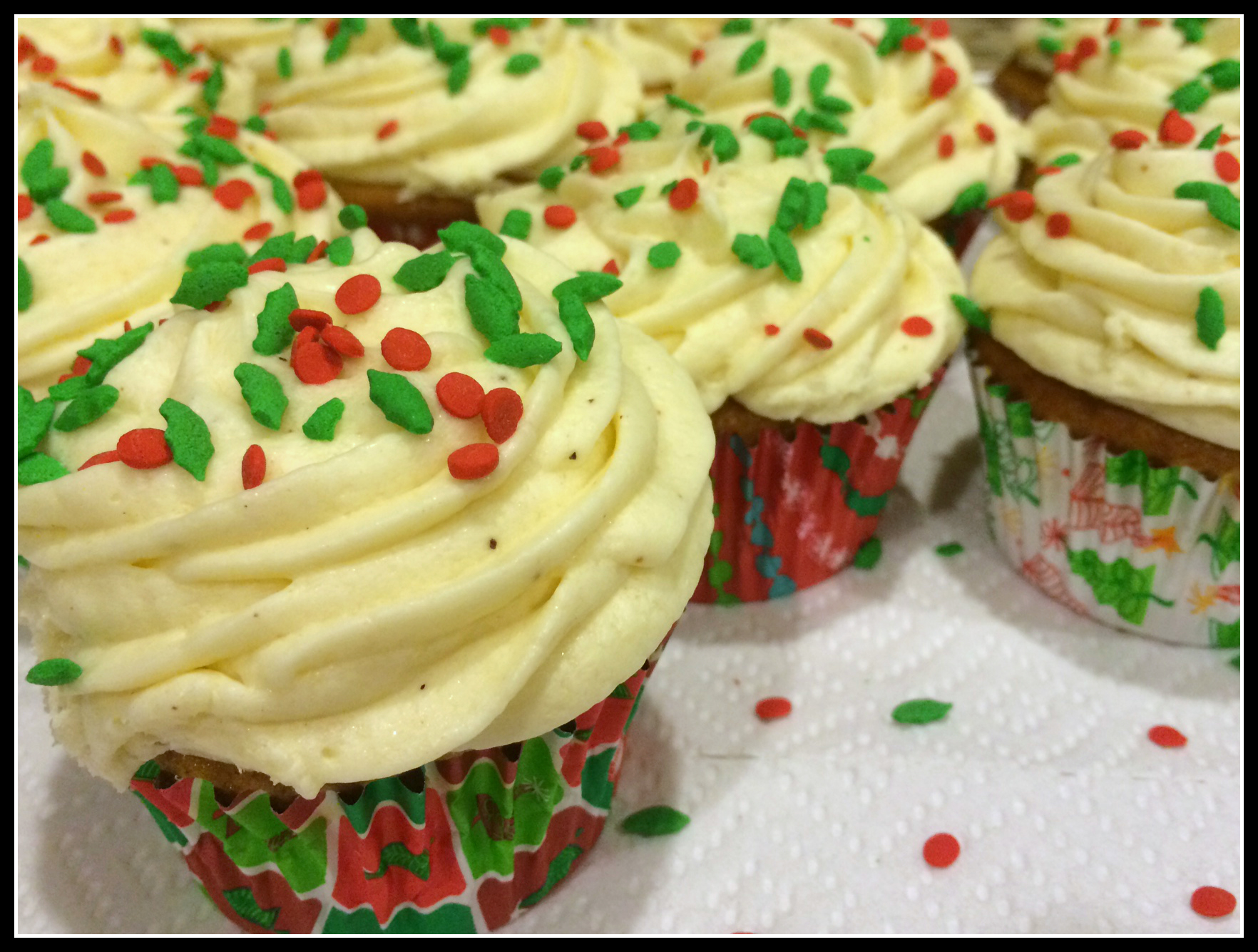 People either love or hate eggnog.  I'm definitely a fan…  my sisters and I would buy it as soon as it came into stores.  1 half gallon of eggnog divided by 3 girls + about a day until we drank it all.
Eggnog cupcakes are a fun way to highlight the distinctive flavor.  A double dose of nutmeg spiked decadence, this recipe features eggnog cake with eggnog buttercream frosting.  Be warned- these are rich.  Eating more than one may put you on the naughty list!
Eggnog Cupcakes
Makes 24 cupcakes
Ingredients:
2 1/2 C flour
2 C sugar
1/2 t nutmeg
1 t baking powder
1/2 t baking soda
1 C (2 sticks) softened butter
4 eggs
1 C regular eggnog
Eggnog Buttercream Frosting
2 C (4 sticks) butter.  Yes really.  I warned you about the naughty list.
1/2 C flour
2 C sugar
1/2 t nutmeg
2 C regular eggnog
1/4 t salt
4 C powdered sugar
Directions:
Heat oven to 350.  Line muffin pans with cute holiday wrappers.
In a large bowl, mix dry cupcakes ingredients: flour, sugar, nutmeg, baking powder and baking soda.  Set aside.
Use whisk attachment in stand mixer.  Cream butter until fluffy.
Add all dry ingredients.  Mix and scrap sides.  Mixture will resemble coarse crumbs.
Add eggs and mix until combined.  Scrape sides.
Add eggnog and mix about 1 more minute.  You want the batter evenly combined but not over mixed.
Portion into 24 cupcakes.  There is exactly enough batter.
Bake about 25 minutes until lightly golden brown.  These smell amazing and a toothpick will come out clean when inserted in the center.  Set aside to cool.
While cupcakes are baking, make the frosting.  Mix dry ingredients: flour, sugar and nutmeg in medium sauce pan.  Add eggnog and whisk until smooth.
Turn on burner to medium low.  Stirring constantly, bring mixture to a boil.  You're essentially making an eggnog roux.  Don't turn the burner to medium, this is too hot.  The mixture is very thick and will burn.  It should take about 7 minutes to heat thoroughly and boil.
Boil for 1 minute.  Mixture is thick and will coat a spoon.  Pour into a flat shallow pan (like a 9×13) and press plastic wrap on the top.  Set aside to cool.
To make frosting, use stand mixer with whisk attachment.  Cream butter until light and fluffy.  Add cooled eggnog roux.  Add powdered sugar.  If the eggnog roux is warm it will melt your frosting.
Mix on high mixture resembles stiff whipped cream.  Scrape sides as needed.
Pipe onto cupcakes.  Add sprinkles.  Enjoy the last cup of eggnog in the quart (it's 4 C and we only used 3.)  Happy holidays!
Original recipe from bettycrocker.com, "Eggnog Cupcakes with Whipped Eggnog Buttercream Frosting"