Cinnamon Crunch Coffee Cake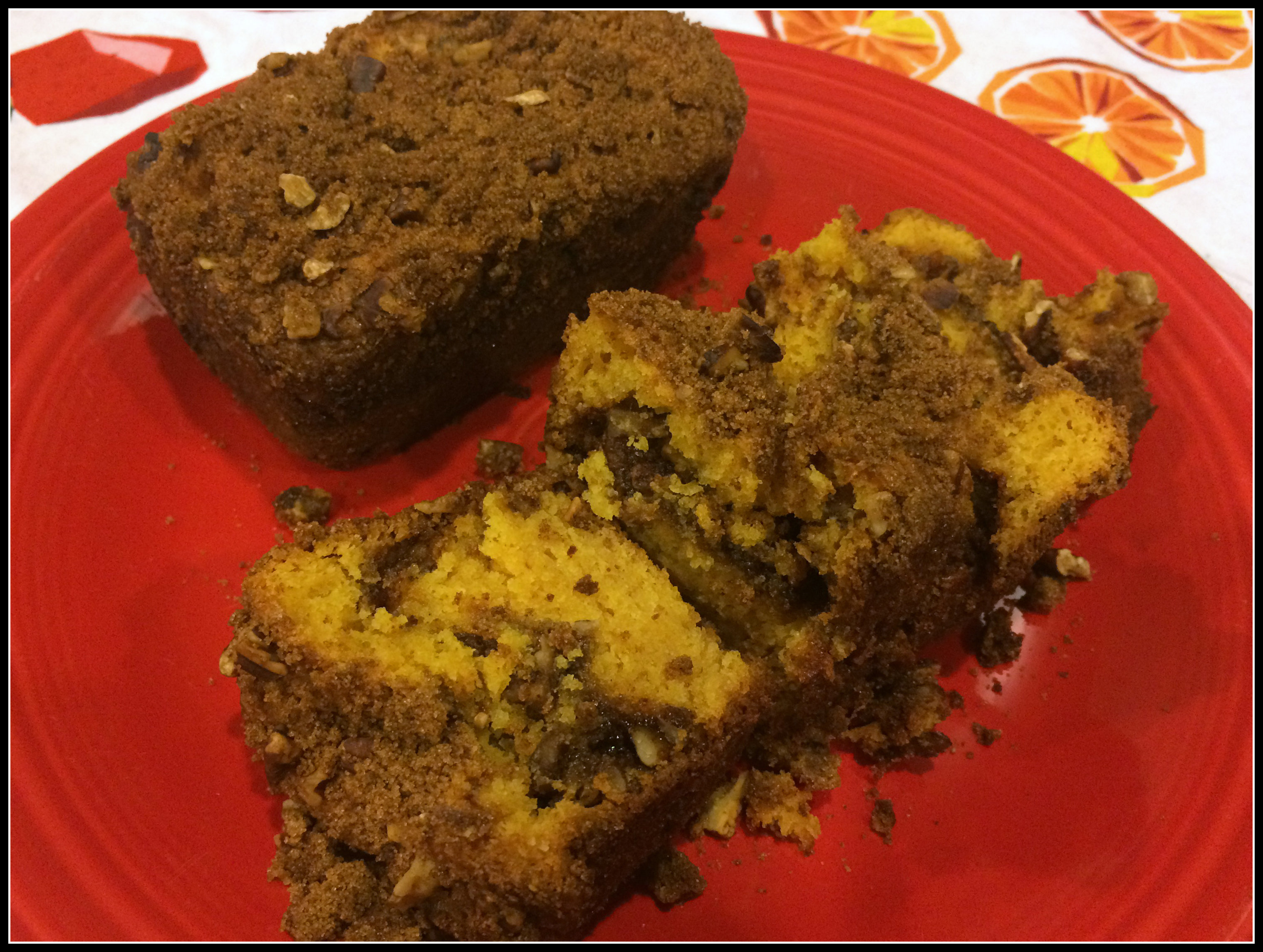 It's December 1st tomorrow and I'm excited for the holiday season to begin.  It's easy to be enthusiastic when you're in the warm house baking as your husband is out in the cold wind hanging up Christmas lights.  Cinnamon Crunch Coffee Cake made a quick and easy "thank you!!!" for the hard, freezing work.  This can be made as 8 mini loaves, a Bundt or 9×13 baking pan.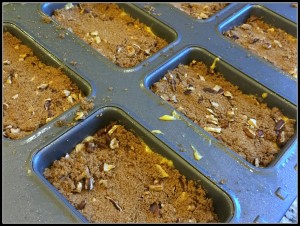 Cinnamon Crunch Coffee Cake
Makes 1 9×13 pan or 8 mini loaves
Ingredients:
1 box yellow cake mix
1 small package instant vanilla pudding
1 small package instant butterscotch pudding
1 C whole milk
1 C vegetable oil
4 eggs
1 C dark brown sugar
1 C toasted pecans
1 T cinnamon
Directions:
Heat oven to 350.  Grease pan with nonstick cooking spray.
Mix cake mix, vanilla pudding and butterscotch pudding in large bowl.
Add milk, oil and eggs.  Combine well.
In small bowl, combine brown sugar, toasted pecans and cinnamon.  Use your fingers to mix together.
Scoop blobs of coffee cake batter into pan.  Use about half.  Sprinkle with half the brown sugar mixture.  Add remaining batter.  Pour on remaining brown sugar mixture.
Bake mini loaf pan for 35 minutes on center rack of oven.  Use a butter knife to test the center to see if cake is done.  9×13 pan will take approximately 10 minutes longer.  Cake will be golden brown on edges.
Coffee cake is crumbly; to remove mini loaves let them cool.  Run a knife gently around sides.  Lift each loaf carefully by supporting with a fork.
Serve with coffee to anyone who is spending time outside hanging Christmas lights from the roof.
Recipe modified from "Cinnamon Coffee Cake II," allrecipes.com by Janis Woods