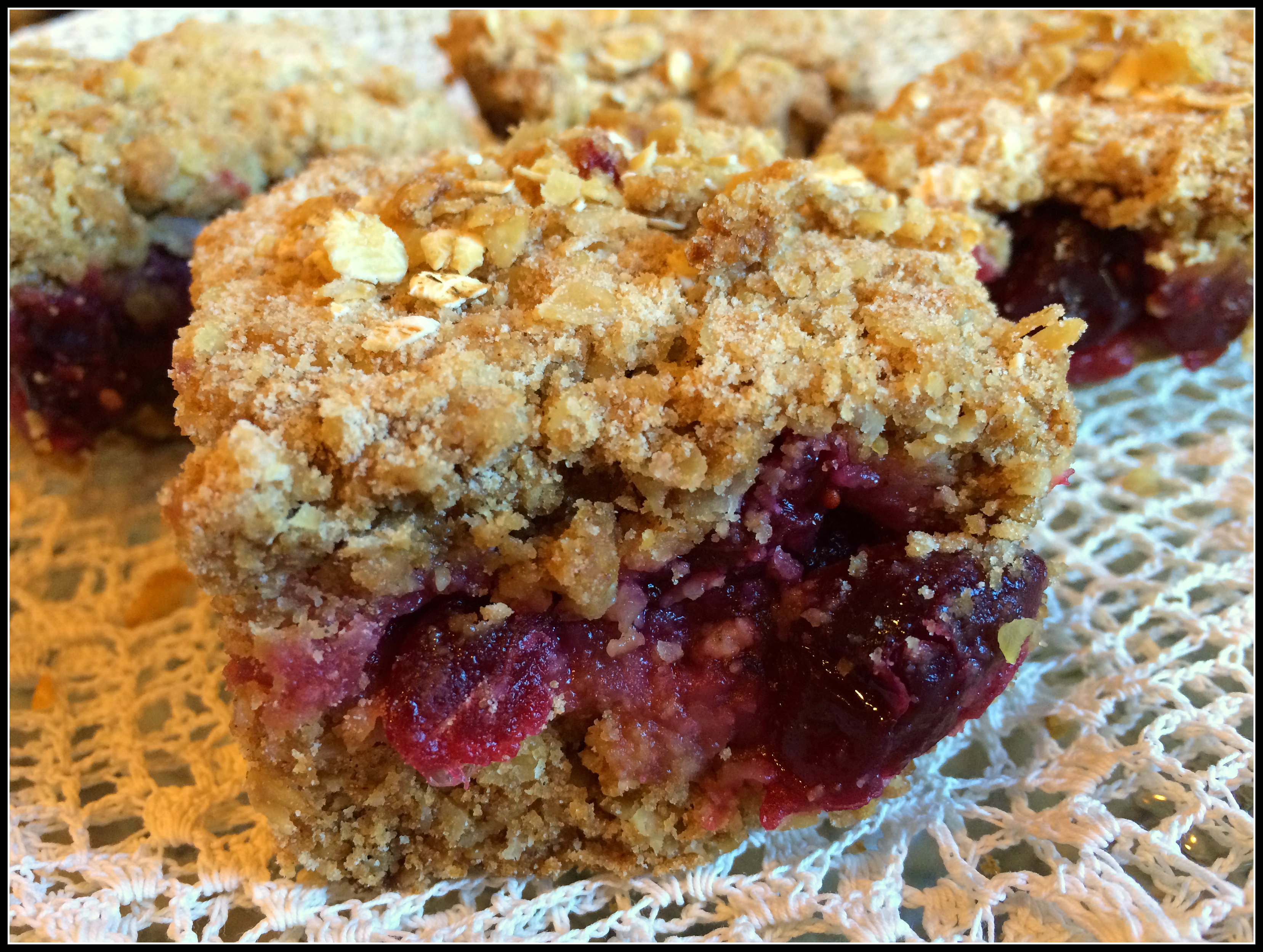 Cranberry Crumble Bars are my husband's favorite.  He makes them all year long.  Cranberry Crumble Bars use tangy, fresh cranberries for a perfect dessert at Thanksgiving and Christmas festivities.  Want to dress them up?  Drizzle with white chocolate.  Fun fact- air pockets in ripe cranberries make them bounce like basketballs.  Definitely try this when you make them!
Cranberry Crumble Bars
Makes 24 bars
Ingredients:
Cranberry filling:
1 12 oz bag fresh cranberries (can be a bag of fresh berries frozen)
3/4 C water
1 C sugar
pinch salt
1/2 t cinnamon
1/2 t vanilla extract
Crumble bars:
1 C brown sugar
1 3/4 C flour
1/2 t baking soda
1/2 t salt
1/2 t cinnamon
3/4 C (1 1/2 sticks) butter, softened
1 1/2 C rolled oats or old-fashioned oatmeal
1/2 C toasted pecans
1/2 C white chocolate chips (optional)
Directions:
Combine cranberries, water and sugar.  Bring to a boil then reduce to a simmer.  No need to thaw berries if frozen.  While simmering, berries will pop and mixture thickens after about 5 minutes.  Remove from heat, add cinnamon, salt and vanilla.  Set aside, makes about 3 C filling.
Heat oven to 375.  Grease 7×11 inch baking pan.
Combine brown sugar, flour, baking soda, salt and cinnamon.  Use a pastry cutter (or your fingers) to incorporate butter.  Continue mixture until mixture resembles coarse crumbs with no large lumps.  Add oatmeal.
Pour half the crust mixture into pan.  Press gently and bake for 10 minutes.
Remove crust and add cranberry filling.  Spread evenly.
Mix pecans with remaining crust mixture.  Sprinkle over filling.
Bake 25 more minutes until lightly browned.  Cool before slicing.
If adding white chocolate, wait until bars cool.  Melt in zip lock bag in 10 second bursts.  Snip corner and artfully scribble on the surface.  Happy holidays (or all year round at our house).
Original recipe came from the Oregonian several years ago.  I don't have the date, only a slightly wrinkled scrap of paper.