Caramel Filled Chocolate Cookies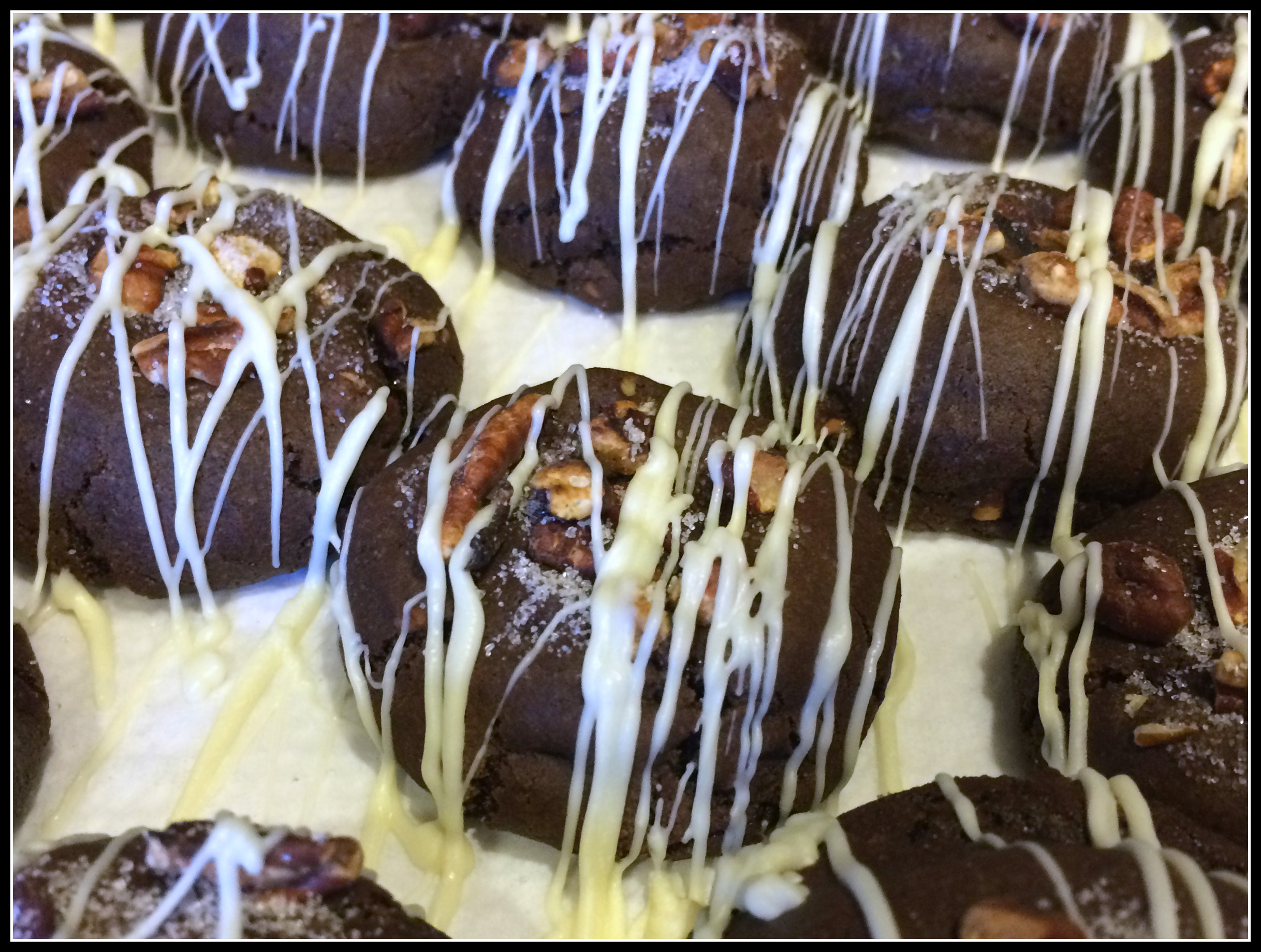 Caramel Filled Chocolate Cookies are the best of holiday baking- they look fancy and a single recipe makes lots.  These dark chocolate cookies has a secret caramel center and extra crunch from pecans.  While takes a little time to shape the dough, it's worth it.  Caramel Filled Chocolate Cookies are perfect for holiday gifts, bake sales or cookie exchanges.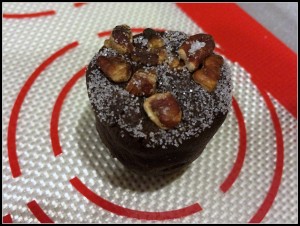 Caramel Filled Chocolate Cookies
Makes 48 cookies (possibly more… people at my house kept eating them before I could count)
Ingredients:
 2 1/2 C flour
1 t baking soda
3/4 C unsweetened cocoa
1/2 t salt
1 C sugar
1 C dark brown sugar
2 sticks (1 C) butter, softened
1 T vanilla
2 eggs
2 T milk
48 chocolate caramel candies (I used Rolo's Chewy Caramels)
1 1/2 C chopped, toasted pecans
1/2 C sugar
1/2 C white chocolate chips
Directions:
Unwrap and freeze chocolate caramel candies, at least 2 hours ahead.
Heat oven to 375.  Line baking sheets with parchment paper.
Combine flour, cocoa, salt, baking soda and 3/4 C of pecans in small bowl.  Set aside.
Use stand mixer with paddle attachment to cream butter, sugar and brown sugar.  Add vanilla, eggs and milk.
Slowly add dry mixture.  Scrap sides if needed.  Dough will be very thick.
Combine remaining pecans and 1/4 C sugar on something flat.  I used a pie plate.
Remove Rolos from freezer.  Scoop ball of dough about 2 inches across and push candy inside.  Close dough completely around the candy.  Reshape dough (mine looked like marshmallows).
Dip the top of the dough in the pecan sugar mixture.  Set on baking sheet.
Bake 10 minutes.  Use a timer.  Cookies will flatten and crack slightly.  Cool 10 minutes then transfer to wire rack to finish cooling.
Repeat on remaining cookies.  Chase people sneaking dough and Rolos candies off your counter with a spatula.
When cookies are cool, put 1/2 C white chocolate chips in a Ziploc bag.  Microwave in 10 second bursts until melted.  Snip the corner and drizzle over cookies.  White chocolate will harden.
Take to bake sale or give as a gift.  The holidays will be here before we know it!
Recipe adapted from "Caramel Chocolate Cookies," Pillsbury.com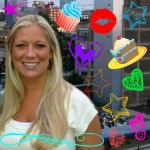 I'm a self-taught Betty Crocker. Food should be pretty, delicious and have sprinkles. Professionally I'm a clinical social worker. Follow me on Facebook and Pinterest- Sugar and Spice Baking Blog- for great recipes, amazing restaurants and culinary adventures.