Thanksgiving will be here soon and I'm practicing pie recipes.  Don't laugh… hosting dinner is lots of work and it's awful to have recipes go sideways.  After mastering the art of turkey defrosting (tip- start early!), serving great pies is top of my list.
Salted caramel apple pie is a variation on the traditional favorite.  I opted for a recipe with scratch sauce instead of unwrapped caramel candies.  The resulting pie is close enough to holiday favorites to keep my dad happy but a nice change for the cook who is bored of the same stuff every year.  This pie requires a lattice top, the apples need to steam while cooking or you may have caramel apple pie soup.  Hence pie practice before Thanksgiving!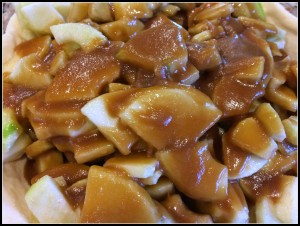 Salted Caramel Apple Pie
Makes 1 9 inch pie
Ingredients:
1 double pie crust– make your own or purchase
6 medium sized Granny Smith apples
6 T salted butter
1/2 C dark brown sugar
1/2 C white sugar
1 T vanilla
3/4 t salt
1/4 C water
1/2 t cinnamon
1/4 C white sugar
 1/4 C flour
1/2 t cinnamon
Directions:
If making pie crust, make ahead and refrigerate a few hours before rolling out.  Pie lesson #1:  Giving the crust time to rest lets the gluten keep it in one piece when you roll it out.  Explained the weird patchwork quilt look my pies had for years.  If purchasing crust, skip this part.
Heat oven to 425.
In medium saucepan, combine butter, dark brown, 1 C white sugar, salt, cinnamon and water.  Turn up to medium and boil 1 minute, stirring constantly.  The mixture will boil at medium.  Don't be tempted to turn it up too fast or your salted caramel sauce will burn.  Remove from heat, stir in vanilla.  Set aside.
Peel, core and slice apples.  Pie lesson #2:  If you make pies regularly, consider purchasing a special tool to speed things up.  Pie lesson #3:  Only use Granny Smith or your favorite baking apple.  It turns out not all varieties of apple are suited to pies.
Toss apples with 1/4 C flour, 1/4 C white sugar and cinnamon.  Set aside.
Roll out slightly over half of crust and place in pie pan.  Dump in apples.
Roll out remaining crust.  Cut into thin strips and lay on top of the pie.  While a true lattice crust involves weaving, I'm not that good yet so mine are layered.  Still looks fancy and most importantly, allows apples to release moisture while baking.
Pour cooled caramel sauce on top, drizzling to cover apples and top layer of crust.
Bake at 425 for 15 minutes.  Drop heat to 350 to finish baking, about 30 minutes.  The pie will bubble and crust appears golden when it's done.
Pie lesson #4:  Consider putting and old baking pan under your pies.  It's not fun when the sugary juices bubbles into the oven, burn, set off the smoke alarm, make the dog go ballistic barking and you burn your hand trying to clean it up the mess.  Not that I've ever done this.
Cool pie before serving.  Garnish with whipped cream or ice cream.
Pie lesson #5:  As your serving up pie, sneak a piece into a clean, empty cottage cheese container.  Hide it in the back of the fridge behind the carrots.  Wait until the big dinner is over and everyone is in bed, pull out your prize and enjoy with leftover wine.  Congratulate yourself on surviving Thanksgiving dinner again this year!
Modified from "Chef John's Caramel Apple Pie" allrecipes.com