Salted Caramel Pumpkin Rolls with Pumpkin Spice Frosting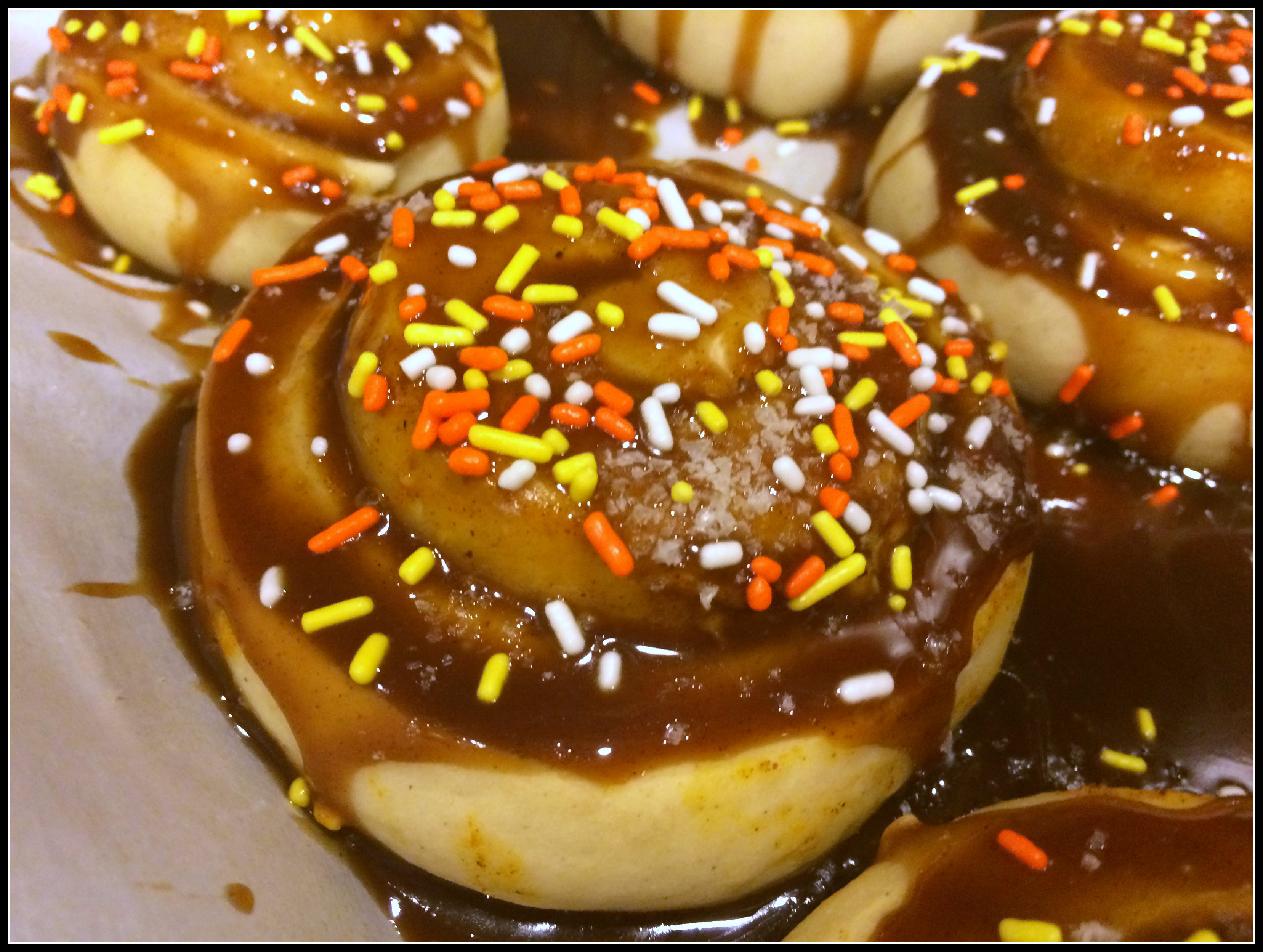 This recipe ran last week in Oregonian Foodday and I had to make it right away.  I paired these with Pumpkin Spice Frosting and a hot cup of coffee.  Salted Carmel Pumpkin Rolls make everyone happy fall is officially here.  (Except my dog Murphy… it's raining and he's stuck in a raincoat.  Poor guy).
Salted Caramel Pumpkin Rolls
Makes 24 rolls
Ingredients:
Spiced Dough
6 T white sugar
2 t salt
2 3/4 C warm milk
1 stick butter, softened
8 C flour
2 T instant yeast (or 2 yeast packets)
1 t cardamom
1 t cinnamon Filling:
Pumpkin Filling
4 oz cream cheese, softened
2/3 C canned pumpkin (not pumpkin pie filling)
2 egg whites
1 t ginger
1 t nutmeg
1 t cinnamon
Salted Caramel Glaze
6 T butter
2 ½ packed dark brown sugar
1 C cream
1 T cinnamon
1 T vanilla
1 T sea salt for sprinkling  (I like Murray River)
Pumpkin Spice Frosting
6 C powdered sugar
2 t cinnamon
1/2 t nutmeg
12 oz cream cheese, softened
1 stick butter, softened
1/3 C canned pumpkin (not pumpkin pie filling)
Directions:
To prepare the dough, use bowl of stand mixer with dough hook attachment.
Combine dough ingredients and mix until combined.  If you don't have a dough hook, combine ingredients in large bowl by hand.  Knead on counter until dough is soft and elastic.  Spilt into 2 balls and wrap in plastic wrap.  Let the dough rest for 15-30 minutes.
While dough is resting, prepare filling.  Use hand mixer to combine ingredients.  Set aside.
Heat oven to 350.  Use parchment to line 2 large rimmed baking sheets.  Coat with cooking spray.
Unwrap one ball of dough.  Use rolling pin on floured counter to roll out into large rectangle, 12 inches by 18 inches.  If dough shrinks back, it needs to rest a few minutes longer.
Spread half the pumpkin filling on dough rectangle, leaving about an inch bare on the long sides.  Carefully roll the dough from the long side.  Gently lift and tuck to ensure the filling is going inside and not being squeezed out.  As best you can, seal the long end when you finish.
Use a sharp, serrated knife to cut into rounds.  Position on baking sheet.  Cover with plastic wrap and allow to rise for 20 minutes.  While you are waiting, fill and roll the second pan.
Bake 25 mins until golden brown.  I did 15 mins on the lower rack and moved to the upper rack for the last 10 mins.
While rolls are baking, prepare glaze.  Use saucepan on stove to combine butter, brown sugar, cream and cinnamon over medium heat.  Cook for about 8 minutes, stirring frequently.  Mixture will boil.  Remove from heat and add vanilla.
Pour half the glaze over rolls when they are removed from the oven.  Sprinkle with sea salt.  Repeat on second pan.
If you lift up the rolls while they're cooling, glaze can coat underneath also.
To prepare Pumpkin Spice Frosting, combine all ingredients with hand or stand mixer.
Serve warm with frosting on the side.
Recipe adapted from "Salted Caramel Pumpkin Buns," oregonlive.com, published 9/16/14
Recipe adapted from "Pumpkin Cream Cheese Frosting," chow.com