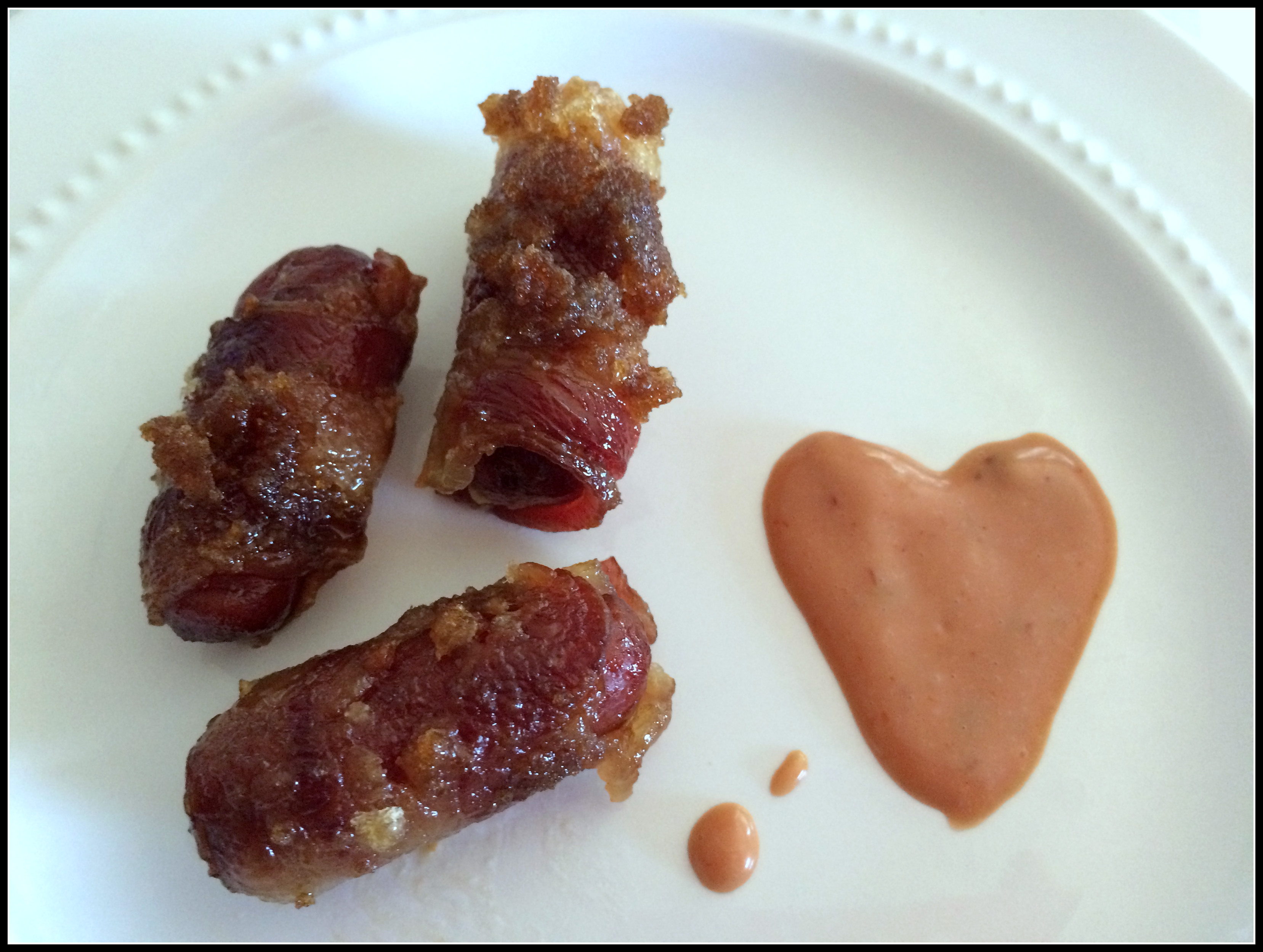 Football is back in season.  This means Sunday afternoons of hijacked tv (we'll renegotiate when Downtown Abbey starts back up) lots of yelling and tailgate food.  My brother-in-law is a huge Seahawks fan and had the whole family over to celebrate his birthday.  When I offered to bring cake, he requested Man Candy instead.
Man Candy is a fancy name for bacon-wrapped sausages with brown sugar.  Far from the healthiest dish, eat these delicious little treats in moderation and be sure to exercise at half time.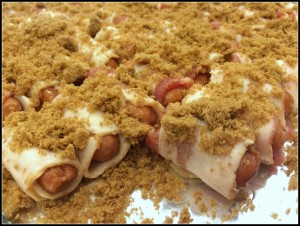 Man Candy
Makes 12 servings
Ingredients:
Man Candy Frosting
1 C ketchup
3/4 C mayonnaise
1/3 C brown sugar
1 T red pepper flakes
1/2 t cayenne pepper (optional)
Directions:
Heat oven to 325.  Foil line a heavy rimmed baking sheet or 9×13 pan.  There will be quite a bit of grease.
Sprinkle 1/2 C brown sugar on the prepared baking sheet.
Quarter bacon slices.  A note on bacon- don't bother with thick cut.  It takes to long to bake and you're getting so much cholesterol anyway you don't need it.
Carefully wrap 1/4 slice of bacon around a sausage.  Bacon should go all the way around and overlap on the bottom.  Set it seam side down on baking pan.  Toothpicks aren't necessary.  Repeat.  Sausages can touch in pan.
It's ok if some pieces of bacon are scraggly (like the ends) and wrap around extra.  If the seam is down you're in good shape.
Sprinkle remaining 1 C of brown sugar evenly over pan.
Bake for 45-55 minutes.  Bacon will appear done.
While you're baking, mix the ingredients for Man Candy frosting.  Adjust pepper seasoning to taste.
At the end of bake time, you can use the broiler to carefully rotate pan to crisp bacon a bit more.  If you use the broiler, stay in front of the oven.  No walking away, texting, feeding the dog or whatever.  Literally stay in front of the oven watching otherwise the broiler will burn.
I put mine in a crockpot on low to keep warm and serve Man Candy Frosting on the side for dipping.  Too bad these never make it to half time.
Adapted from "Bacon Wrapped Smokies" by JILL1018, allrecipes.com and "Bacon Wrapped Brown Sugar Smokies Dipping Sauce" by bakermd, allrecipes.com