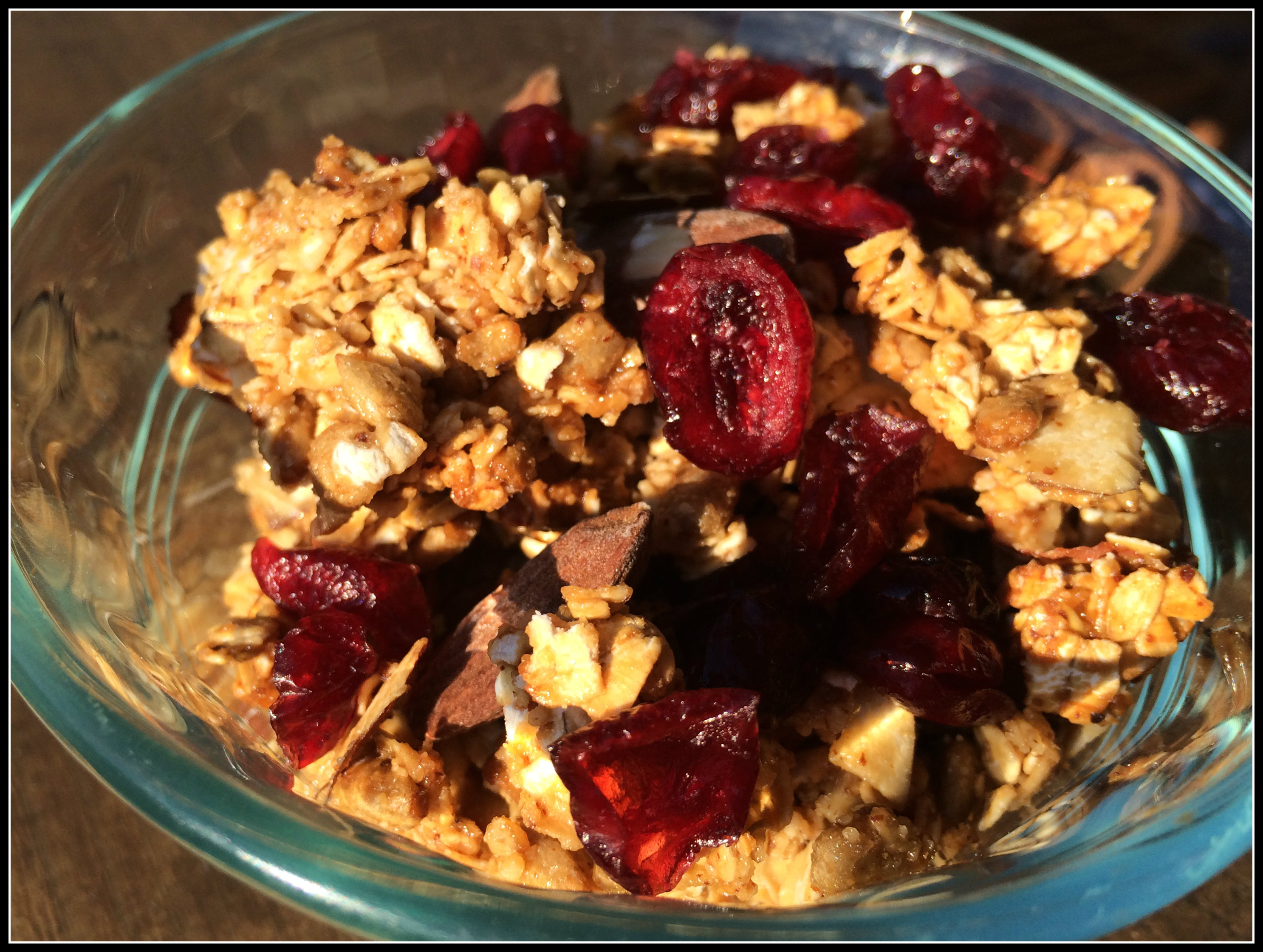 Back to school granola is an easy and healthy option to paying waaay too much for cereal at the grocery store.  Making granola yourself allows customized ingredients AND reduced salt and sugar.  Granola is gluten-free and can made vegan to accommodate any family's dietary needs.  It's also quick and easy- 40 minutes from start to finish.
Back to School Granola
Makes 9 C granola
Ingredients:
4 C oatmeal
1 1/2 C seeds (I used honey roasted sunflower seeds)
1 C little nuts (I used toasted, sliced almonds)
1 C big nuts (I used salted, roasted almonds)
1 1/2 C dried fruit (cranberries for me)
1 t salt
1/2 C almond butter
1/4 C brown sugar
1 t vanilla extract
1/2 C honey
Directions:
Heat oven to 325.  Line rimmed baking sheet with parchment paper or foil.
In a large bowl, combine oatmeal, sunflower seeds, big nuts, little nuts and salt.  If both the big and little nuts are salted, cut the salt in half.  Set aside.
In a small sauce pan, heat almond butter, brown sugar and honey.  Can swap agave for the honey and peanut butter for the almond butter.  Stir on low heat until brown sugar is dissolved.  Remove from heat, stir in vanilla extract.
Pour mixture over bowl of dry ingredients.  Mix it thoroughly, use hands if needed.  Make sure everything gets coated.
Spread evenly on cookie sheet.  Bake for 10 minutes and stir.  Bake 10 more minutes and stir.  Bake for 10 more minutes (total bake time 30 minutes) to ensure all granola is toasted.
Cool and add dried fruit.  Serve as breakfast, on yogurt or as a snack.
Adapted from "Cherry-Almond Granola," by Joan Harvey, 9/5/14, Oregonian.com