Baked Chocolate Buttermilk Doughnuts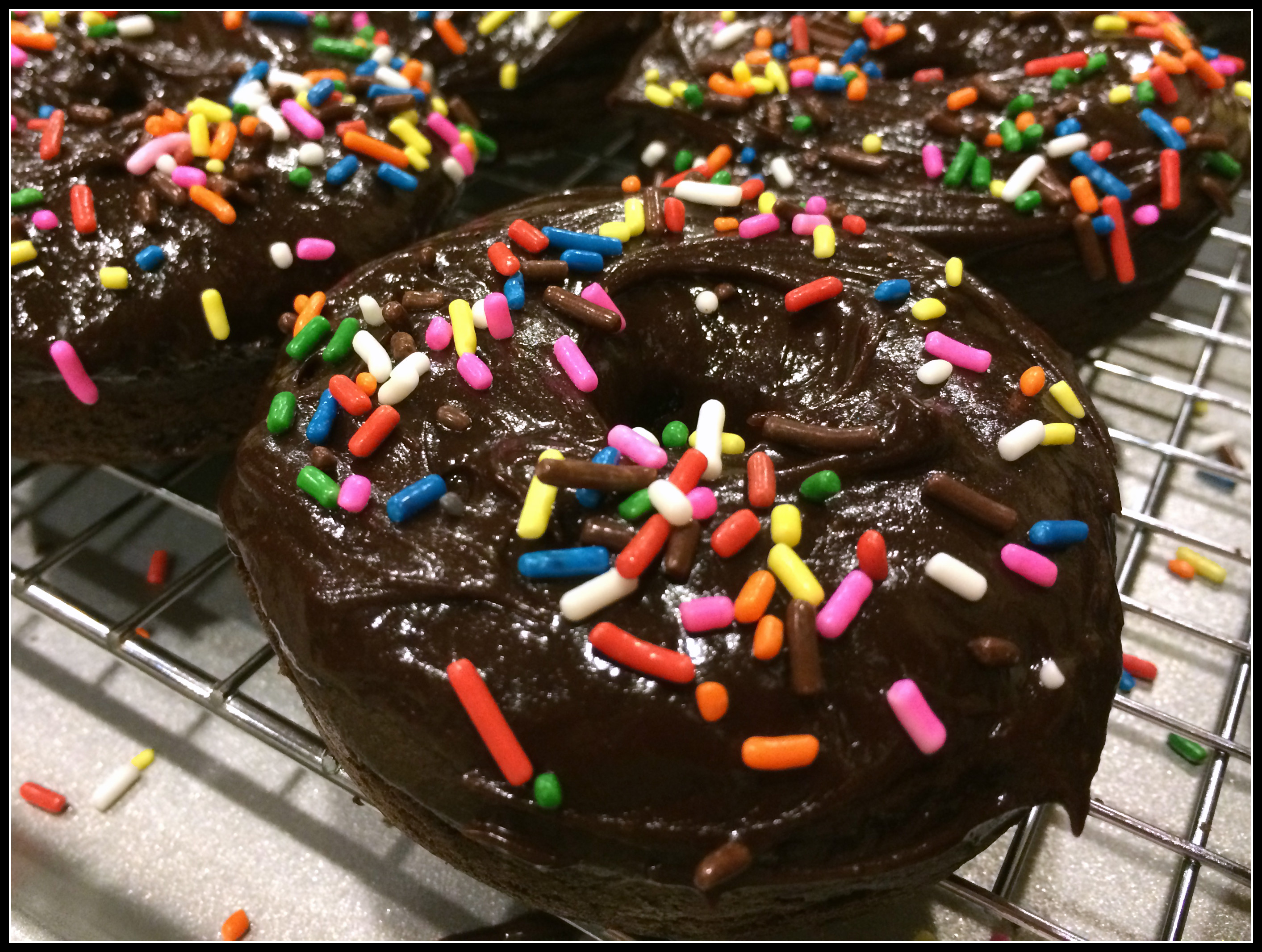 I bought Wilton doughnuts pans!  They are similar to cupcake pans but specially shaped.  Make sure you grease these thoroughly for easy removal.  Baked doughnuts are healthier than traditional frying, just fill most of way and they round out perfectly in the oven.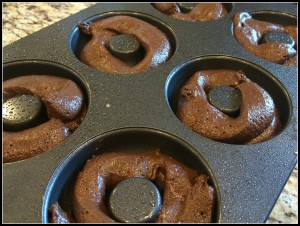 Baked Chocolate Buttermilk Doughnuts
Makes 15 doughnuts
Ingredients:
1 1/2 C flour
1/2 C unsweetened cocoa powder
3/4 t baking soda
1/2 t baking powder
1/2 t salt
3/4 C brown sugar
3/4 C buttermilk
2 eggs
6 T melted butter
1 T vanilla
Chocolate Glaze:
3 C powdered sugar
6 T unsweetened cocoa powder
1 t salt
1/2 C whole milk
2 T vanilla extract
Sprinkles
Directions:
Heat oven to 325.  Spray a doughnut baking pan with nonstick cooking spray.
In a large bowl, combine flour, cocoa powder, baking soda, salt, and brown sugar.
In separate bowl, combine buttermilk, egg, melted butter, and vanilla.  Mix thoroughly.
Pour the wet ingredients into the dry ingredients.  Use hand mixer to ensure completely combined.  Scrape sides as needed.
Transfer batter into quart-sized Ziploc freezer bag.  Cut the corner and pipe into doughnuts pans, filling about 3/4 full. There is enough batter for 15 doughnuts.  If needed, use a spoon to even out dough in mold.  Don't worry too much as it will distribute when it bakes.  If you overfill the wells the doughnuts will come out lumpy.
Bake doughnuts for 11 minutes or until a toothpick comes out clean.  Remove from the oven.  Allow to rest for five minutes before inverting doughnuts onto a wire rack to cool completely.
Allow doughnuts to cool completely before glazing.
To make the glaze combine powdered sugar, cocoa powder and salt.  Whisk in milk and vanilla.  Mixture should be thick.  If needed, add more powdered sugar.
Dip doughnuts in chocolate glaze.  I did this by putting the doughnut face down and twisting back and forth.  Carefully return to wire rack and add sprinkles.  Glaze will harden overnight.
Serve with coffee or milk.  Enjoy!
Based on "Chocolate Baked Doughnuts," joythebaker.com, published 2/5/14