We made Mint Ice Cream for an easy summer treat.  It's my husband's favorite flavor and this simple recipe provides a surprise in less than an hour.  While I used miniature chocolate chips, chocolate sandwich cookies like Oreos would also be fantastic.  Remember to freeze the bowl of your ice cream maker for at least 24 hours before making frozen treats.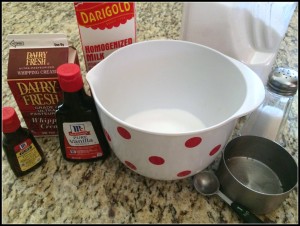 Mint Chip Ice Cream
Makes enough for 6 people (or just my husband)
Ingredients:
1 pint (2 C) heavy cream
1 pint (2 C) whole milk
1 C sugar
1/2 t salt
1 t peppermint extract
1 t vanilla extract
1 C miniature chocolate chips OR Oreo pieces
Optional: 3 drops green food coloring
Directions:
Mix cream, milk, sugar, salt, vanilla and peppermint.  Whisk until sugar is completely dissolved.
Pour into bowl of ice cream maker.  Turn it on.  After 10 minutes add chocolate chips or Oreo pieces.  Run for 20 more minutes.
After 30 minutes total time, remove ice cream from ice cream maker and place in freezer safe container.  Press plastic wrap on the top.
Freeze for 20 minutes or more to firm up.  Scoop and serve.
Note:  This will be softer than regular ice cream.  Homemade ice cream doesn't have the artificial texturizers to make it set up the same way as ice cream you buy at the store.  This won't matter as people will eat this up quickly.  It also freezes well if any is left over.
Recipe from allrecipes.com, "Easy Mint Chocolate Chip Ice Cream" by Darryn M. Briggs