Chocolate Hazelnut Cookies
I'm still on a Nutella binge.  After recently discovering its existence, I had to find another recipe to put it in.  Nutella Mascarpone Icebox Cake is amazing (no baking required) but requires refrigeration.  I needed a portable recipe to showcase my new favorite ingredient.
Chocolate Hazelnut Cookies have it all- Nutella, toasted hazelnuts, cocoa powder and white chocolate and dark chocolate chips.  It turns out hazelnuts are the official nut of Washington, making these cookies both delicious and full of state pride.  (Really it's an excuse to eat more Nutella but state pride sounds better.  Use whatever reason works best for you.)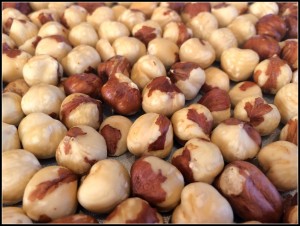 Chocolate Hazelnut Cookies
Makes 36 cookies
Ingredients:
 2 1/2 C flour
1/3 C unsweetened cocoa powder
1 t baking soda
1 t salt
1 C softened butter
3/4 C brown sugar
3/4 C white sugar
2 eggs
2 T vanilla extract
1/2 C Nutella
1 C semi sweet chocolate chips
1 C white chocolate chips
Directions:
Heat oven to 350.  Line baking pans with parchment paper.
Combine flour, cocoa powder, baking soda and salt.  Set aside.
Use stand mixer with paddle attachment, combine butter with white and brown sugars.  Add eggs 1 at a time.  Add vanilla and Nutella.  Scrape sides as needed.
Add flour mixture.  Mix until combined.  Add white and semi sweet chocolate chips and hazelnuts.
Scoop balls of dough 2 inches across.  If you wish, stick extra hazelnuts on top of cookie so they are visible when baked.
Bake 10-12 minutes until cookies appear dry and crack slightly on top.  Allow to cool on sheet for 2 minutes.  Transfer to rack.
Serve with milk.  Enjoy!
Recipe adapted from "Nutella Hazelnut Cookies," allrecipe.com by msmechanic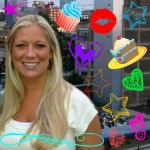 I'm a self-taught Betty Crocker. Food should be pretty, delicious and have sprinkles. Professionally I'm a clinical social worker. Follow me on Facebook and Pinterest- Sugar and Spice Baking Blog- for great recipes, amazing restaurants and culinary adventures.