Last year on August 2 I posted "Best Bribe Cookies."  They are delicious with Reese's Peanut Butter Cups baked into a peanut butter cookie shell.  I use them as thank you gifts or bring them to meetings when I have to talk people into things.
This year on August 2 my sister, Rachel, is getting married.  Instead of a traditional wedding cake, she asked for a dessert bar.  Family and friends are bringing tons of favorite treats to share.
Because Rachel loves peanut butter and chocolate, I doubled the recipe and upgraded the treats from Best Bribe Cookies to Best BriDe Cookies.
Be warned:  this makes over 120 individual cookies
Best BriDe Cookies
Ingredients:
2 bags white chocolate Reese's Peanut Butter Cup miniatures, unwrapped and frozen
1 bag milk chocolate Reese's Peanut Butter Cup miniatures, unwrapped and frozen
1 bag dark chocolate Reese's Peanut Butter Cup miniatures, unwrapped and frozen
1 C (2 sticks butter), softened
1 1/2 C creamy peanut butter
1 C dark brown sugar
1 C white sugar
2 eggs
1 T vanilla extract
1/4 C milk
2 1/2 C flour
2 t baking soda
1 t salt
Fancy sprinkles
Directions:
Before starting this recipe, unwrap and freeze all the miniature peanut butter cups.  Put the white ones in a different bowl to ensure they don't get smudged by the darker chocolates.  I also recommend purchasing at least 4 mini muffin pans to keep your sanity.
Heat oven to 375.  Line mini muffin pans with pretty liners.
Use stand mixer to cream butter and peanut butter.  When well combined, add sugars.
Beat in eggs, vanilla and milk.
Add baking soda and salt.
Add flour by half cup intervals.  Mix thoroughly.
Roll mixture into small balls approximately 1 inch in diameter.  Half the mixture should fill approximately 48 muffin wells.
Bake for 8-10 mins.  The balls will puff up and look slightly golden brown.  Do not over bake or the cookies will crack.
Remove from oven and immediately press frozen miniature peanut butter cup into the centers.
The peanut butter cups will melt in the hot dough.  This is a perfect time to put fancy sprinkles on top.
Cool completely and serve at your sister's wedding.  These cookies freeze well.
Congratulations to Davis and Rachel, we love you very much!
Adapted from "Peanut Butter Cup Cookies" from allrecipes.com by Buchko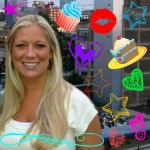 I'm a self-taught Betty Crocker. Food should be pretty, delicious and have sprinkles. Professionally I'm a clinical social worker. Follow me on Facebook and Pinterest- Sugar and Spice Baking Blog- for great recipes, amazing restaurants and culinary adventures.