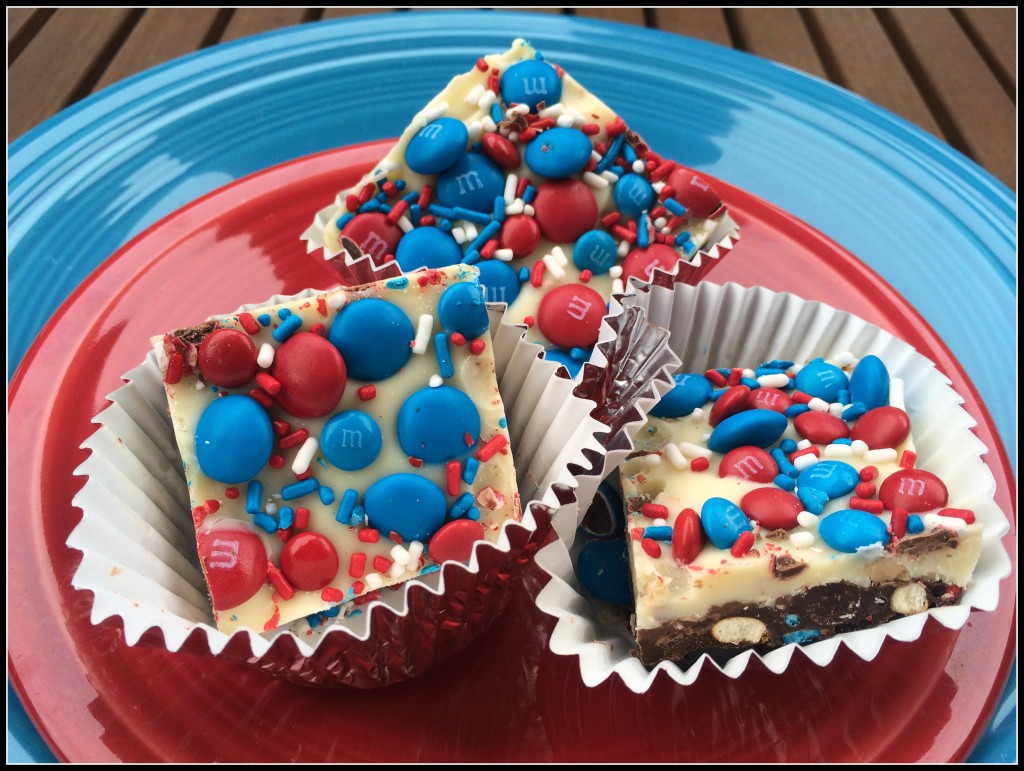 It's almost the 4th of July and I wanted to make something red, white and blue.  After a disastrous attempt at striped cupcakes (no I'm not posting a picture… it was terrible), I went with bark.
Bark is most commonly seen at Christmas as a delicious combination of chocolate and peppermint broken into bite sized pieces.  Essentially it's "make your own candy bar"  with good quality chocolate and fun additional ingredients.
Firecracker Bark has delicious surprises- peanuts, toffee, pretzels AND it's pretty.  Who needs striped cupcakes?  This is far better and didn't make a giant purple mess in the oven.
Firecracker Bark
Makes 24 pieces
Ingredients:
12 oz quality white chocolate- I used 3 Ghirardelli white baking bars
12 oz quality semi sweet chocolate- 3 more Ghirardelli bars
1/2 C broken pretzel pieces
1/2 C salted, roasted peanuts
1 C toffee bits
1/2 C MnM candies, red and blue only
1/2 C mini MnM candies, red and blue only
Sprinkles
Directions:
Wrap a quarter sheet baking pan in foil.  A quarter sheet is about half the size of a large cookie sheet or similar to a 9×13 pan.
Sprinkle pretzels and peanuts evenly in pan.  Melt semi sweet chocolate over double boiler or in microwave safe container in 15 second bursts.  Stir frequently, be careful not to burn.
Spread melted chocolate evenly over peanuts and pretzels.
Pour toffee bits over melted chocolate.  Put in fridge for at least 1 hour.
When pan is completely cold and chocolate is hard, remove from fridge.
Melt white chocolate.  Pour it on as as evenly you can and spread carefully, too much will pull up darker chocolate from the semi sweet layer and leave smudges.
Add MnM candies and sprinkles.  Return to fridge until hardened.  Cut and serve.
Like bark?  This is beautiful for any holiday or special event.  The recipe is versatile and works with a variety of toppings.  Be sure to use good quality chocolate.