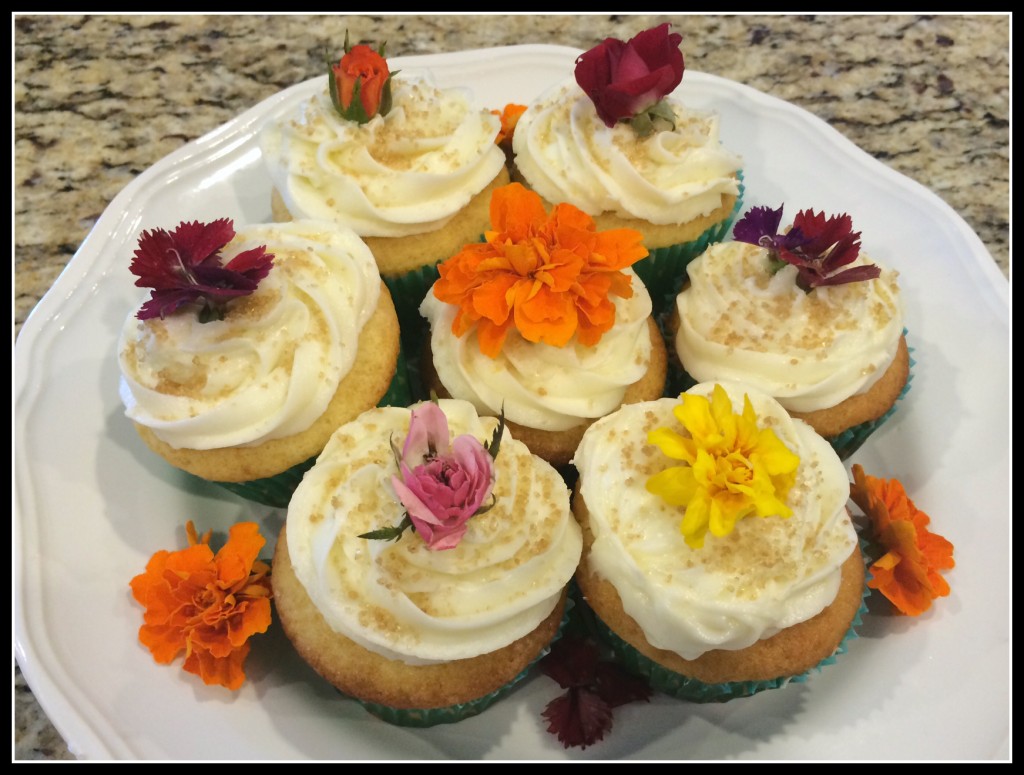 The weather has been amazing in Vancouver, WA- bright, sunny and about 75 degrees.  My husband got our garden in along with 2 dwarf apple trees, 8 rose bushes, a magnolia tree, 3 hydrangeas, 10 dahlias, 6 blueberry bushes, a zillion sunflowers and a ton of other stuff.  We moved about a year ago and he has been working hard to make our small property beautiful.
Lemon Sunshine Cupcakes are a perfect thank you for anyone who spends countless hours outside making things pretty.  The bright lemony flavor is tart and sweet and buttercream calories don't count when you've been pulling crabgrass and weeds all afternoon.  These cupcakes are perfect for a birthday, graduation, baby or bridal shower.
Lemon Sunshine Cupcakes
Makes 24 cupcakes
Ingredients:
3 1/3 C cake flour
3 t baking powder
1/4 t salt
1 C butter, softened
2 C sugar
4 eggs
1 1/2 t vanilla extract
3 large lemons
1 C buttermilk
2 C lemon curd– can be homemade or store bought in a can
Lemon Butter Cream Frosting
2/3 C softened butter
6 C powdered sugar
2 large lemons
Small pinch salt
Directions:
Heat oven to 375.  Line muffin pans with cute wrappers.  Tip:  Buy wrappers that are metallic or say "greaseproof."  This keeps the colors brighter and makes for a prettier display.
Wash, zest and juice lemons.  Set aside.  You should have around 4 T lemon zest and 4 T lemon juice.  I recommend a plane grater and a citrus juicer.  You don't need anything fancy, mine were generic brand for about $5 each at the grocery store.
Combine flour, baking powder and salt.  Set aside.
In stand mixer with paddle attachment, cream butter and sugar.
Add eggs one at a time.  Add vanilla.  Add lemon juice and zest.
Alternate adding flour mixture and buttermilk.  Try not to overbeat.
Distribute into prepared muffin pan, about 2/3 full.
Bake until toothpick inserted in the center comes out clean, about 15-18 minutes.
Set aside to cool.
When cupcakes are completely cool, put lemon curd into a piping bag fitted with a round frosting tip.  Insert into the middle of cooled cupcake and squeeze gently.  The trick is to insert about 1 t of filling into the center of the cupcake.  No frosting bags?  No problem.  Cut a small dent with a paring knife or use a cupcake punch.  A freezer Ziplock bag can be filled with lemon curd.  Cut the corner and use like a piping bag.
To make frosting, wash, zest and juice lemons.  You should have about 3 T lemon juice and 3 T lemon zest.
Using stand mixer with paddle attachment, cream butter.  Add lemon juice, zest and small pinch of salt.  Add powdered sugar 1 C at a time, combing well after each addition.
Adjust frosting texture as needed, too thin add powdered sugar in 1/2 C amounts, too thick add lemon juice in 1 t amounts until reaches desired consistency.  Pipe onto cupcakes.
Decorate with lemon sugar and edible flowers.
Cupcake recipe adapted from "Lemon Cupcakes" by friedbluetomato at allrecipes.com
Frosting recipe adapted from "Lemon Buttercream Frosting," by Betty Crocker at bettycrocker.com