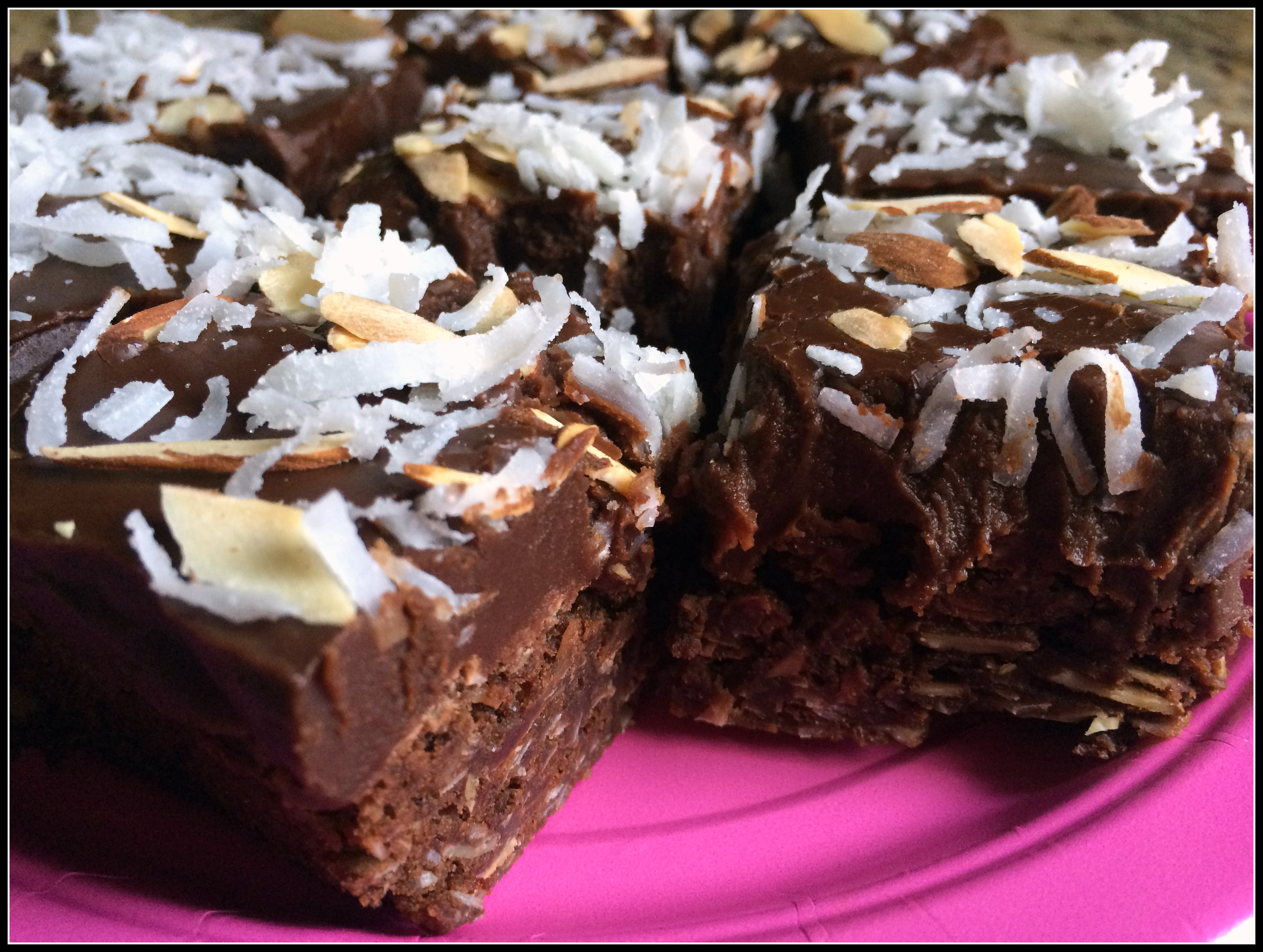 My dad loves to ride his bike.  He rides it everywhere- around town, up and down mountains and all over the state.  Recently he completed a group trip from Vancouver BC to Vancouver WA, starting in Canada and pedaling all the way home.  I think this is amazing (albeit a little crazy) and wanted to celebrate his safe return.
He loves coconut so I swapped out vanilla extract for an extra special treat.
Coconut Brownies
Makes 8×8 square pan, 16 brownies
Ingredients:
 1/2 C butter
1 C white sugar
2 eggs
2 t coconut extract
2/3 C unsweetened cocoa powder (use a good brand like Ghirardelli)
1/2 C flour
1/2 t salt
1/4 t baking powder
1 1/2 C sweetened shredded coconut
1 C sliced, toasted almonds
My Grandma's Boiled Icing recipe swapping coconut for vanilla
A few extra almonds and coconut for decoration
Directions:
Heat oven to 350.  Line 8×8 pan with foil or parchment paper.
Melt butter in saucepan over medium heat.
Remove and beat in sugar, eggs, coconut extract.
Add cocoa, flour, salt and baking powder.  Mix well, scrape sides if needed.
Add sweetened shredded coconut and almonds.
Bake in oven 20-25 mins until toothpick inserted in center comes out clean.  Don't overcook… the brownies continue baking after you remove them from the oven.
When brownies are cool, add Grandma's Boiled Icing and swap vanilla extract for coconut extract.  Although the original recipe is for a 9×13 pan, I made the whole thing and the brownies had thick icing.
Add extra almonds and coconut for decoration.  Icing will set in fridge in a few hours.
Brownie recipe adapted from "Best Brownies", allrecipes.com