Cherry Cream Cupcakes with Ganache Filling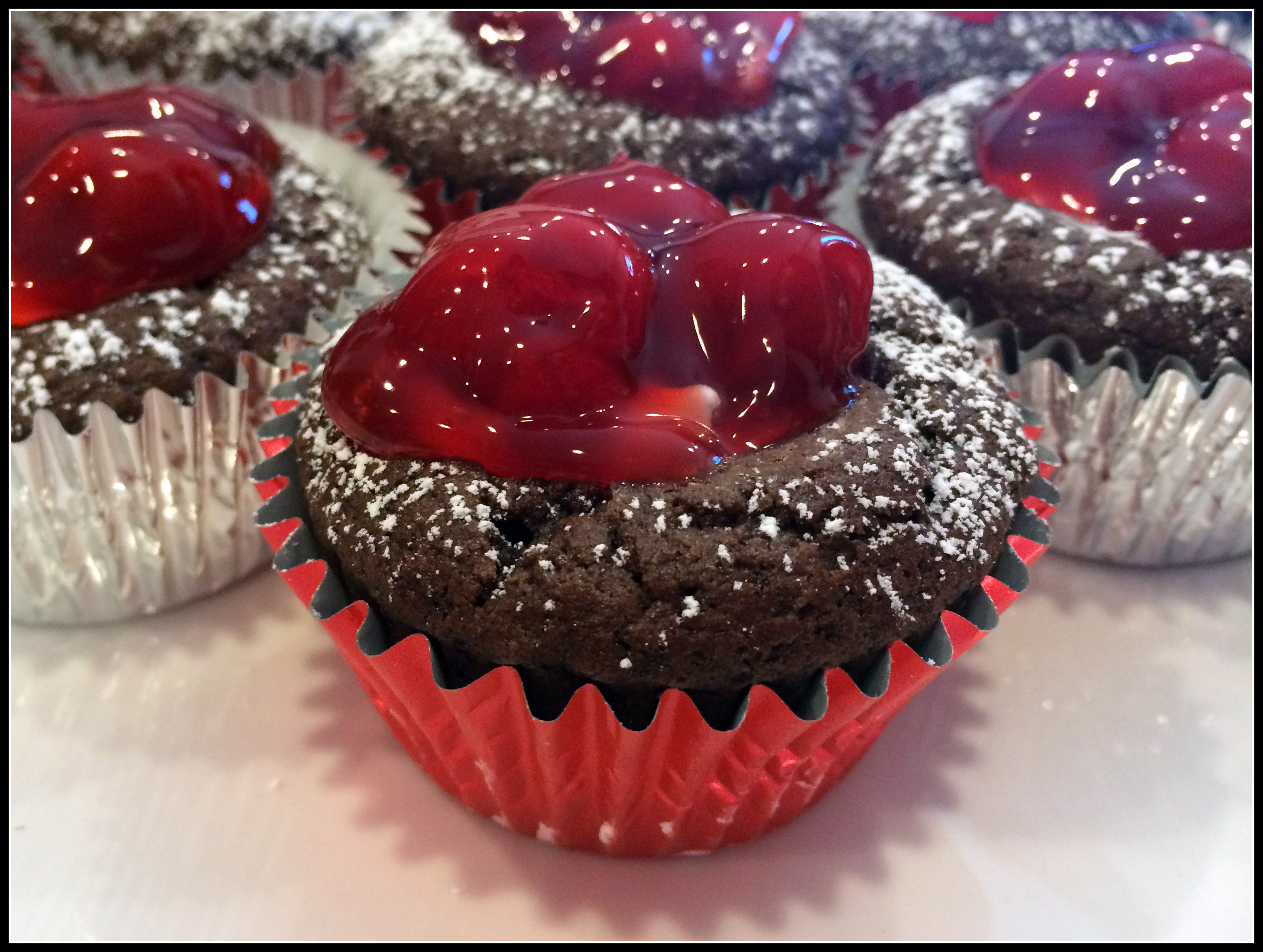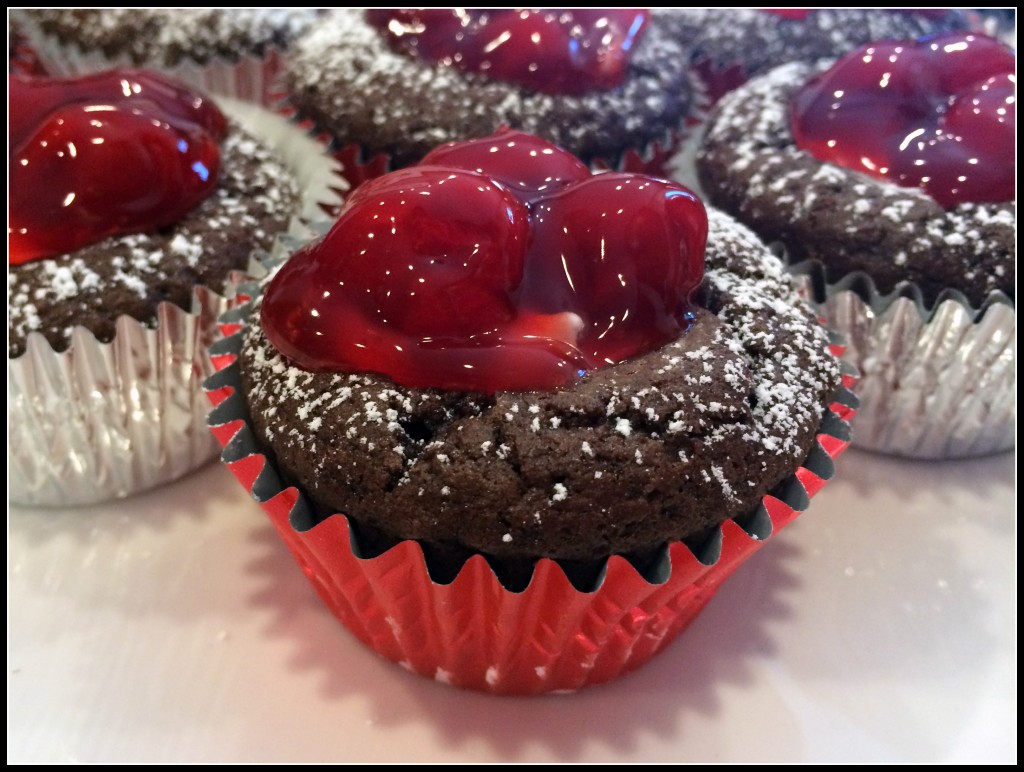 Cherry Cream Cupcakes are a fun and fancy treat.  They would be perfect for Father's Day, birthdays or bridal showers.  Cherry Cream Cupcakes strike a balance of chocolate and fruit; the triple layered filling is a show stopper.
I made these for a Muscular Dystrophy Association fundraiser at work, aka MDA.  Professionally, I serve at-risk teens with substance abuse problems.  This is probably why I kept accidentally saying the cupcakes were for an MDMA fundraiser… MDMA is the chemical name for ecstasy, a popular club drug.  Oops.  Good news is the cupcakes sold like crazy and raised money for a good cause.
Cherry Cream Cupcakes with Ganache Filling:
Makes 24 cupcakes
Ingredients:
1 box chocolate cake mix
1 small box instant chocolate pudding
4 eggs
3/4 C milk
3/4 C vegetable oil
Ganache filling
4 oz semisweet baking chocolate
1/3 C heavy cream
1 T light corn syrup
Cherry Cream filling
1/2 C heavy cream
1 C powdered sugar
2 T maraschino cherry syrup
Regular sized can of cherry pie filling
Extra powdered sugar for dusting
Directions:
Heat oven to 350.  Line muffin tins with cute, greaseproof liners.
Mix chocolate cake mix, instant chocolate pudding, milk, oil, eggs until well combined.  Distribute into pan, filling 2/3 full.
Bake until toothpick in center comes out clean, approximately 20 minutes.  Do not over bake.
Cool cupcakes completely.  (I mean completely, 100% overnight or in the fridge.  Otherwise you'll melt the fillings).
To make ganache, coarsely chop semisweet baking chocolate.  Set aside.
Put heavy cream and corn syrup in microwave safe bowl.  Zap for 30 seconds.  Stir.  Give it about 30 more seconds.  Cream should be hot but not boiling.
Add chopped chocolate, stir until well combined.  Transfer into Ziploc quart sized freezer bag.  Leave on counter to cool.
To make cherry cream filling, use hand mixer to combine heavy cream, powdered sugar and maraschino cherry syrup.  No syrup?  No problem.  Use about 2 t of the thick gel from the cherry pie filling.
Whip until stiff peaks form.  Transfer into Ziploc quart sized freezer bag.
To assemble cupcakes, dust with extra powdered sugar.  Punch out centers.  Use a cupcake punch or a sharp paring knife to create a hole.
Pipe ganache into center of each cupcake.  I estimated about 1 t per cupcake.
Pipe cherry cream layer on top of ganache.  I estimated about 2 t per cupcake.
Use a spoon to scoop out 3 cherries from can of cherry pie filling.  Carefully set on top of cherry cream in cupcake.  Continue until all cupcakes are filled.  There are enough cherries in a regular sized can for the entire recipe.
Refrigerate to ensure layers set.
Serve and make lots of money at the MDA (not MDMA) bake sale!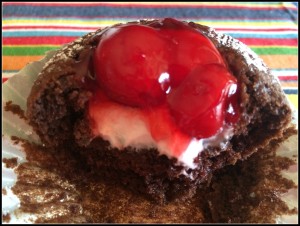 Recipe adapted from "Cherry Cordial Cupcakes" by Erin at lemonsugar.com