Giant Mocha Pound Cake with Ganache and Chocolate Buttercream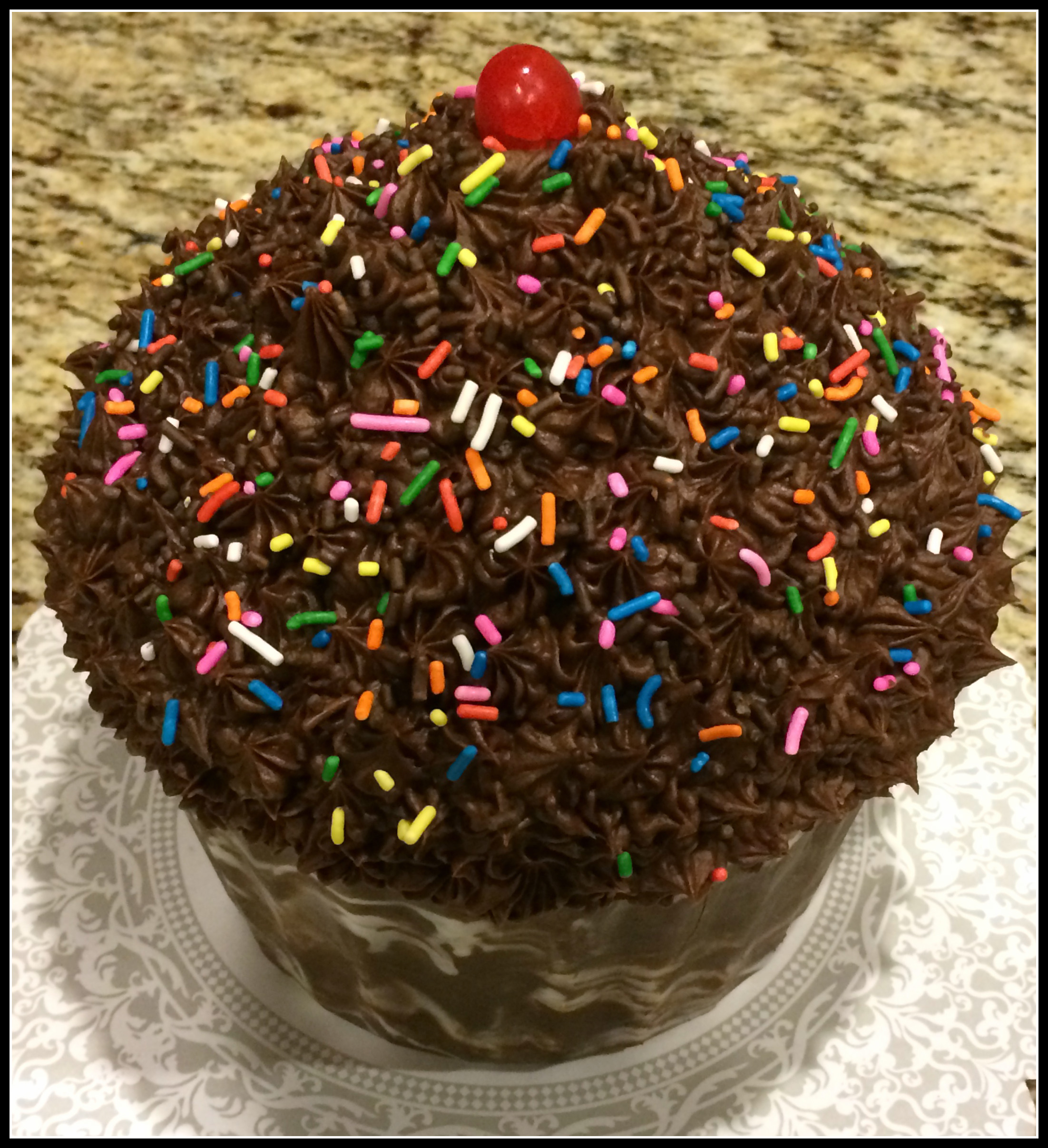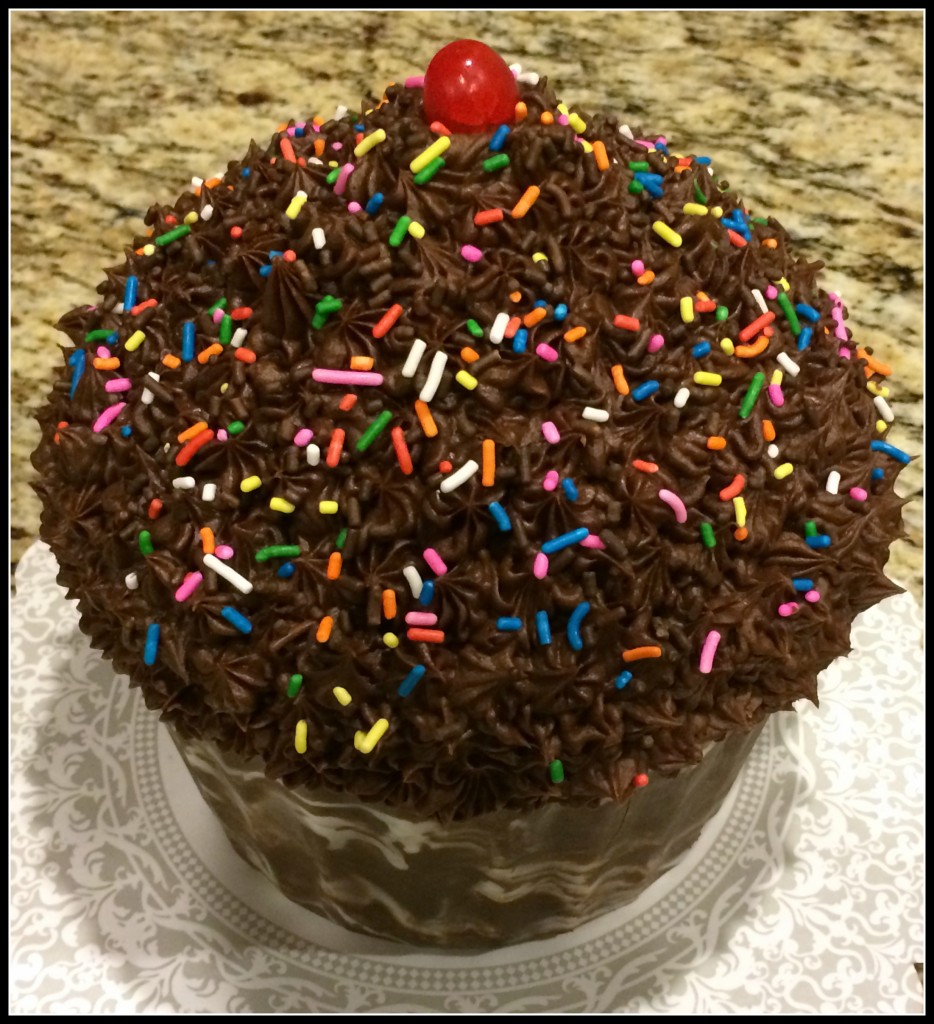 I have a giant cupcake mold.  It's the coolest baking accessory ever.  Standing about 18 inches tall, giant cupcakes are fun for Father's Day, graduation parties and birthdays.  I start 2 days ahead because the amount requires extra preparation.  Although giant cupcakes are more work than regular-sized treats, the "wow!!!" factor is hard to beat.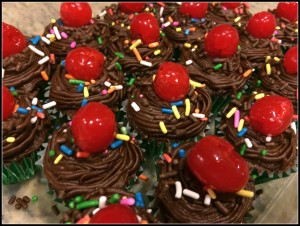 Mocha Pound Cake with Ganache and Chocolate Buttercream
Makes 1 giant cupcake and 30 minis
Ingredients:
Cupcake shell
Ganache
9 oz semi-sweet baking chocolate, chopped
1 C heavy cream
1 T vanilla (or rum)
Chocolate buttercream frosting
3/4 C butter, softened
1 1/2 C unsweetened cocoa powder
5 1/2 C powdered sugar
2/3 C milk
1 t vanilla
Pinch salt
Mocha pound cake
Cake release- buy or make your own with equal parts flour, vegetable oil and shortening.  I used 2 T of each and had plenty
1 1/2 C butter, softened
3 C white sugar
5 eggs
1 T vanilla extract
2 t instant coffee dissolved in 1/4 C warm water (I use a Starbucks Via because that's what I had)
1 C buttermilk
2 C flour
1 C unsweetened cocoa powder
1/2 t baking powder
1 t salt
Directions:
Cupcake shell
Clean and dry cupcake pan.  Melt 3/4 C chocolate melties in microwave safe bowl.  Pour into cupcake mold base.  Gently turn base so chocolate coats entire form and sides.  Use a knife or pastry brush if needed.  Refrigerate to set.  Repeat with remainder of chocolate.  Be sure base is fully set.  To remove, carefully place your fingers on either side of the shell and gently pull up with thumbs.  Shell removes easily.  Confused?  Watch a demo.  Shell can be made ahead and stored in refrigerator.
  Ganache
Place chopped chocolate and vanilla in a bowl.  Heat cream on stove until almost boiling.  Pour hot cream over chocolate and whisk until combined.  Cover with plastic wrap, press on surface to prevent skin from forming.  Cool at room temperature for a few hours and then refrigerate.  It's best to let the ganache cool slowly.  Baking nerddom alert: emulsification.  Ganache can be made ahead and stored in refrigerator.
  Chocolate buttercream frosting
Using stand mixer with paddle attachment, cream butter.  Mix cocoa, salt powdered sugar in a separate bowl.  Add alternately with milk and vanilla.  Cover tightly.  Chocolate buttercream can be made ahead and stored in refrigerator.
  Mocha pound cake
Heat oven to 325.  Grease baking pan with brush and cake release.
Mix cocoa, flour, baking powder and salt.  Set aside.
In large bowl, cream butter and sugar until light and fluffy.  Add eggs one at a time, stir in vanilla.  Add flour mixture alternately with buttermilk and dissolved coffee.
Measure 2 1/2 C batter into the "top" of the cupcake mold and 3 1/2 C batter into the "bottom."  Have extra?  Make mini or regular size cupcakes.
Bake for around 75 minutes in middle of oven, turning pan around half way through.  When the cake gets to an hour, check regularly.  A toothpick inserted in the cupcake base should come out clean.  Cool 10 minutes and invert onto cooling rack.  Cool completely.
  Giant cupcake assembly
Remove ganache and buttercream from fridge 2 hours before to bring up to room temperature.  Buttercream may require a quick whip with mixer.  Ganache can be stirred.  Mine needed a 10 second zap in the microwave.  Texture should be thick but spreadable.
Start with the base.  Put a "blob" of ganache in the bottom of the cupcake shell, around 1/4 C.  Carefully spread it out.  Using a spatula, gently spread more ganache up the sides.  The key is to keep the layer thin but cover the shell surface.
Carefully trim bottom and sides of the cupcake base.  I removed a skimpy 1/4 inch per side and leveled the bottom.  Trim top to make it flat.  Split base horizontally into 3 pieces.  Set first piece in cupcake shell.  It should seal to connecting cake, ganache and shell.  Put ganache on top and spread to the edges.  Place next layer.  Repeat and use ganache to fill gaps.
The completed base should fill the shell.  Add another ganache layer.
Trim cupcake top to make the bottom flat.  Split it in half horizontally and fill with ganache.  Set the cupcake top on the base.  I used remaining ganache to make a crumb coat on the cupcake top.  If you're out, use buttercream for the crumb coat instead.
Pipe on rest of buttercream.  Decorate.  Use leftover buttercream for extra cupcakes.  Or eat it with a spoon.
Refrigerate until serving.  Prepare for people to be impressed!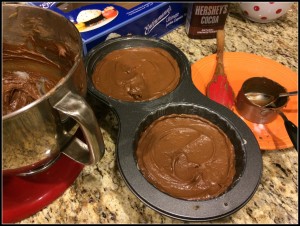 Ganache from Chocolate Ganache by INGRIDVOGEL, www.allrecipes.com
Mocha Pound Cake adapted from Chocolate Pound Cake III by SDFS, www.allrecipes.com