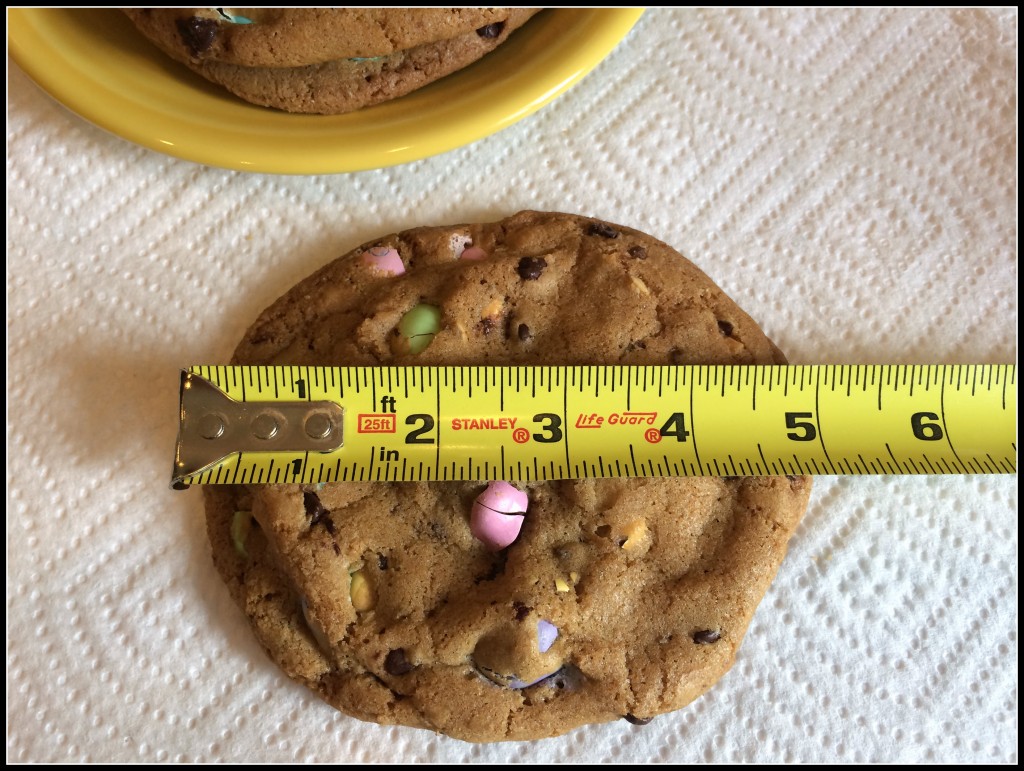 I have a few cookie monsters in my life.  My favorite is a colleague who sneaks into my office and eats at least 4 cookies from treats I bring in for meetings.  This is not to be confused with 4 more treats he will also eat during the meeting.  A genuine cookie monster, he's in a class all by himself.
Monster Cookies are well, monstrous, measuring 5 inches across.  I'd like to see the office cookie monster eat 8 of these giant beauties.
This recipe is close to Friday Night Chocolate Chip Cookies with oatmeal to help cookies hold their shape.  Feel free to use add-ins like regular, peanut or coconut MnMs or Reese's Pieces.  Freeze peanut butter MnMs beforehand.  Another option is to mix chocolate chips, splitting half regular and half white chocolate.
Monster Cookies
Makes 30 cookies
Ingredients:
3 1/4 C flour
1 C rolled oats  (I use instant because it's in the cupboard)
1 t  baking soda
1 1/2 t salt
1 1/2 C butter, melted (3 sticks)
2 C packed dark brown sugar
1 C white sugar
3 T vanilla extract
2 eggs
2 egg yolks
8 C chocolate chips or other fun items
Directions:
Using stand mixer, combine melted butter, brown sugar and white sugar.
Add vanilla and eggs.
Add salt and baking soda.
Add flour and rolled oats.  Mix well.  Scrape sides as needed.
Add chocolate chips and other fun add ins.  My cookies had 4 C peanut MnMs, 2 C regular MnMs and 2 C mini chocolate chips.
Refrigerate for 2+ hours.
Heat oven to 325.  Line cookie sheets with parchment paper.
The type of cookie sheet impacts how cookies bake.  Read more if you'd like to join the club of baking nerddom.
Use 1/3 C measuring cup to scoop dough.  I ended up grabbing a spoon, piling some in and using it as a mold.  Place no more than 6 cookie per baking sheet.
Bake 17-20 minutes on the bottom rack.  Move up to the top rack for 5 more minutes.  Because these cookies are huge, they need the full bake time to ensure the centers are done.  I wait for monster cookies to be golden all over.
Let cookies rest for 10 minutes and carefully remove from cookie sheet.  Cookies will set as they cool.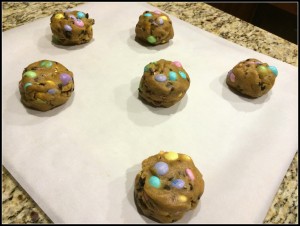 Modified from Best Big, Fat, Chewy Chocolate Chip Cookies, www.allrecipes.com, ELIZABETHBH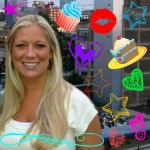 I'm a self-taught Betty Crocker. Food should be pretty, delicious and have sprinkles. Professionally I'm a clinical social worker. Follow me on Facebook and Pinterest- Sugar and Spice Baking Blog- for great recipes, amazing restaurants and culinary adventures.