Cut-Out Cookies with Royal Icing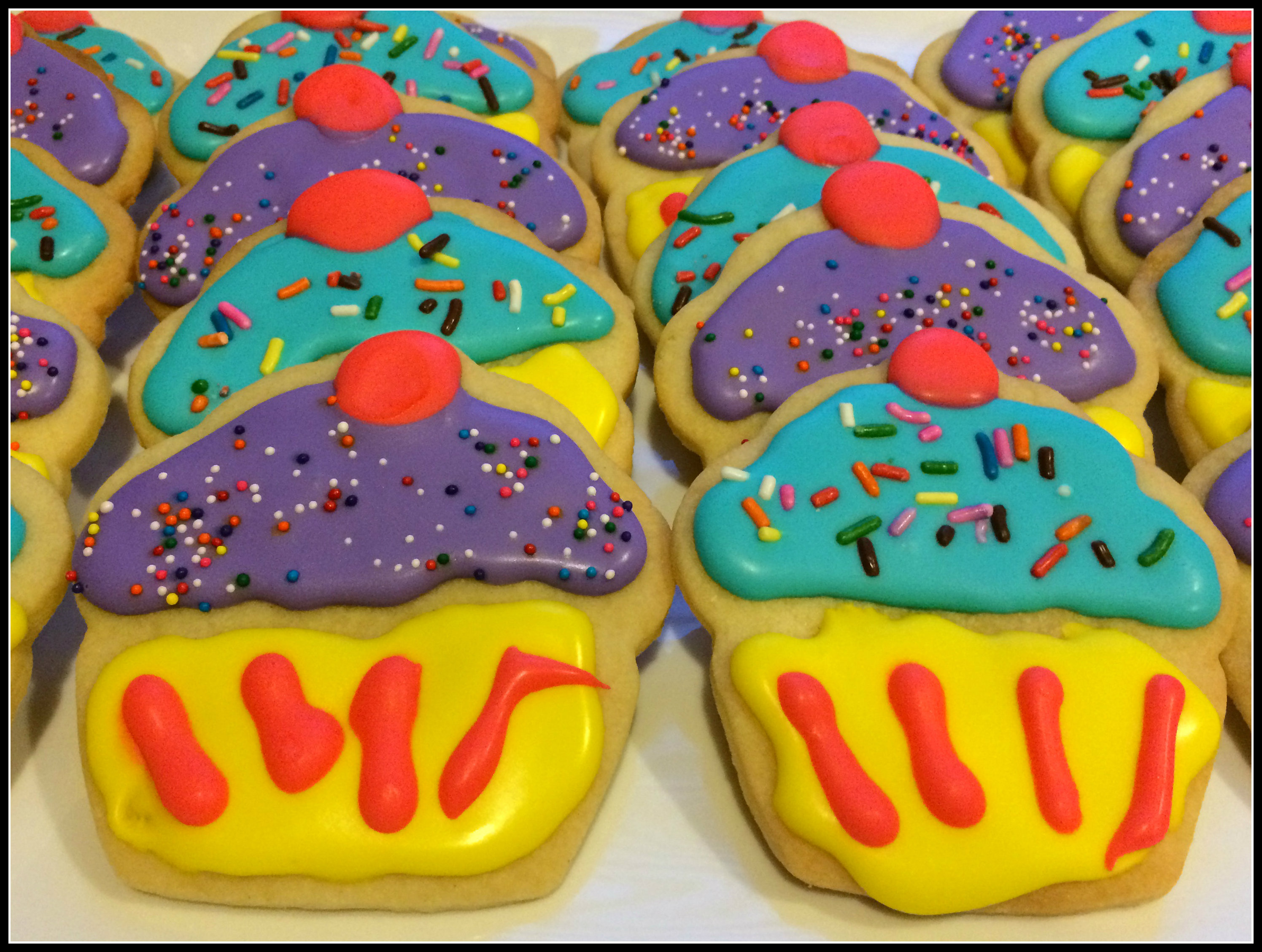 I've been looking for a good cut-out cookie recipe forever.  Cookie cutters are cute but I never used them…  my cookies puffed up and made shapes unrecognizable.  I also avoided royal icing because it's finicky, uses raw egg whites (ewww) and tastes like glue.
Enter my cupcake cookie cutter.  I absolutely HAD to have it and HAD to find a recipe to use it.  I put my big girl cookie pants on and went digging through the internet.
A few lessons:  1) Of course my previous cut-out cookies puffed up.  I used sugar cookie recipes with leavening ingredients like baking powder.  Switching to butter cookies solves the problem.  2)  While traditional royal icing uses raw egg whites, many cooks now use meringue powder.  It's more stable, skips the yuck factor and is safe for everyone.  I found some at Michael's.  3)  Flavoring extract in royal icing is a must.  Be sure it doesn't contain oil (like orange extract).  Vanilla, almond, coconut, maple, there are so many options  4) Buy decent icing bags and tips or you'll be sorry 5) Use gel food coloring because the colors are much brighter.
The result?  Cookies that taste like shortbread with gorgeous royal icing.  While my icing techniques clearly need practice, I'm proud of my first attempt.  All for a $1.50 cookie cutter shaped like a cupcake I found in Cannon Beach during spring break.
Cut-Out Cookies with Royal Icing
Make 2 dozen 4 inch cookies
Ingredients:
Cut-Out Cookies
1 1/4 C powdered sugar
2 sticks (1 C) + 2 T softened butter
1 egg yolk
1/2 t salt
1 t vanilla extract
2 3/4 C flour
Royal Icing
2 lbs powdered sugar
1/3 C + 2 T meringue powder
3/4 C water
1 T vanilla extract
Food coloring
Sprinkles
Directions:
Using stand mixer, combine butter, powdered sugar, egg yolk, salt and vanilla.  Add flour, mix until smooth.  Scrape sides if needed.
Divide dough into 2 disks, wrap in plastic and refrigerate for a few hours or overnight.  Before baking, get it out for around 20 minutes to warm up a bit.  Don't try to skip this step, fridge time helps cookies hold their shape.
When it's time to bake, heat oven to 350.  Line pans with parchment paper.
Sprinkle rolling surface with flour and roll dough out with rolling pin.  Aim for less than 1/4 inch thick.  Use cookie cutters to make shapes.  Reroll and cut scraps.  If dough sticks to the counter you a bit more flour when rolling out.
Arrange cookies on cookie sheet.  They can be close as they won't spread much.  Group similar sized cookies on the same sheet for even baking times.
Bake in oven for 12-15 minutes.  Remove when you see gold on the edges.  Overbaking = crunchy cookies.  A few had air bubbles, a toothpick to poke a tiny hole to flatten them out.  Cool completely.
For the icing, use a stand mixer with a whisk attachment.  Mix powdered sugar and meringue powder.
In separate bowl, combine water and vanilla extract (or whatever flavor).  Be sure extract does not contain oil.
Drizzle in half of the liquid.  Continue adding until icing resembles texture of honey.  It may take all the liquid, it may not.  Thin icing slides off cookies and thick icing clogs frosting bags.  Go slow when adding liquid and things should be fine.
Using separate bowls, scoop out icing and dye it.  Put into icing bags and frost cookies.  I mostly used the flood technique, outlining a space and filling it in.  Add sprinkles quickly.  This was as far as I got with limited skills but even the basics make lovely cookies.
To dry completely, royal icing requires at least 24 hours.
Cookie recipe adapted from King Arthur's Flour "Holiday Butter Cookies"
Royal Icing recipe adapted from Sweet Sugar Belle "Royal Icing"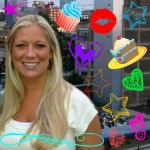 I'm a self-taught Betty Crocker. Food should be pretty, delicious and have sprinkles. Professionally I'm a clinical social worker. Follow me on Facebook and Pinterest- Sugar and Spice Baking Blog- for great recipes, amazing restaurants and culinary adventures.