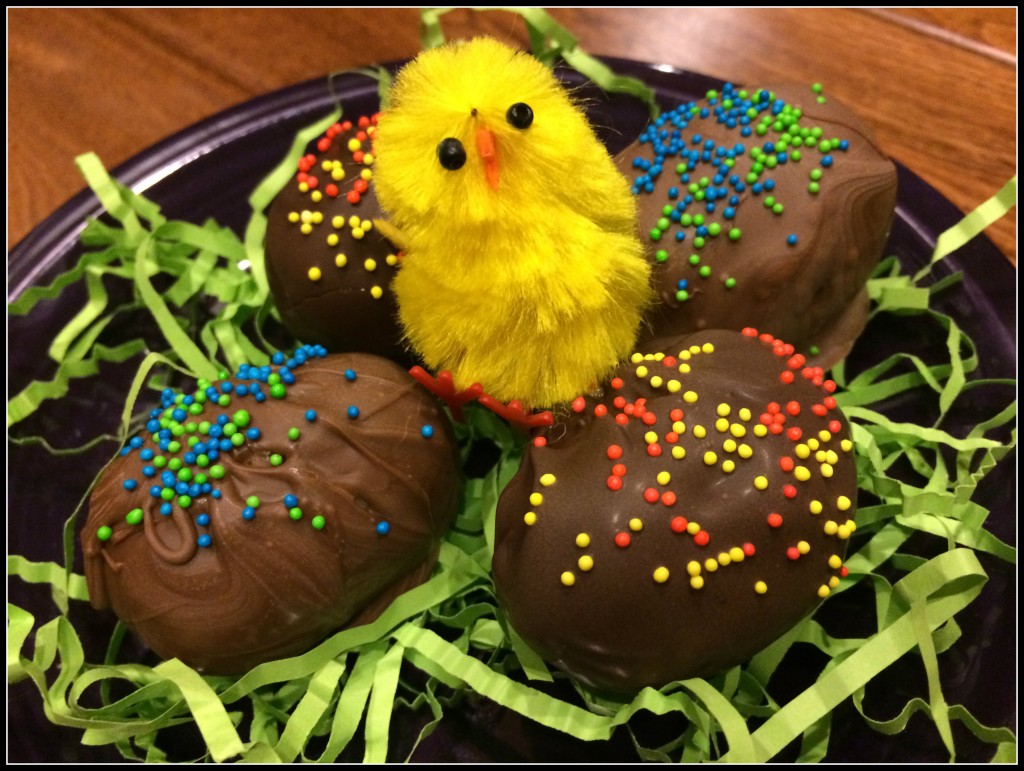 I make Easter Egg Truffles every year.  A few lessons learned 1) take the foil off the cream cheese if you soften in the microwave 2) don't double the recipe, it really does make 60 eggs and 3) make sure people can tell the flavors apart by the outside of the egg.  I didn't think of it the first time.  The result?  We almost had a riot in a meeting because people kept grabbing eggs from each other trying to figure out which were coconut and which were peanut butter.  Oops.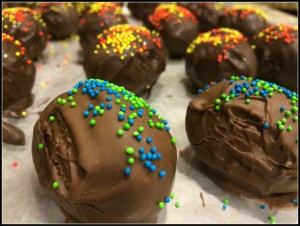 Easter Egg Truffles
Makes 60 eggs
Ingredients
1 package cream cheese, softened
1 stick of butter, softened
2 lbs powdered sugar
2 T vanilla
12 oz chunky peanut butter
1 lb sweetened shredded coconut
2 t coconut extract
4 C milk chocolate melties
4 C dark chocolate melties
Sprinkles
Directions
Using stand mixer, combine cream cheese and butter.  Add powdered sugar and vanilla.  Scrape sides until well combined.
Separate cream cheese mixture into 2 bowls.  Place slightly more in one.
Return larger half of batter to stand mixer.  Add 12 oz peanut butter.  For the 12 oz, I use a 16 oz jar and pull out about 2/3 of it.  If I measured (which I don't), it would probably be 2 1/2 C.  Mixture should not feel sticky.
Put other half of batter in stand mixer.  Add coconut extract and shredded coconut.  If sticky, add a bit more coconut.
Cover and place both bowls in refrigerator for a few hours or overnight.
Line 2 large, rimmed baking sheets with wax paper.  I recommend rims because otherwise the eggs roll off and bounce all over the kitchen.  Forgot to mention it in lessons learned.
Remove egg fillings from fridge and roll into egg-shaped balls.  My eggs are typically 2 1/2 inches long and 2 inches wide; close to a chicken egg size but slightly smaller.  It's fun to vary the sizes and make tiny eggs (kids) or giant goose eggs (my husband).
Freeze eggs for a few hours or overnight.
Use a small bowl, melt about half of the milk chocolate melties.  I use 15 second bursts, stirring in between.  Chocolate can burn (yet another lesson).  Melties are disk-shaped chocolates which melt smoother and easier than chocolate chips.  They can be purchased at craft stores or Winco grocery stores carry them in bulk.
Dip coconut eggs one at a time in melted milk chocolate.  Use a fork, lower egg in and roll it around.  Remove with fork, wipe extra chocolate on the side of bowl.  Place back on wax paper.  Apply sprinkles immediately.  Repeat on all eggs.
Repeat process with peanut butter eggs in dark chocolate.
When chocolate shells have hardened, wrap Easter Egg Truffles in precut foil candy wrappers.  Eggs will keep in refrigerator for about a week.
Modified from "Easter Eggs" by Joan Zaffary, www.allrecipes.com