I'm a sucker for Easter treats like Peeps, 857 different kinds of jelly beans and Cadbury Eggs.  The only way to improve Cadbury is to bake a miniature one into a cupcake.  It's  delicious and sweet enough to put even the Easter bunny into a sugar coma.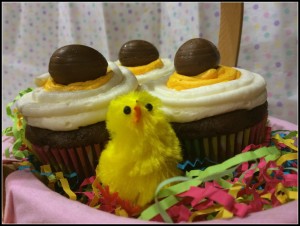 Cadbury Cupcakes
Makes 24 cupcakes
Requires 48 mini Cadbury Eggs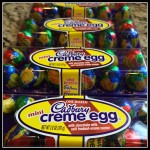 Ingredients:
Cupcakes:
1 box chocolate cake mix
1 small box instant chocolate pudding
3/4 C vegetable oil
3/4 C milk
4 eggs
24 mini Cadbury eggs, unwrapped and frozen
Basic Buttercream Frosting:
4 sticks (2 C) unsalted butter, softened
2 lbs powdered sugar
1 T vanilla
1 t butterscotch extract (optional)
Pinch salt
4 T milk or heavy cream
Yellow food coloring
24 mini Cadbury eggs
Directions:
Unwrap and freeze 24 mini Cadbury eggs.  Freeze 4+ hours or overnight.
Heat oven to 350.  Line muffin pans with cute Easter wrappers.
Use mixer to combine chocolate cake mix, chocolate pudding, eggs, oil and milk.
Fill muffin tins 1/2 to 2/3 full.  There is exactly enough batter for 24 cupcakes.  If you run out, they're too big.  Redistribute.
Place a frozen mini Cadbury Egg upright in each cupcake.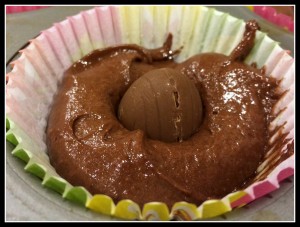 Bake 18 minutes.  Cupcakes will puff up and almost cover the egg.  Mine cracked slightly on the surface and passed the toothpick test.  Be careful not to poke the egg.  The egg will mostly retain shape.
Cool completely before frosting.
To make buttercream frosting, use a stand mixer.
Cream butter.  Add pinch of salt, vanilla and butterscotch if using.  Slowly add powdered sugar, scraping bowl.  If you get a blizzard (I did), it means you're adding powdered sugar too quickly.  Add milk and continue to mix well.  Add more or less milk to customize consistency.  Go slowly.
Remove about 2 C of icing from the bowl and add yellow food coloring.
Pipe white icing onto cupcakes, cover completely.  Add a thick ring of white icing and leave a well in the center.  Fill wells with yellow frosting.  Place a mini Cadbury egg on top.  Sprinkles are always welcome.  Happy Easter!
PS.  I'm not responsible for what happens if you eat more than 2 of these at once…  sugar coma!
Adapted from "Cadbury Cupcakes," www.mybakingaddiction.com