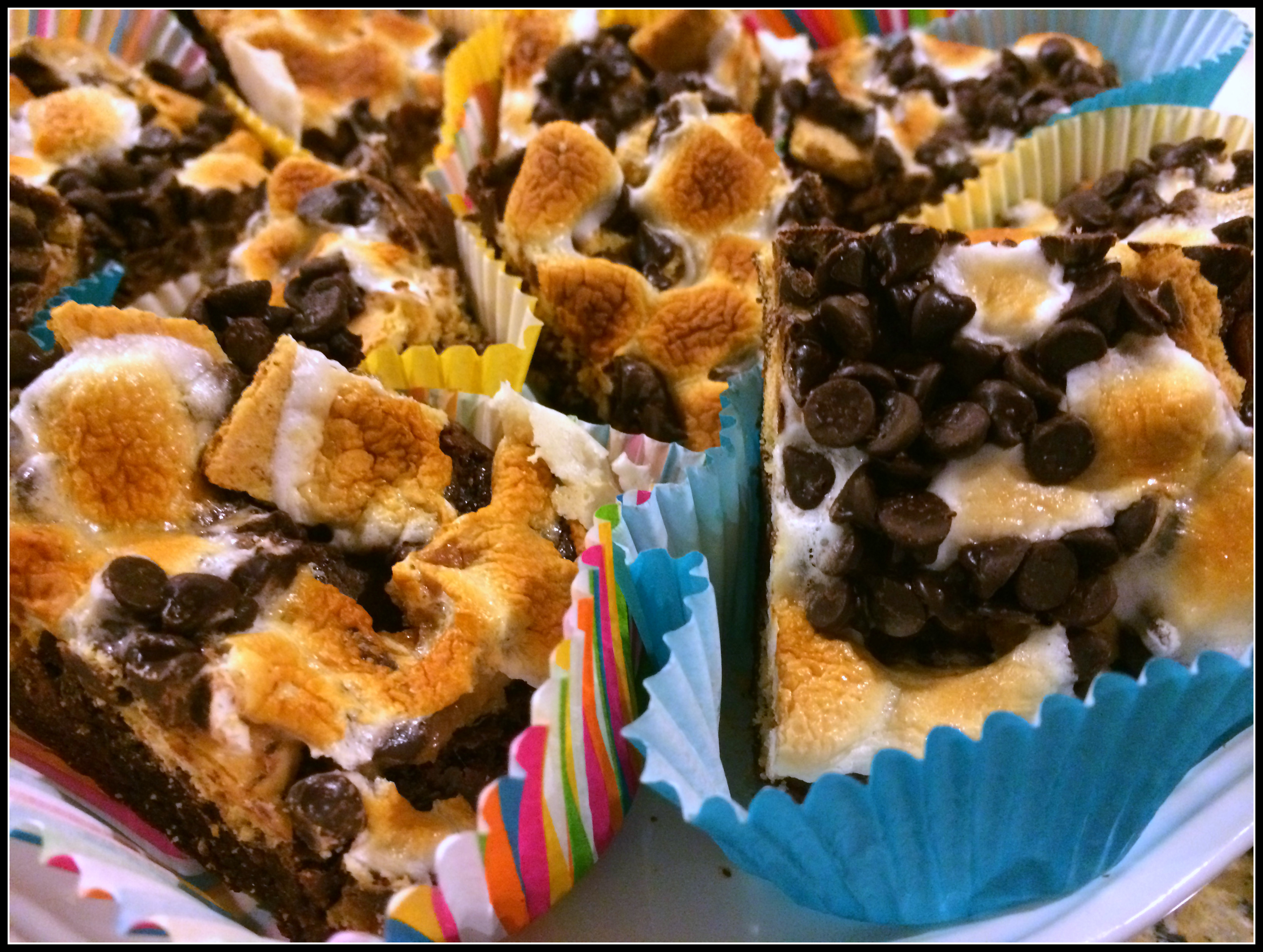 It's my mother-in-law's birthday and I'm making treats, heaping roasted marshmallows on a dense chocolate brownie.  S'more brownies are perfect for summer barbecues, church potlucks and end of the school year parties.  I promise people will request the recipe as long as you don't burn the marshmallows.
S'more Brownies
Makes 12 brownies
Ingredients:
1/2 batch office coma brownies without add ins or frosting
Recipe can be easily doubled for a 9×13 pan
If you are too lazy to look up the brownies, here's the recipe:
1/2 c butter (1 stick)
1C sugar
1/3 C cocoa
2 eggs
1 1/2 t vanilla
1/2 C flour
1/2 t salt
1/2 t baking powder
Brownie Topping:
1 1/2 C graham cracker pieces
1 1/2 C mini marshmallows
1 1/2 C mini chocolate chips
Directions:
Line 8×8 pan with parchment paper.
Heat oven to 350.
Melt butter on stove in medium saucepan.  Remove from heat.  Add sugar and cocoa powder.  Mix.
Add 2 eggs.  Add vanilla, salt, baking powder and flour.  Mix well.
Pour into prepared 8×8 pan.
Bake 22 minutes.  A toothpick inserted in the center will come out clean.
Remove from oven, press graham cracker pieces into hot brownies.  Add marshmallows then chocolate chips.  Bake 5 more minutes at 350.
To toast marshmallows, turn on broiler.  DO NOT WALK AWAY FROM BROWNIES.  (Yes I'm yelling.  It's not personal.  Broilers are hot and will turn delicious brownies into a burned mess very quickly.)  Marshmallows will toast in more than 1 minute and than less than 2 minutes.  Remove immediately when they are desired color.
Cool, slice and serve.  Enjoy!