Banana Cake with Cinnamon Buttercream Frosting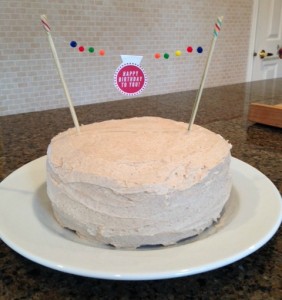 It's no secret that we love banana flavored desserts in our house: banana bread, banana cream pie, banana tarts, monkey bars. These desserts are all on a regular rotation here.
While looking for a new way to incorporate bananas in our dessert line up, I came upon this yummy sounding cake on Pinterest. It was everything I hoped it would be and more!
We are not big fans of buttercream frosting. We either scrape it off or eat the cake around it, leaving a frosting shell on the plate. The cinnamon buttercream intrigued me enough that I was willing to sacrifice a cup of butter for the cause. The result: GOOD STUFF!
Make this cake! It's delicious and everyone will be oohing and ahhing over how delicious it is; and also wondering why didn't they think to bake banana bread in cake pans and frost it with cinnamon buttercream.
Note:
The cake batter is very dense, even more so than banana bread batter as there is no milk in it. I used cake flour instead of all purpose flour to give it more of a cake-like consistency.
1/2 cup butter, softened
1 cup sugar
1 egg
1 tsp vanilla
3 bananas
1 3/4 cups flour
1 tsp baking powder
1 tsp baking soda
1/2 tsp salt
1 cup butter, softened
3 1/2 cups powdered sugar
2 tsp cinnamon
2-3 T milk
Preheat oven to 350*. Grease two 9 inch cake pans.
Blend butter and sugar until creamy. Add egg and vanilla, beat until combined. Blend in bananas. Add in flour, baking powder, baking soda and salt.
Divide batter in half and pour into cake pans. Bake in a 350 degree oven for 25 minutes. Remove and cool. Let cake cool in pans 10 minutes, then flip onto a cooling rack to cool completely.
For the frosting, beat butter until fluffy. Add in powdered sugar and cinnamon. Add milk. Beat for 5 minutes until desired consistency.
Frost, eat & enjoy!