Strawberry Lemonade Cupcakes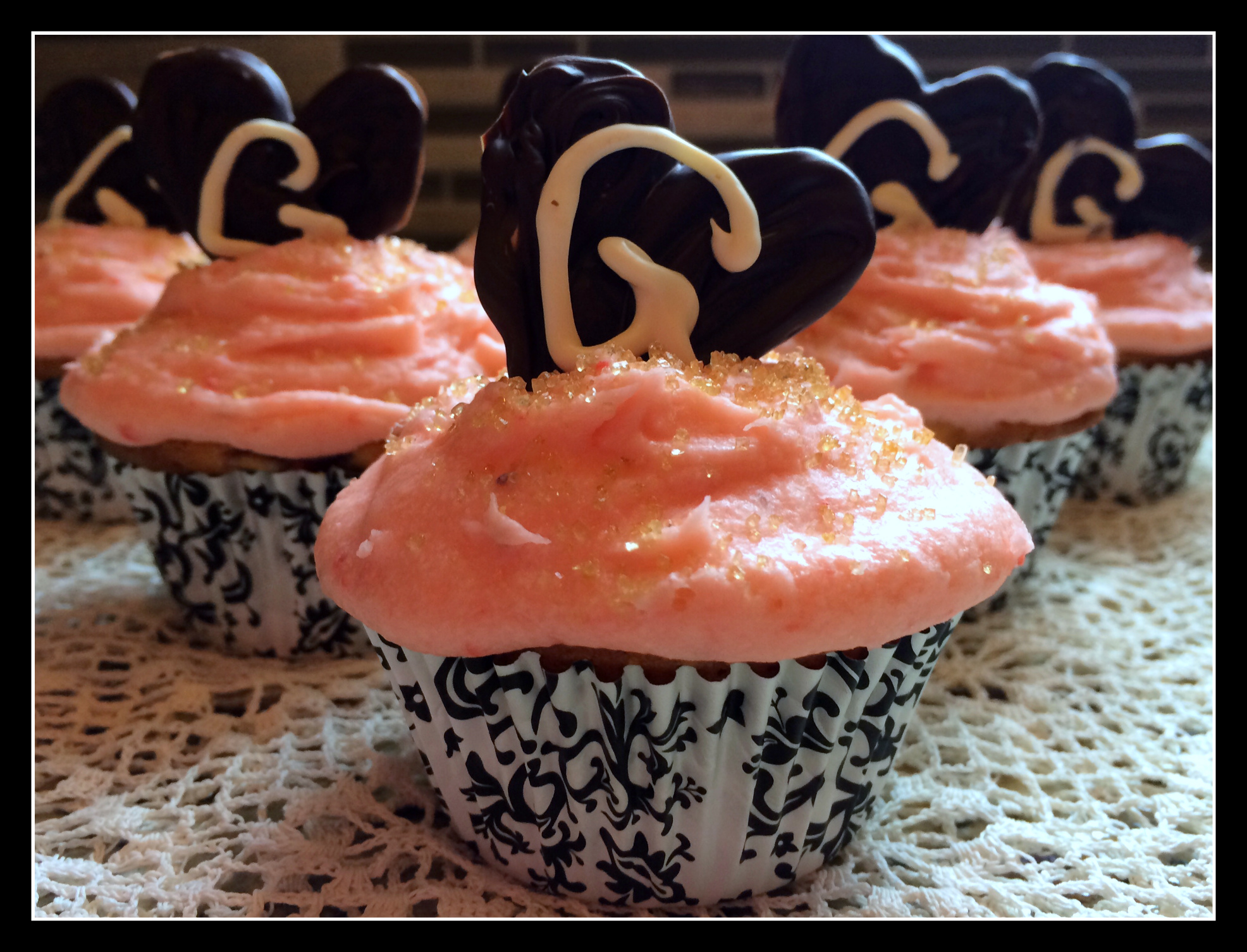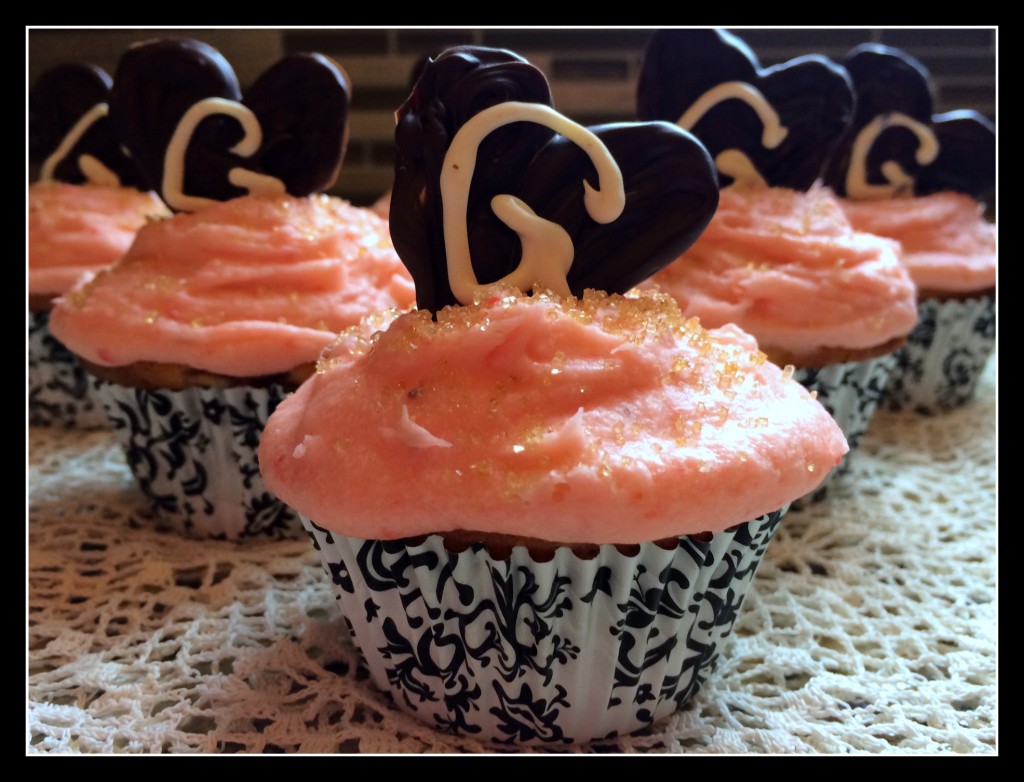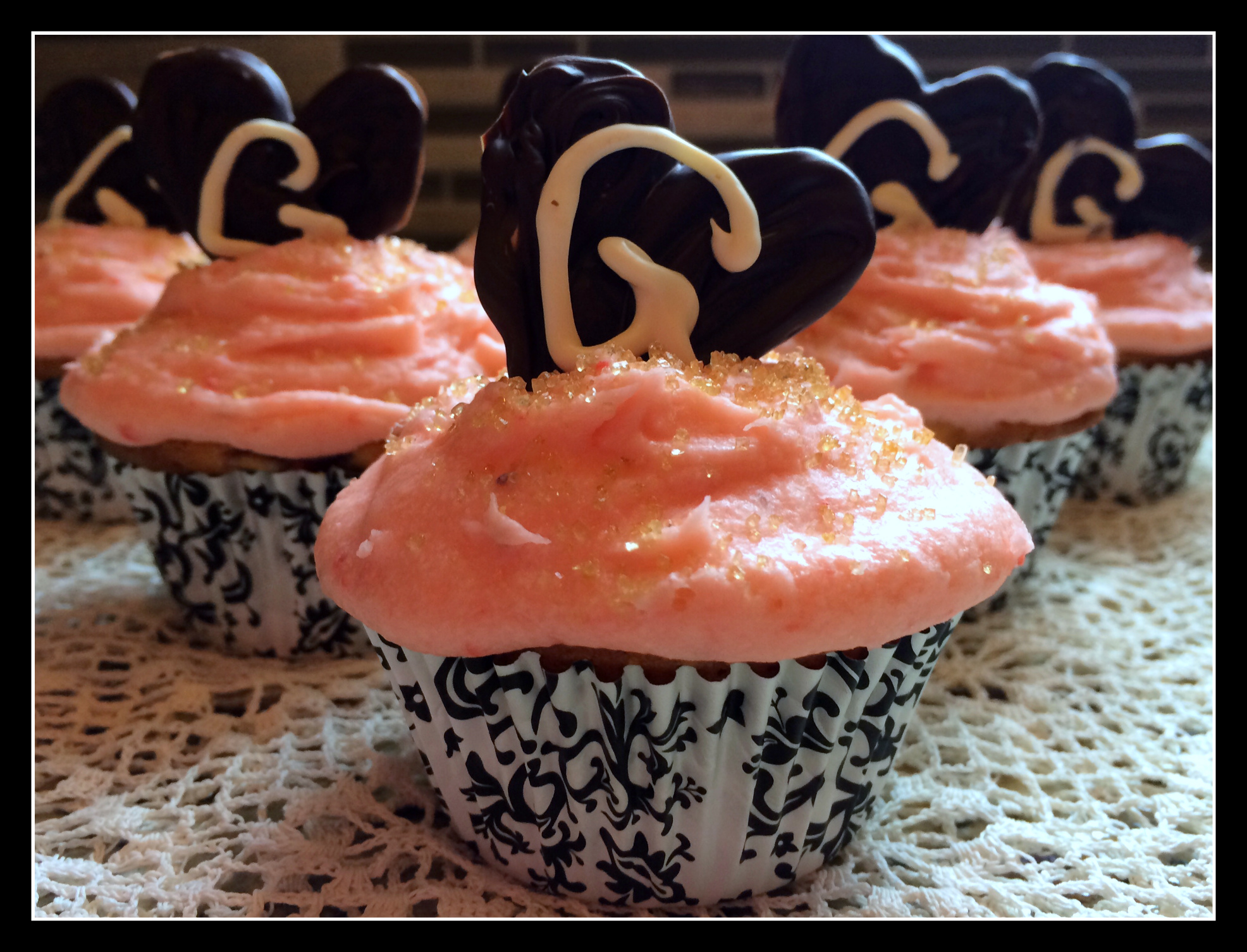 My sister is having a baby shower!  Grayson will be my first nephew and we are VERY excited.  When I asked how I could help, she said "something sweet, not chocolate."  I requested more details (cake, cookies, pie, candy, donuts, etc) she said "strawberries."  Right.
I settled on Strawberry Lemonade Cupcakes.  Bits of fresh strawberry, unbelievable frosting, hidden filling and glamorized cake mix make for perfect baby shower treats.  They are also great for Valentine's Day.  I used 1 quart of strawberries for the whole recipe.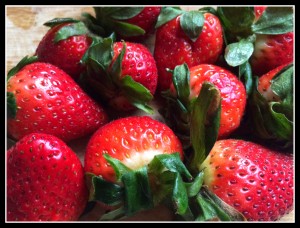 Strawberry Lemonade Cupcakes
Makes 24 cupcakes
Ingredients
Cupcakes
1 box French vanilla cupcake mix (15.25 oz)
1/2 package instant vanilla pudding mix (3.4 oz)
1 C strawberry yogurt.  I like to use Greek.
3/4 C vegetable oil
1/2 C milk
4 eggs
1 T vanilla extract
1 1/4 C fresh diced strawberries.  Dice fairly small, about 1/4 inch pieces
Grated zest of 1 medium lemon
Filling
Strawberry Buttercream Frosting
2 cups (4 sticks) butter, softened
2 pound bag powdered sugar
1 T fresh lemon juice
1 T vanilla extract
6 T strawberry puree- use the remaining berries.  Preserves would work but fresh is best
Directions
Heat oven to 350.  Line muffin tins with cute wrappers.  I recommend greaseproof cupcake liners which will keep their color during baking.
Using stand mixer, combine cake and pudding mix.  Add in yogurt, milk, eggs, vanilla, oil, lemon zest.  Mix well.
Fold in diced strawberries by hand until just combined.
Put batter into muffin pans.  Be careful not to overfill.
Bake until puffy and lightly golden, approximately 20 minutes.
Allow to cool, remove from pans.  Cool completely.
Using a cupcake punch or sharp knife, make a small hole in the top of the cupcake.  Fill each with strawberry preserves.  To fill, I recommend putting about 1 C preserves in a freezer bag and snipping off a corner.  Pipe into cupcake hole.  Be careful to keep holes fairly shallow.
To make frosting, cream butter in stand mixer.  Add in vanilla, lemon juice and strawberry puree.  Add powdered sugar 1 C at a time, mixing well.  Continue until the bag is gone.  If the icing feels "too thick," add 1T milk until desired consistency.  Pipe strawberry buttercream icing onto cupcakes.
Decorate with sprinkles and lemon sugar.  For Valentine's Day, top with a chocolate covered strawberry.  I added custom shapes made with melting chocolate.
Recipe modified from "Easy Strawberry Cupcakes," www.mybakingaddiction.com, 8/3/12