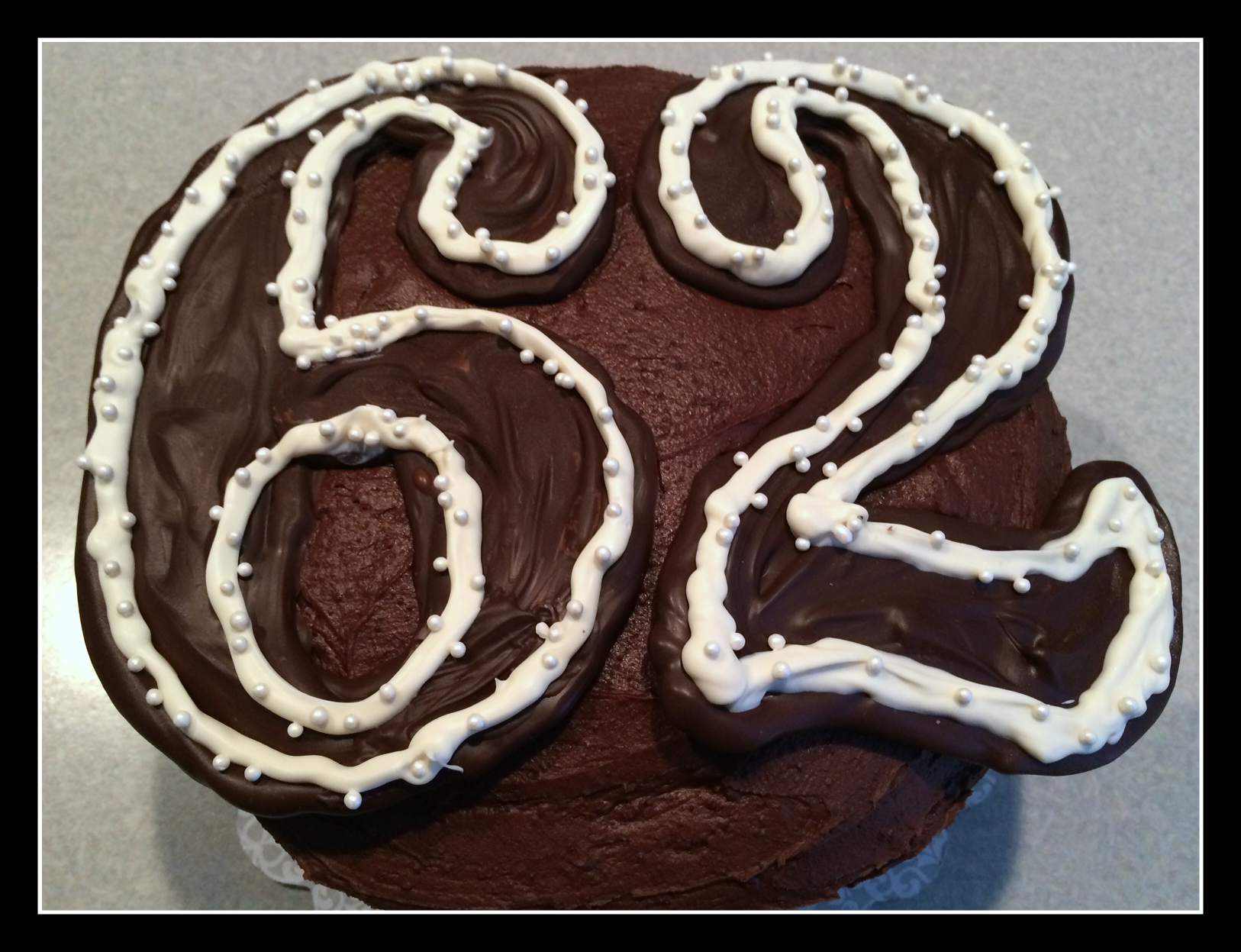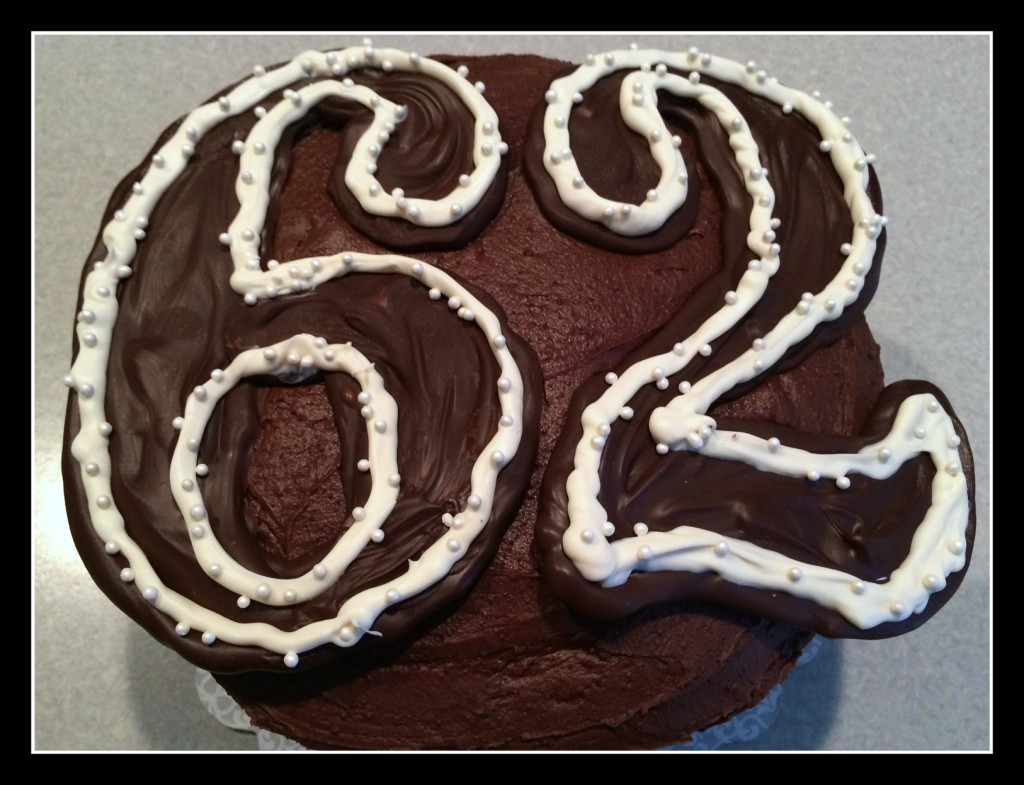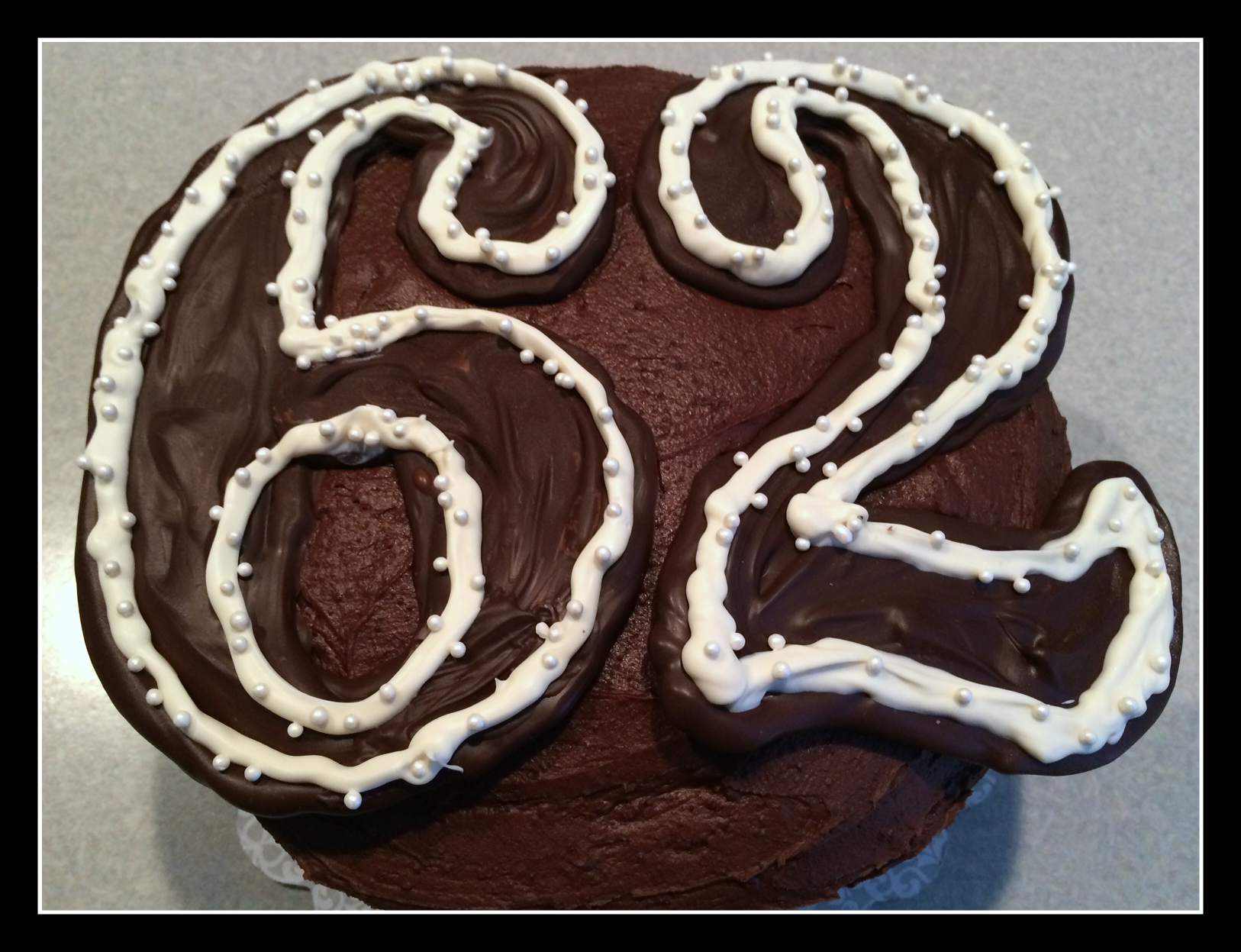 My dad wants chocolate cake for his birthday.  I made chocolate with chocolate buttercream frosting; it's dense and rich without being too sweet.  To fancy it up, we added 3 layers and edible birthday numbers.  Sorry dad, now everyone knows you're 62!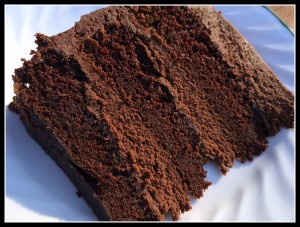 Dad's Chocolate Cake
Serves 12 if 3 layer cake
Makes 36 cupcakes
Ingredients
Cake:
2 C white sugar
1 3/4 C flour
3/4 C unsweetened cocoa powder
1 1/2 t baking powder
1 1/2 t baking soda
1 t salt
2 eggs
1 C milk (any works, I had 1% in my fridge)
1/2 C vegetable oil
3 t vanilla extract
1 C very hot coffee
Chocolate Buttercream Frosting:
3/4 C butter, softened
1 1/2 C cocoa powder
5 1/2 C powdered sugar
2/3 C milk
1 t vanilla
Pinch salt
Directions
Heat oven to 350.  Grease and flour 3 8-inch baking pans.  Note:  The color of your baking pan matters.  Dark colored pans cook faster.  Don't have round pans?  Try a 9×13 or cupcakes.
Mix all cake ingredients except coffee with stand mixer for 3 minutes.  Make sure coffee is boiling and carefully pour in while the mixer is running.  Combine very well, at least 1 more minute.  Cake mixture will appear soupy but blended.
Pour evenly into prepared pans.  Bake 30 minutes or until toothpick comes out clean.
Wait 10 minutes for cakes to cool, carefully invert on cooling rack.  Cool completely.
To make frosting, cream butter in stand mixer until light and fluffy.  Mix cocoa and powdered sugar in separate bowl and measure out milk.  Add cocoa powder and sugar mixture alternately with milk.  Don't forget the vanilla.  Beat to spreading consistency.  If it feels too thick, add milk by 1t amounts until it seems right.
Spread frosting thinly on bottom layer of cake.  If you have coconut, salted peanuts or chocolate chips lying around, you can add a few for interest.  Stack second layer on top.  Repeat.
Use remaining frosting to cover top and sides.  Need cake frosting tips?  This explains the use of a "crumb layer."  Skip to the 3 minute mark for this tip.
For extra fun, make your own cake decor.  I made giant numbers for this cake.  To create a stencil, I printed numbers and put wax paper on top.  Next I melted melting chocolate in a freezer bag in the microwave in 15 second blurts.  Snip a corner off the bag and follow the template.  Use sprinkles or different colors of melting chocolate to create an edible design.
Melting chocolate is a specialty item found in many grocery and craft stores.  Typically round, the chocolates are approximately the size of a quarter.  While you can purchase brand name melting chocolates, our local discount grocery store Winco carries them in bulk.
Happy Birthday Dad!  We love you!!!
Modified from www.allrecipes.com, "Extreme Chocolate Cake" by RACH56