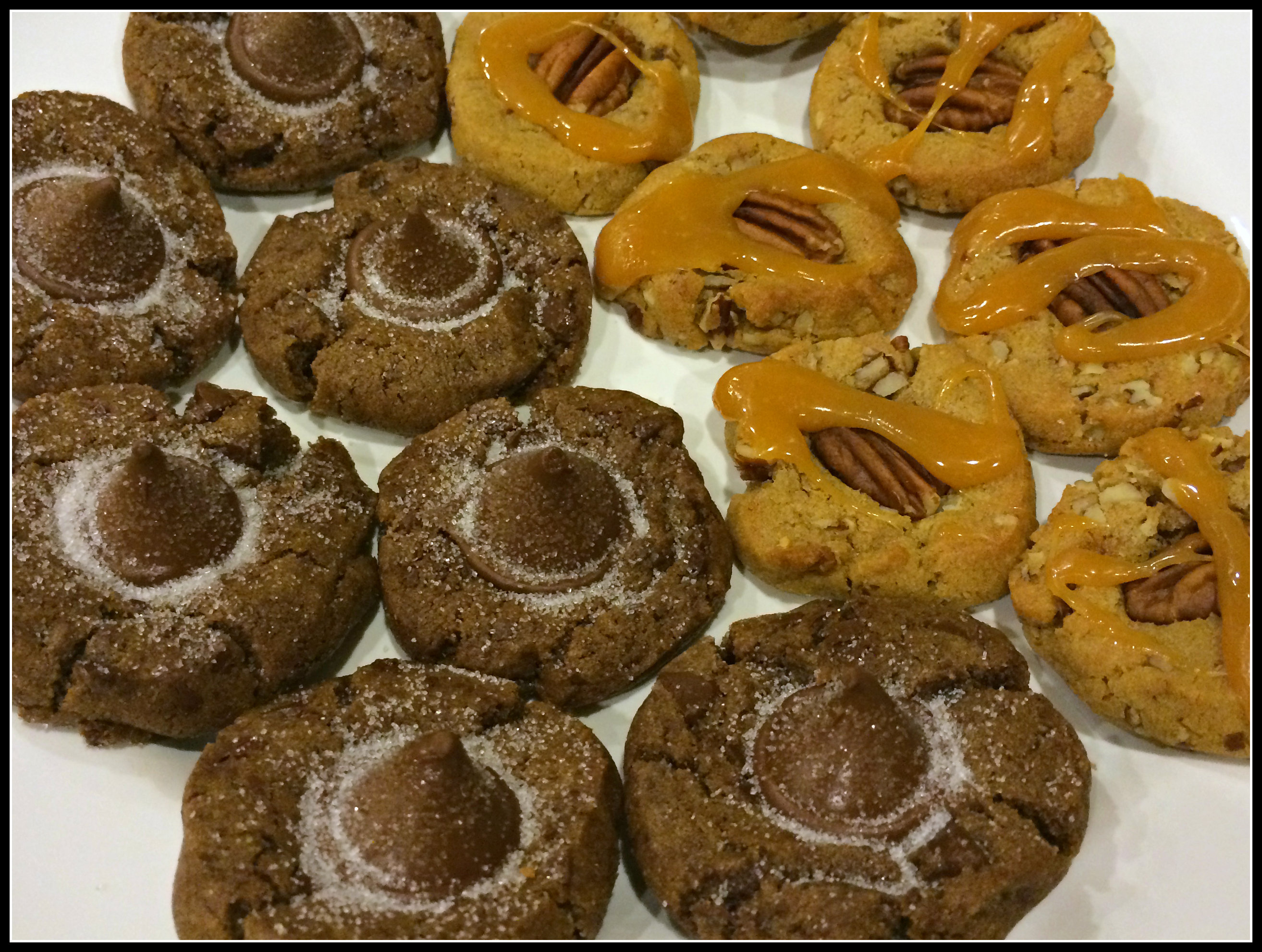 Twofer Cookies are two cookie recipes in one.  It's simple and makes it look like you worked harder than you did.
The original recipe for Twofer Cookies comes from my 1963 Betty Crocker's Cooky Book.  Yes cookie with a Y.  The Cooky Book has a variety of classic treats, it's a must-have item for any baker's collection.  I modified 1945 Caramel Refrigerator Cookies.  These were popular during World War 2 and simplified cookies by mixing one day and baking the next.
Twofer Cookies
Ingredients:
 ¼ C shortening
¼ C butter, softened
1 C packed dark brown sugar
1 egg
1 t vanilla
1 ¾ C flour
½ t baking soda
½ t salt
1 C chopped pecans
1 square (1/2 oz) baking chocolate, melted and cooled
1 C mini chocolate chips or regular  chocolate chips chopped
36 unwrapped chocolate kiss candies
36 whole pecans
12 unwrapped caramels
1 or 2 t milk
Directions:
Combine shortening, butter, brown sugar and egg with mixer.  Add flour, baking soda salt.  Will appear crumbly.  Split into two bowls.
Add chopped pecans to one bowl.  Mix well.
Add melted, cooled chocolate and mini chocolate chips into the other bowl.  Mix well.
Lay a strip of wax paper on the counter top.  Dump one bowl onto the wax paper.  Form into a roll 2 ½ inches across.  Mine was about a foot long.  Wrap tightly, rolling on counter to shape.  Tie ends.
Repeat with second bowl.  Place rolls in refrigerator overnight.
Heat oven to 400.  Line cookie sheet with parchment paper.
Using a cutting board and sharp knife, slice roll into ¼ inch rounds.  Space a little apart on baking sheet.  Bake 8-10 minutes and remove from oven.
When the chocolate cookies are hot, press chocolate kiss candy into center.  It will melt and sticks to the cookie.  Cool completely.  Chocolate kiss will reset.
When the pecan cookies are hot, press a whole pecan into the center.  Melt unwrapped caramels with 1-2 t milk in 15 second bursts in the microwave.  Stir until combined.  Drizzle over pecan cookies.  Cookies can be warm when caramel is added.  Caramel will reset when cools completely.
Now show off… you made two cookies for the work of one!
Recipe modified from "Caramel Refrigerator Cookies," page 145, Betty Crocker Cooky Book, 1963.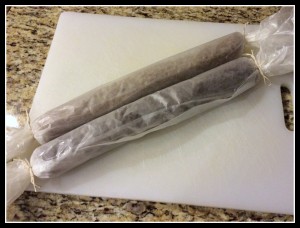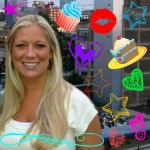 I'm a self-taught Betty Crocker. Food should be pretty, delicious and have sprinkles. Professionally I'm a clinical social worker. Follow me on Facebook and Pinterest- Sugar and Spice Baking Blog- for great recipes, amazing restaurants and culinary adventures.