I made Happy Cake for New Year's Eve.  Happy Cake is also known by its longer name, Chocolate Sour Cream Bundt Cake with Chocolate Cream Cheese Frosting.  You can see why we abbreviate.
A note about Bundt Cakes:  They are amazing!  The recipes are easier than traditional scratch cake mix.  I've only found 2 ways to screw up a Bundt cake: 1) Burn it (use a timer and this won't happen) or 2) Mismatch the volume of the Bundt pan to the volume of the recipe.  Bundt recipes say what size pan they are scaled to fill.  While most pans are 10-12 cup capacity, I have seen 8 and 14 cup models.  Not sure the volume of your Bundt pan?  Pour in water 1 cup at a time until the pan is full.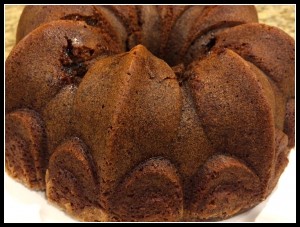 Happy Cake
Fits 10-12 cup capacity Bundt pan
Ingredients
Cake:
1 C butter
1/3 C unsweetened cocoa powder
1 t salt
1 C water
2 C flour
2 C white sugar
2 t baking soda
2 large eggs
2/3 C sour cream (or plain Greek yogurt)
1 T vanilla extract
Chocolate Cream Cheese Frosting:
1 8oz package cream cheese, softened
¼ C butter softened
2 t milk
1 T vanilla extract
2 oz semisweet baking chocolate
Directions
Heat oven to 350.
Grease and flour Bundt pan.  I recommend a grease and flour spray.  Make sure you get it into all the cracks, typically Bundt pans have pretty shapes.
In saucepan over medium low heat, melt butter.  Add water, cocoa powder and salt.  Stir until combined.
In a large bowl, mix flour, sugar and baking soda.  Add cocoa mixture and stir until well mixed.
Add eggs one at a time, then sour cream and vanilla.  Mix thoroughly.
Pour into prepared pan and bake 45-50 minutes in middle of oven.  Use a toothpick to test when cake is done.  Let the cake cool for at least 30 minutes.  Removing it from the pan to early can cause it to stick.  When you can jiggle the cake by very gently shaking it up and down, put a cooling rack under the Bundt pan and invert.  Your cake should come out right side up.  Set aside to cool.  This may take a little time as the cake is dense.
While cake is cooling, make chocolate cream cheese frosting.  Melt semisweet baking chocolate in microwave in 15 second bursts.  Typically takes about a minute.  Set aside.
Using a mixer, blend together cream cheese and butter.  Add chocolate after it has cooled down.
Add milk and vanilla.  Mix well.
Blend in powdered sugar 1 C at a time.  If the mixture is too thick, add small amounts of milk until frosting reaches desired consistency.
Pile the frosting into a Ziploc freezer bag.  Cut the corner and pipe on top of cooled cake.  For extra fun, be sure to fill the hole in the center.  Add sprinkles or chocolate shavings before it sets.
Share with anyone who needs Happy Cake.  I guarantee you'll get a smile!
Adapted from Chocolate Sour Cream Bundt Cake from www.twopeasandtheirpod.com and Betty Crocker's Cream Cheese Frosting, Betty Crocker's New Cookbook 1996 page 86.