Raspberry Shortbread Bars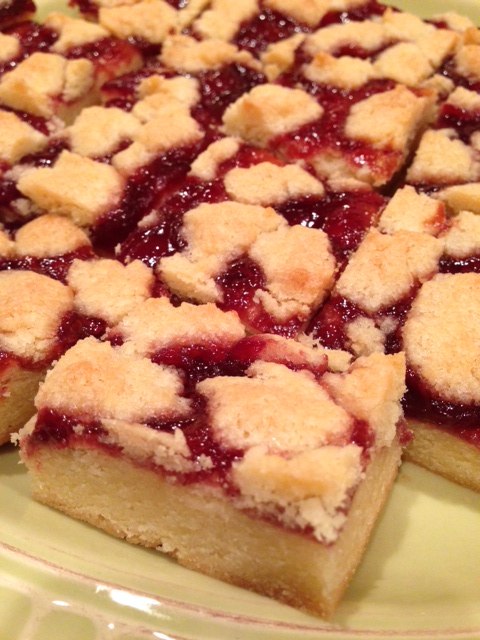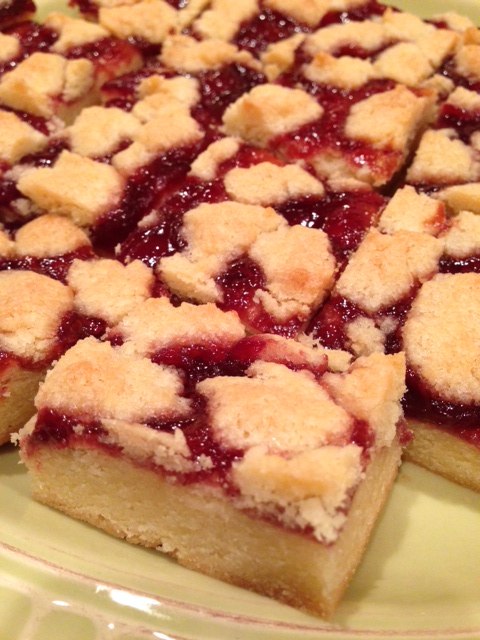 These bar cookies are the perfect treat to take to a holiday potluck or add to your Christmas cookie tray.
I have made three batches in the last 24 hours. One as a tester, to make sure they were tasty (they were!!!) and two batches for work/school potlucks today.
Make these cookies!
Raspberry Shortbread Bars via The Baking Bargainista
2 1/4 cup flour
1 cup sugar
1 cup butter
1 egg
pinch salt
raspberry jam
Preheat oven to 350*. Line a 9×9 pan with foil, and grease it lightly. Put 4/5 of the shortbread dough into the foil. Pat it down until you have an even crust. Spread  6 oz. of raspberry jam over the dough. Use more than you think you need! If you skimp on the jam, it will thin out too much and look watered down. Trust me on this! Take the remaining dough, tear off little chunks and sprinkle it evenly over the jam. Bake for 40 minutes or until the top is slightly golden. Let cool & cut into squares. Enjoy!
**I used a 9×13 pan instead of a 9×9 pan. I also over baked my first batch, as I didn't think they were done. They were! Make sure you take the shortbread out after 40 minutes!