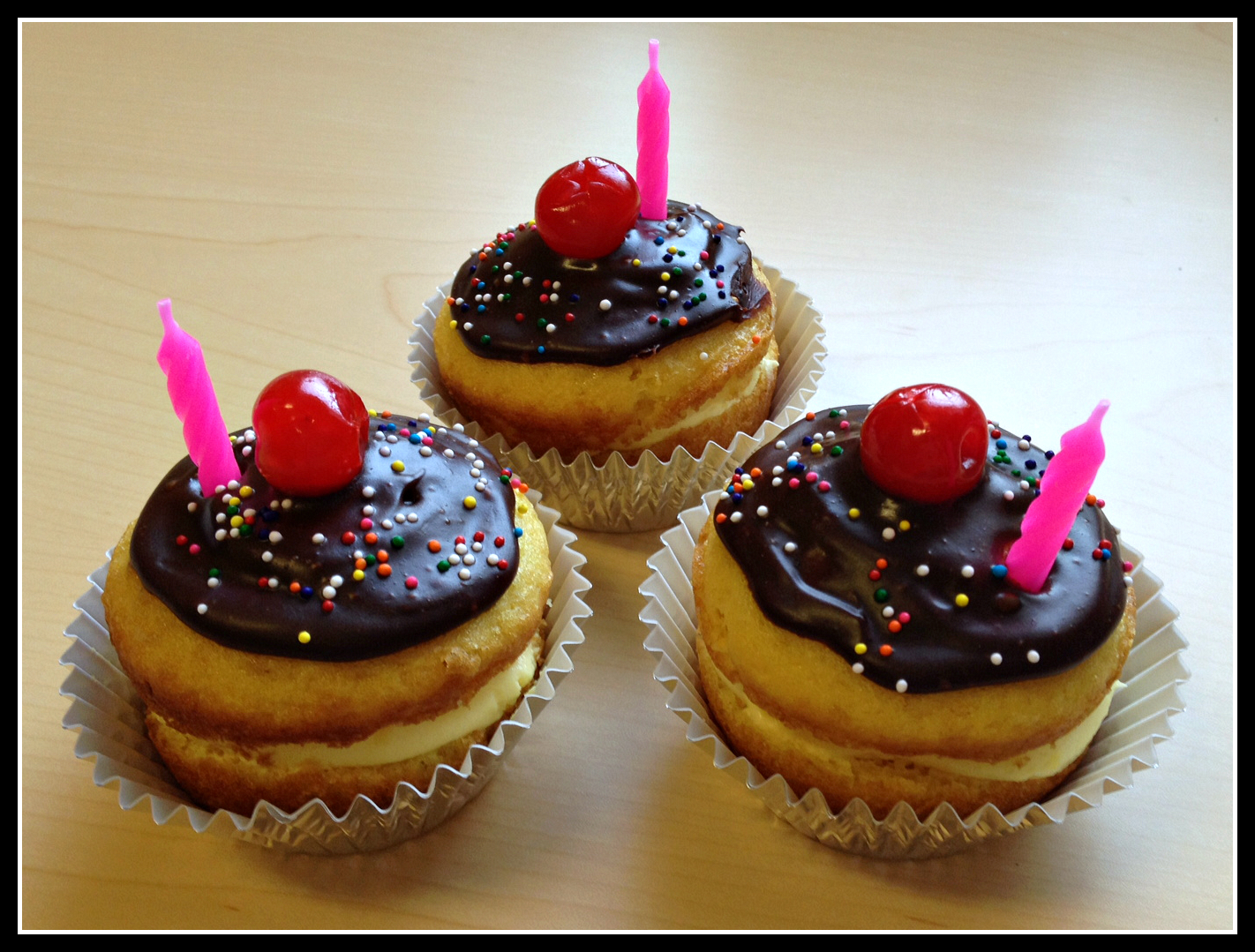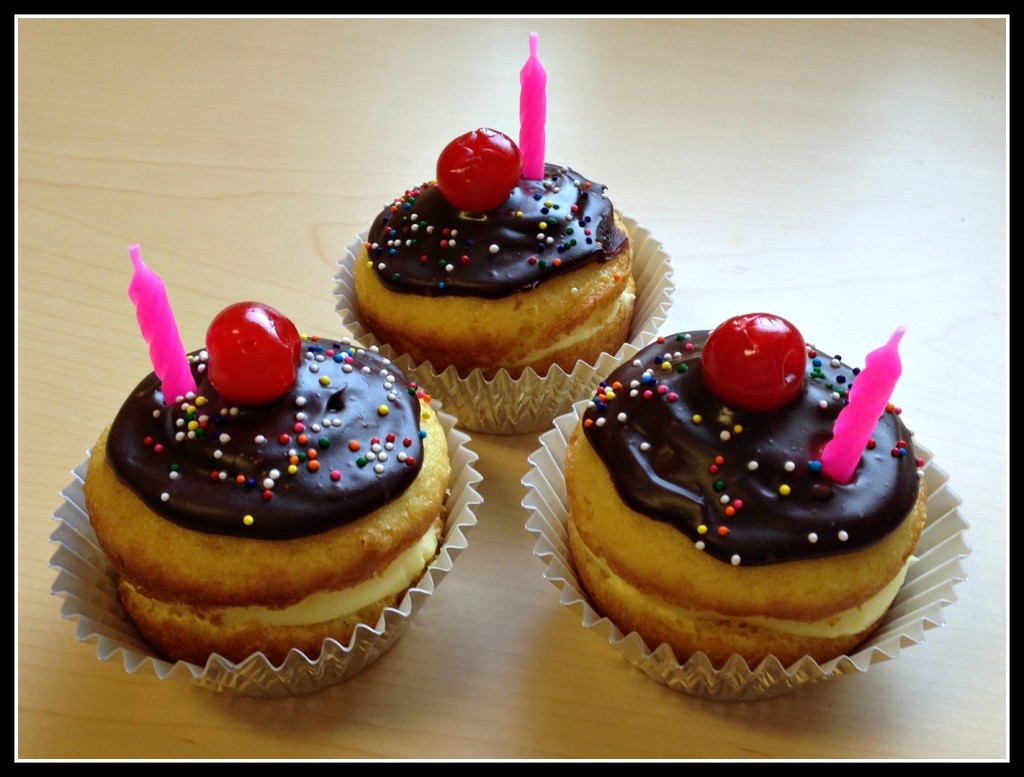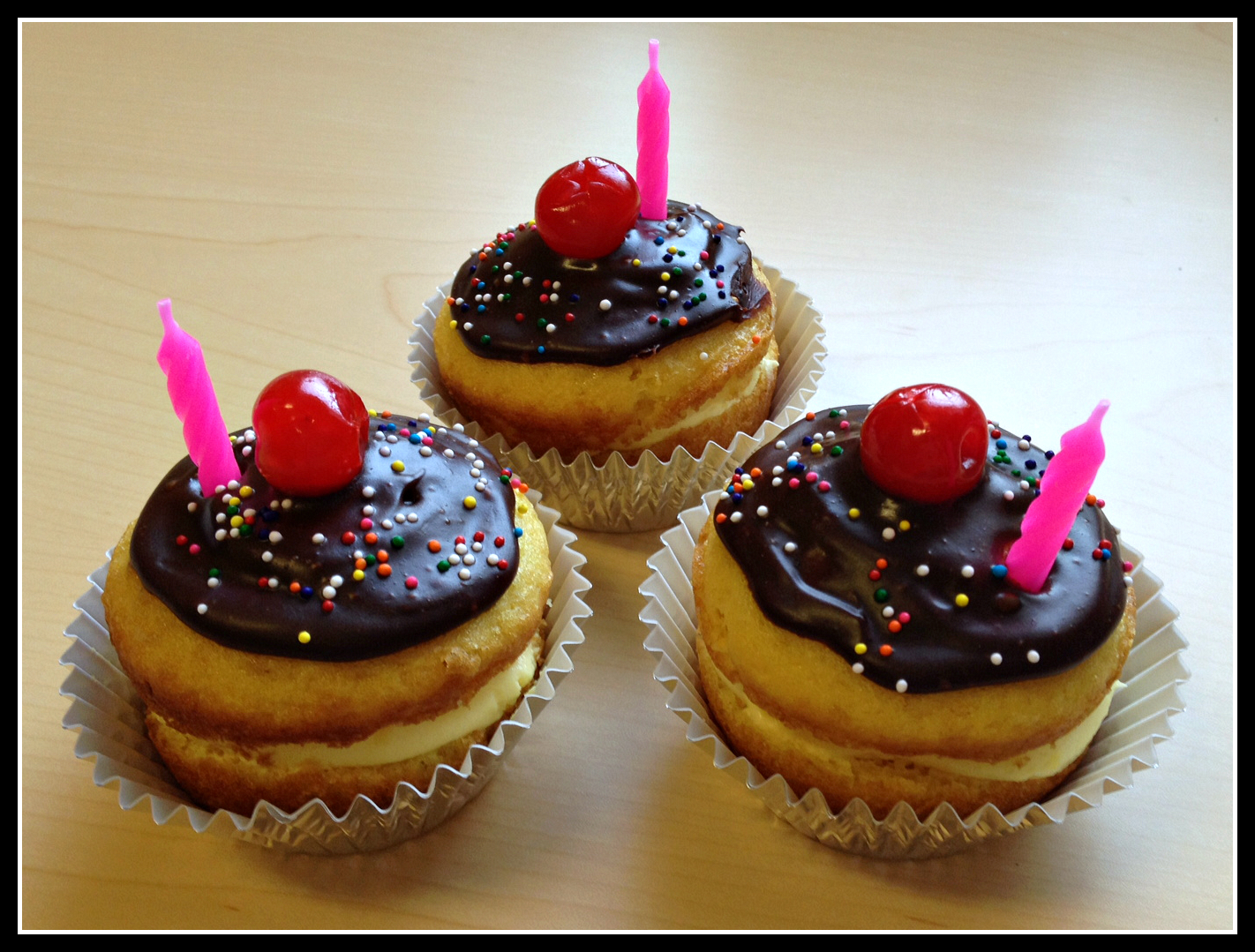 Baby Boston Cream Pies are fancy party treat.  They look fantastic, taste delicious and are lighter than traditional holiday fare items.  I've served these at Christmas, birthdays and baby showers.
Baby Boston Cream Pies
Makes 18 servings
Ingredients:
Cake:
1 box yellow cake mix
Required ingredients- oil, egg, water
Filling
5.1 oz instant vanilla pudding (the big box)
1 ½ C cold milk
¼ container whipped topping, thawed
1 t vanilla
Topping:
¾ container whipped topping, thawed
4 oz semisweet baking chocolate
18 maraschino cherries
Sprinkles
Directions:
Spray pans with nonstick cooking spray.  Following directions on box, prepare 18 yellow cupcakes.  Remove from pan and cool.
When cupcakes are cool, "cut off their heads."  Make a horizontal slice removing the puffy top of the cupcake.  If it is a flat cupcake I cut slightly further into the body.  Set aside carefully, you will reassemble.  I keep cupcake "heads and bodies" together because I don't cut straight.
In a separate bowl combine box pudding, 1 ½ C cold milk, vanilla and ¼ container of thawed whipped topping.  Spoon this between cupcake layers.  I mine in a freezer bag, cut the corner and pipe it on.  Apply about ½ inch of filling per cupcake covering entire area.  Put the "heads" back on and press gently.
Microwave the remaining whipped topping and 4 oz semisweet baking chocolate (not unsweetened) in 15 second bursts.  Stir until chocolate is melted and all combined.  45 seconds total is enough.
Put teaspoon of chocolate mixture on top of the cupcake and spread around.  Use more or less depending how thick you like the frosting.  Add a cherry and sprinkles before it sets and hardens.
Serve in fancy muffing wrappers.  Keep in refrigerator until it's time to impress your guests.
While I made Baby Boston Cream Pies in the classic style (yellow cake and vanilla filling), you could easily change the flavors.  Imagine white cake with chocolate, lemon cake with strawberry, chocolate cake with banana etc.
Modified from Boston Cream Pie Minis by , www.allrecipes.com by KRAFT