Gingerbread Bites with Lemon Cream Cheese Frosting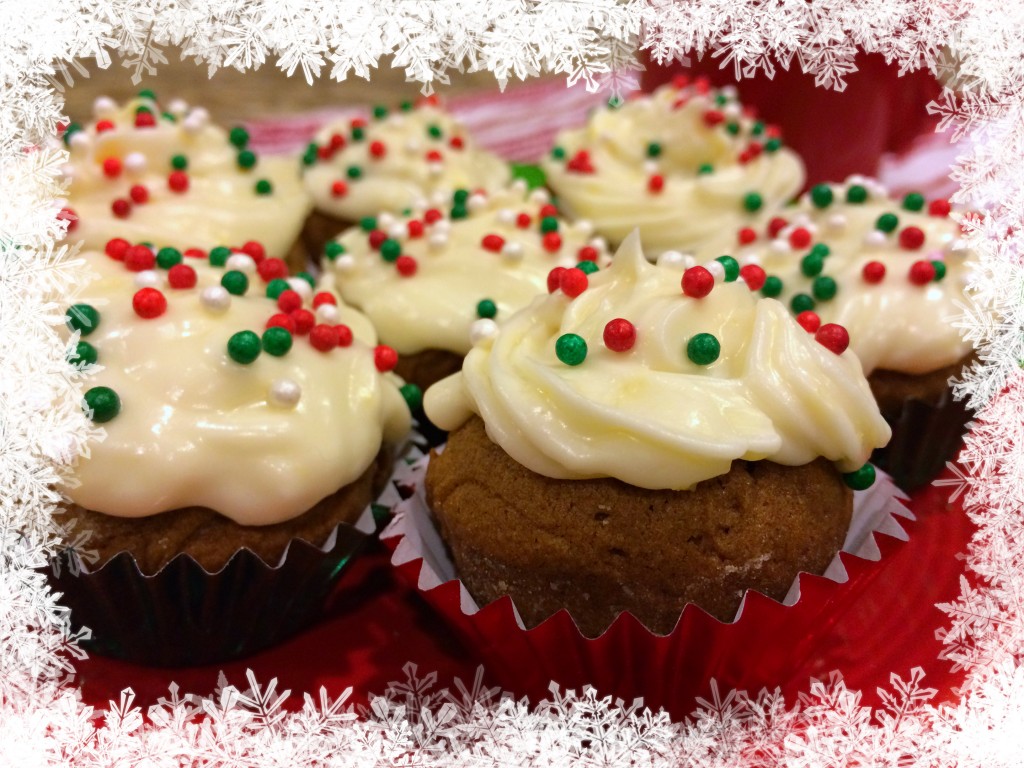 Turns out gingerbread is old.  The origin is France around 992with an Armenian monk.  Making it Christmas traces back to 11th century Sweden.  Variations of gingerbread are found all over the world.  (And I'm officially a food nerd.  If you didn't already know, the secret is out).
With such a long history, it's no wonder we feel the need to bake gingerbread it at the holidays.  My favorite comes with lemon cream cheese frosting.  The zing keeps traditional from boring and sets firmly enough to hold on to holiday sprinkles.
Gingerbread Bites with Lemon Cream Cheese Frosting
Makes 36 frosted bites
Adapted from Betty Crocker's "Best New Cookbook," 1996, Gingerbread Cake, page 79
Ingredients:
2 1/3 C flour
½ C shortening
1 C mild molasses, unsulphured (I used Brier Rabbit)
¾ C hot water
1/3 C sugar
¼ C packed dark brown sugar
1 egg
¾ t salt
1 t baking soda
1 t ground ginger
1 t cinnamon
½ t ground cloves
Directions:
Heat oven to 325.
Spray 3 mini-muffin pan with nonstick cooking spray.  I recommend having at least 4 mini pans… you'll be glad as kids LOVE mini stuff and multiple pans make it much more efficient.
Combine all ingredients in stand mixer with paddle attachment.  Mix thoroughly.
Spoon into mini muffin pans.  I put about a 1 inch lump, filling each tin about ¾ full.
Bake until puffy and toothpick comes out clean, approximately 15 minutes.  Do not over bake or gingerbread dries out.
Cool.  Frost with Lemon Cream Cheese Frosting and your favorite holiday sprinkles.  I place in mini muffin cups after for decoration.
Lemon Cream Cheese Frosting
Ingredients:
1 8oz package cream cheese, softened
¼ C butter (1/2 a stick) butter, softened
1 t vanilla
2-3 T lemon zest (depending on how lemony you like it)*
2 T fresh lemon juice*
5 C powdered sugar
Directions:
Combine cream cheese and butter.  Add vanilla, lemon zest and lemon juice.
Add powdered sugar 1 C at a time blending well.  Warning!  Adding too much sugar at once results in powdered sugar blizzards all over the counter.  It's a routine problem at my house.
Spoon frosting into Ziploc bag, cut corner and pipe onto gingerbread bites.  Decorate with holiday sprinkles before it frosting sets.
* Consider swapping the lemon juice & zest for orange.  It's delicious!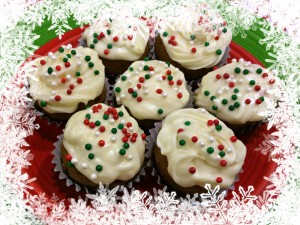 With all the snow this week I HAD to use the cheesy snowflake border… FUN!!!