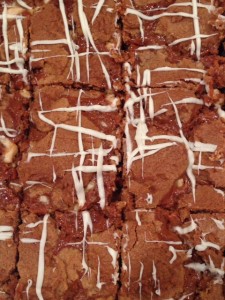 I found this recipe in the current issue of Kraft's Food & Family Magazine. It is a winner! These bar cookies are perfect for a party or potluck and keep well for several days, if they last that long!
Gingerbread Caramel Bars
Serves: 36 bars
1pkg.  (2-layer size) spice cake mix
1can  (5 oz.) evaporated milk
1pkg.  (4 oz.) BAKER'S White Chocolate, coarsely chopped, divided
 Preheat oven to 350ºF.
Line a 13×9-inch pan with foil, with ends of foil extending over sides; spray with cooking spray.  Beat cake mix, ginger, butter and egg with mixer until blended.  (Dough will be stiff.)  Press 2/3 of the dough onto bottom of prepared pan.
Bake for 10 to 12 min. or until lightly browned.  Meanwhile, microwave caramels and milk in microwaveable bowl on HIGH 3 to 3-1/2 min. or until caramels are completely melted and sauce is well blended, stirring after each minute.
Drizzle caramel sauce over baked layer in pan. Reserve 2 Tbsp. chopped chocolate; sprinkle remaining over caramel sauce. Crumble remaining gingerbread dough over dessert. Bake 25 to 30 min. or until center is almost set. Cool completely.
Microwave reserved chocolate in microwaveable bowl on HIGH 30 sec. to 1 min. or until completely melted, stirring every 30 sec.; drizzle over dessert.  Let stand until chocolate is firm.  Use foil handles to lift dessert from pan before cutting into bars.