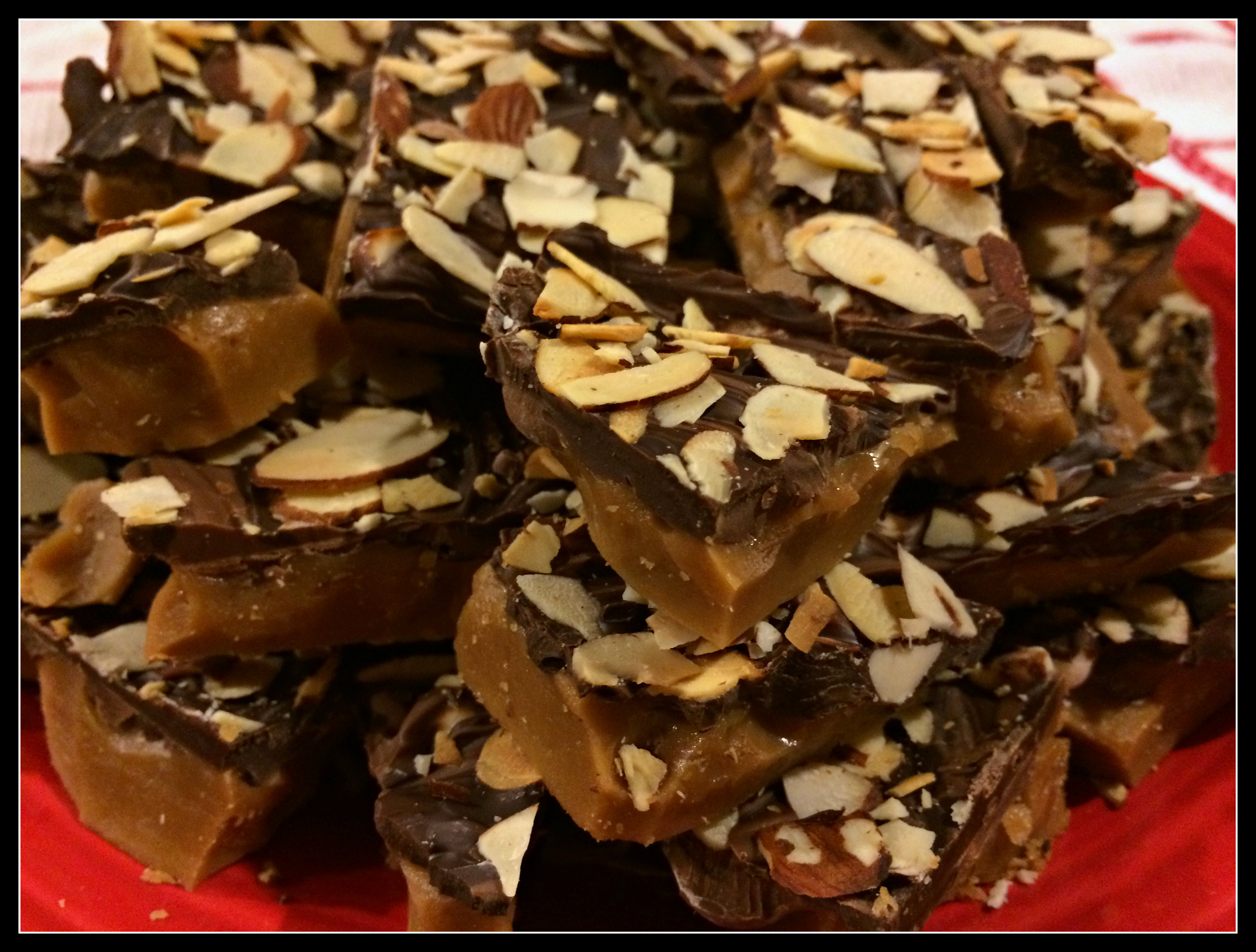 We have 43 days, 4 hours and 45 minutes until Christmas.  Yes I'm aware it is Veteran's Day and we haven't had Thanksgiving yet… but Christmas will be here quick!
This means getting holiday recipes lined up and tested.  As there's nothing worse than having a special treat go sideways (ask my family about the exploding fudge incident), I decided to make a test batch of toffee.  It WORKED!
Holiday Toffee
Makes 1 half-sheet pan or 9×13 baking pan
Ingredients:
2 C butter
2 C white sugar
pinch salt
2 1/2 C good quality chocolate chips

I used Guittard brand and a mix of milk, semisweet and dark chips (had a bunch of half-used bags in the cupboard)

1 C sliced almonds

You could switch the almonds for salted peanuts, pretzel bits, MnMs etc
Directions:
Line pan with foil or parchment paper.  Set aside.  Toast sliced almonds if using.  Set aside.  Measure out 2 1/2 C chocolate chips.  Set aside.  Get out your candy thermometer.
In heavy bottomed saucepan combine butter, sugar and salt.  Cook over medium heat.
Don't turn past medium.  The mixture will boil and double in volume.  Stir occasionally with silicon whisk.
Cook approximately 10-15 minutes.  Mixture will bubble and turn a dark amber color.  The toffee will look like it's just bubbling for quite a while and darken quickly.  Stay CLOSE during the boiling, sugar burns easily.  You will know it's done when the temperature reaches 285 F (37 C) on the candy thermometer.  It will have a caramel-like color and texture.
Pour the toffee into prepared pan.  Let cool for 5 minutes.  Sprinkle chocolate chips on top.
When chocolate chips melt, use a knife or toothpick to spread evenly.  Sprinkle with sliced almonds (or other topping).
Put mixture into fridge to cool.  When completely set, break into pieces and give as Christmas gifts.  Your friends will be so impressed!
Adapted from "Best Toffee Ever- Super Easy" by FUNKYSEAMONKEY, www.allrecipes.com
Got a favorite recipe?  Enter in the Columbian's Holiday Recipe Contest until Friday, 11/15/13