Naughty List Peanut Butter Fudge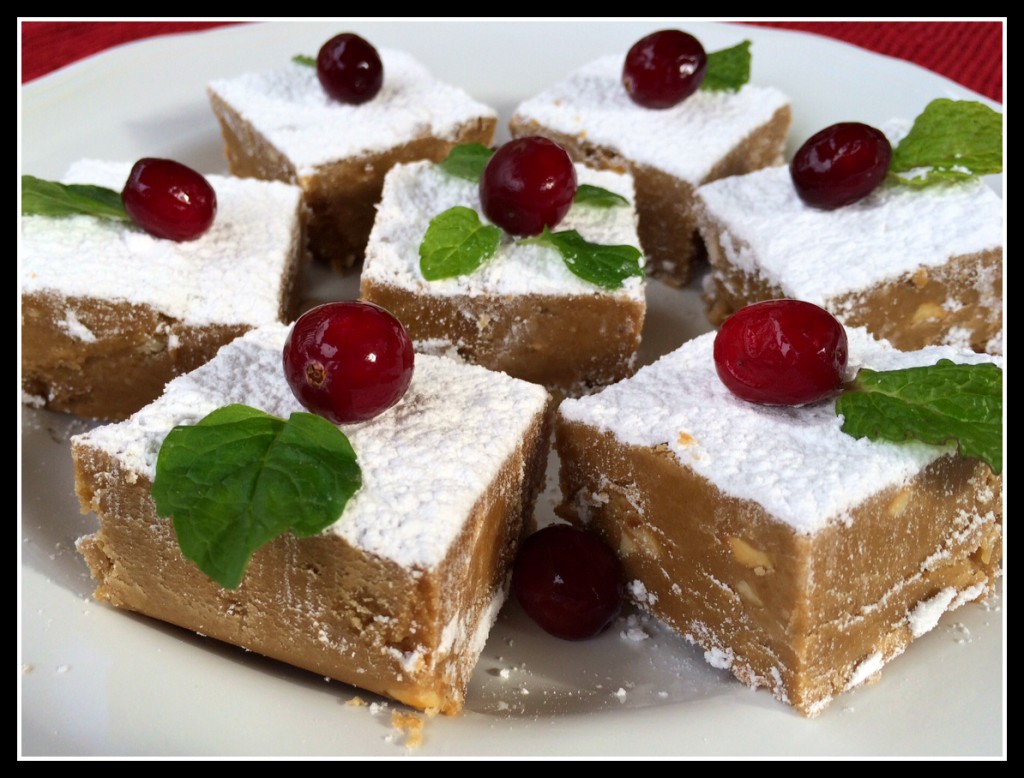 Land yourself on the Naughty List by bringing easy, delicious peanut butter fudge.  Although friends and family request it all year, I only make it for at the holidays.  Want extra coal in your stocking?  Sprinkle chocolate chips on top before it cools.
Naughty List Peanut Butter Fudge
Recipe makes 8×8 pan, double for 9×13 pan
Ingredients:
1/2 C butter
2 1/4 C dark brown sugar
1/2 C milk
3/4 C chunky peanut butter
1 1/2 t pure vanilla extract
pinch salt
4 C powdered sugar
Directions:
Measure powdered sugar into large bowl.  Set aside.
Line pan with parchment paper or aluminum foil.
Melt butter in saucepan over medium heat.  Add sugar and milk.
Keep at medium heat, stir constantly.  Mixture will boil and double in volume.  Maintain boil for 3 minutes, continue stirring.
Remove from heat; add peanut butter, vanilla and salt.  Combine.
Pour over powdered sugar.  Beat until smooth.
Pour into prepared dish.  Quickly sprinkle chocolate chips (if using).  May need to press gently into surface.
Chill until firm.  Cut into squares and serve.
Set some aside for Santa… this plate will be empty after holiday parties!
Vote for this recipe 1x per day on the Columbian's Holiday Recipe Contest running November 1-15th.  Click the "vote" tab.  It's recipe #3.
Have a favorite holiday recipe?  Please enter the contest yourself!
Modified from Allrecipes.com, "Easiest Peanut Butter Fudge" by Angie H