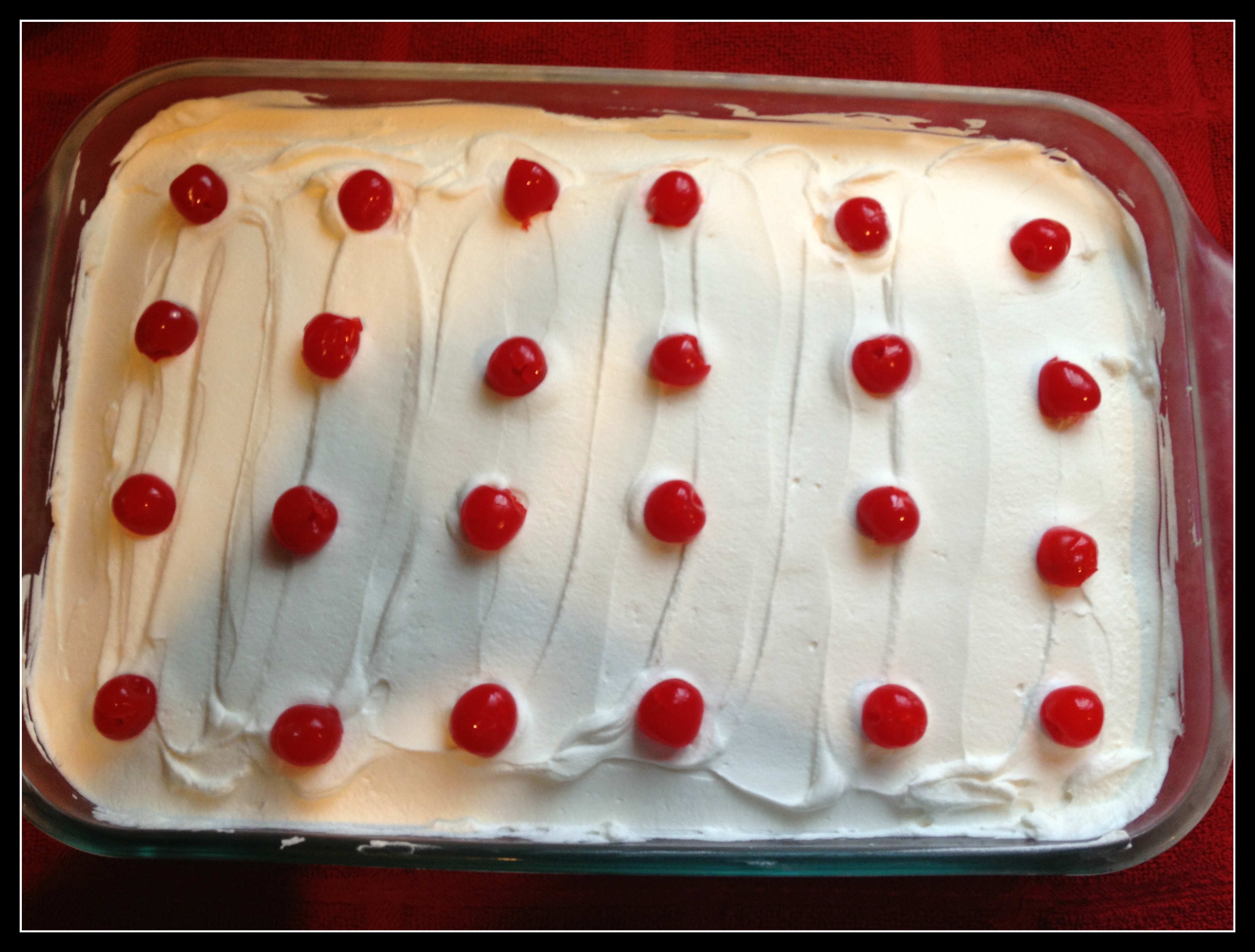 We made a tres leches cake for my father-in-law's birthday.  Tres leches is a sponge cake soaked in a delicious 3-milk mixture (hence the name).  Originating in Central and South America, it is delicious, creamy and very special.
Easy Tres Leches Cake
Makes 16 servings
Ingredients
Cake:
1 box yellow cake mix (15.25 ounce size)
1 1/4 C water
2 T vegetable oil
2 t vanilla
4 eggs
Tres Leches mixture:
1 can sweetened condensed milk (14 oz)
1 can evaporated milk (12 oz)
1 T vanilla
1 C whipping cream
Topping:
1 C whipping cream
2 T sugar
Maraschino cherries
Directions
Heat oven to 350 degrees
Grease and flour 9×13 cake pan
In large bowl combine cake mix, water, oil, vanilla and eggs.  Scrape sides until mixed well.
Pour into pan and bake as directed on box.
While cake is baking, combine ingredients for tres leches mixture.  Mix until completely combined.  Be careful not to whip up the whipping cream.
When cake is baked, let stand 10 mins.  Use fork and poke holes in cake.  Be careful not to get "poke happy" and tear it up.  Pour tres leches mixture over cake slowly.  It will absorb.  Place cake in fridge to cool.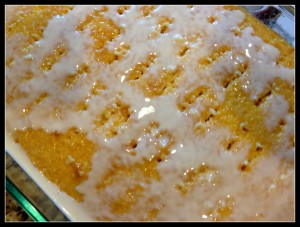 Close to the time of serving, make the topping.  Using an electric hand mixer, combine whipping cream and sugar until stiff peaks form.  Stiff peaks mean you can pull the mixer up from the whipped cream and it will stand straight up.  If the peaks fall over you need to continue whipping.
Spread whipped cream over the cake and decorate with cherries.  Serve.
Recipe adapted from Betty Crocker's Premium Tres Leches Cake recipe, www.bettycrocker.com