Really Good Brownies That Happen To Be Vegan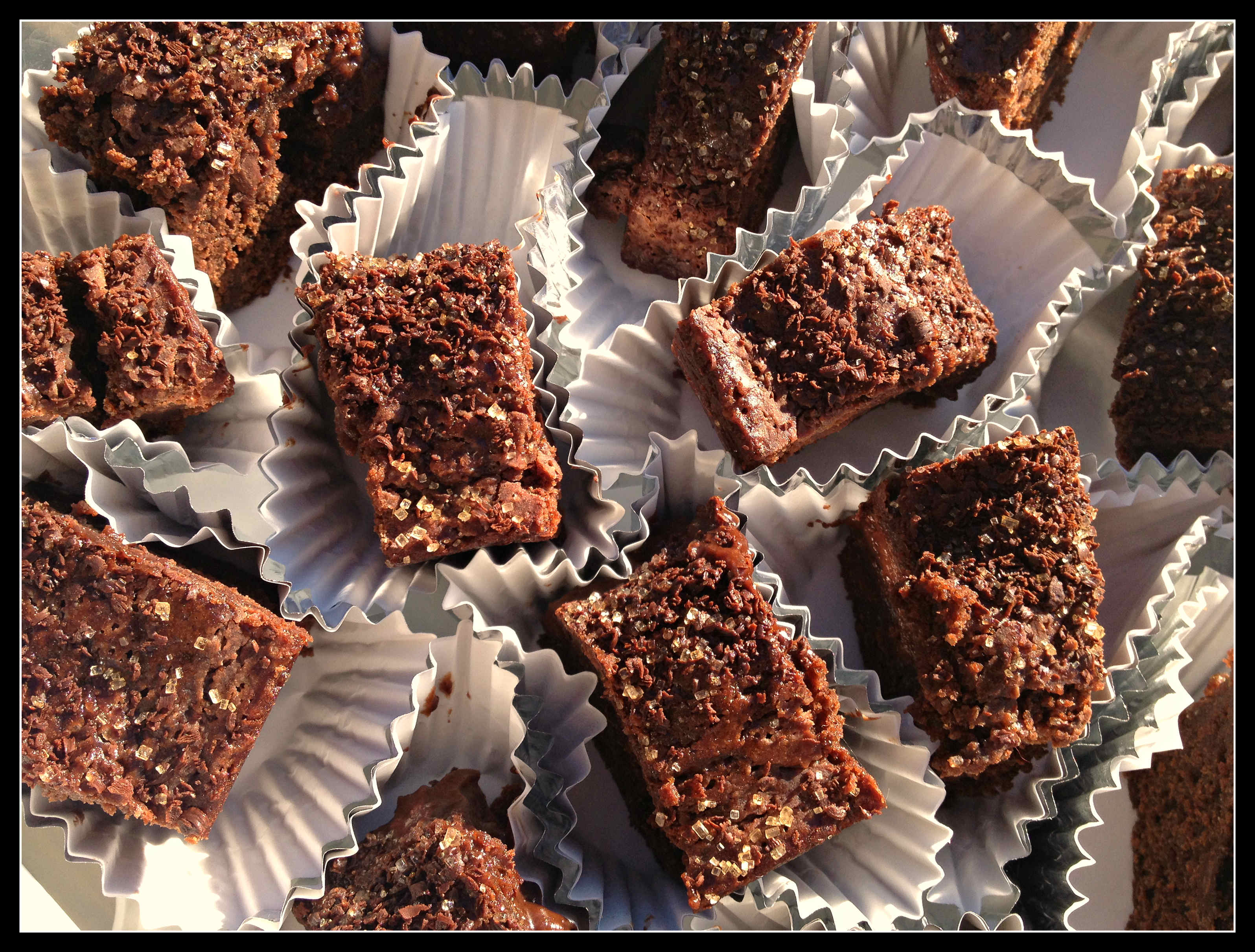 A funny thing happens with vegan recipes. Either people flock to them because they're so happy they can finally eat something OR they wrinkle their noses and say, "oh vegan … never mind."
I think it's sad that people skip out on a fantastic treat because it's different from "what they are used to."  My solution: don't tell them! I put out the brownies, told folks we were trying a new recipe and waited. When people said ,"YUM … these are really good," I mentioned the vegan thing. People were shocked, and my vegan friends were smug because the brownies are dense, chocolatey and rich.
A bonus?  You can eat as much batter as you want because they aren't any raw eggs.
A note about vegan baking: white sugar is out because it usually contains bone char. Use organic, raw or beer sugar. Also, some chocolate chips are vegan and others are not. You don't have to buy anything fancy (remember I shop at WinCo), just read ingredients to be sure they don't contain milk or butter. Cocoa butter and soy lecithin are OK. I used Ghirardelli semisweet chocolate chips.
PS.  This is my first attempt at a vegan recipe. If I messed it up, I apologize. I'd love tips or tricks if anyone has ideas.
Really Good Brownies That Happen To Be Vegan
Makes 9×13 pan of brownies, cut small. Approximately 30.
Recipe based on "Vegan Brownies" by SandyWife31S, AllRecipes.com
Ingredients:
4 C flour
4 C raw organic cane sugar (also from Winco)
1 1/2 C unsweetened cocoa powder
2 t baking powder
2 t salt
2 C strong coffee
2 t vanilla
1/2 C canola oil
1 C organic applesauce
1 bag chocolate chips
Optional: 2 ounces semisweet baking chocolate, shredded and/or 1/4 C raw sugar
Directions:
Heat oven to 350.
Mix all dry ingredients in a large bowl. Mix wet ingredients in small bowl. Dump wet into dry, combine. Add chocolate chips.
Grease 9×13 baking pan. Pour batter into a pan.
Bake approximately 1 hour-ish. May be a bit longer. Brownies do not appear shiny on top and toothpick inserted in center will come out clean. While they are hot, sprinkle on shredded baking chocolate and/or raw sugar if using.