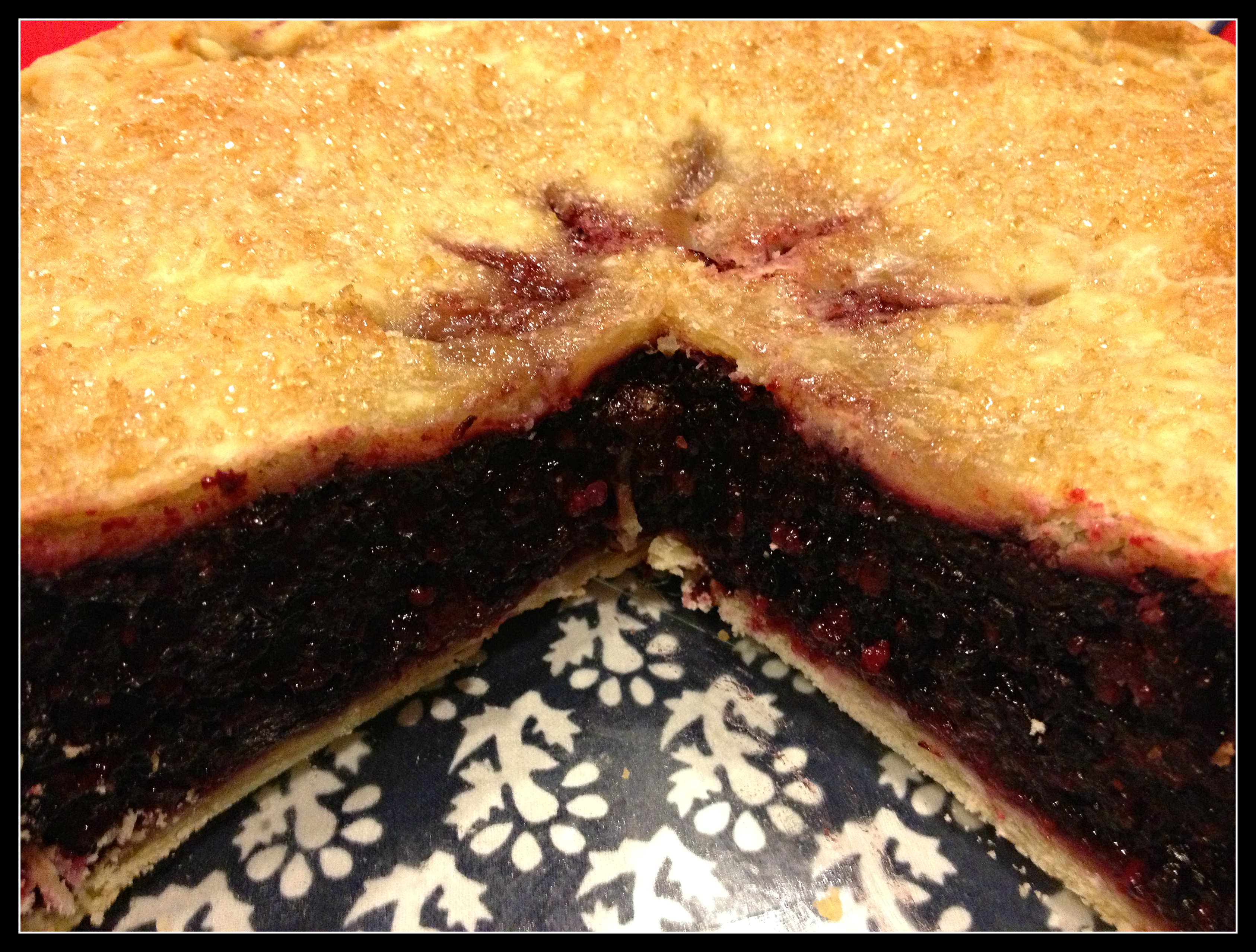 This summer I went on a pie binge.  We made (and ate) 6 pies in a month.  Honey Peach Pie gets first place at 4 plus 1 blackberry and 1 blueberry.  Think beautiful, full size, double crust pies.
I'm not sure why this happened.  Usually I'm a cookie girl.  And while I did share and only had 1-2 pieces of each one, it's still around 10 pieces total.  Oops.  I better take up jogging.
Black & Blue Pies
Makes 1 pie (8-12 pieces)
Your favorite pie crust recipe– be sure to double it!
6 C blackberries or blueberries  (If using frozen berries be sure to defrost and drain off excess juice)
Zest of 1 small lemon
Juice of 1 small lemon
1 1/2 C sugar
1/4 C instant tapioca
Pinch of salt
1/2 t cinnamon (more if you like it)
2 T cold butter cut into pieces
Optional: 1/4 C coarse or raw sugar
Heat oven to 425.
Combine berries with lemon juice, zest, sugar, tapioca, salt and cinnamon.  Stir careful trying not to burst berries.
Place first half of pie crust in deep dish pan.
Dump berries into pie crust.  Place butter pieces on berry mixture.
Place second half of pie crust on top, seal.  Cut vents.  Decorate with spare crust shapes or sprinkle with coarse sugar.
Bake pie 45 minutes or until filling is bubbling.  You may need to put an old cookie sheet under to catch drips.
Enjoy and make 5 more!
Recipe based on Betty Crocker's Blueberry Pie, "Betty Crocker's New Cookbook," 1996.